'Outlander' Star Sam Heughan Teases These 2 Season 6 Episodes Are the 'Big' Ones
ARTICLE HIGHLIGHTS
The Outlander season 6 is finally here after the longest Droughtlander in history.
Sam Heughan recently revealed that season 6 includes two "big" episodes when "the Browns come into play."
Caitriona Balfe also says Claire will begin to "unravel" following the trauma she faced in season 5.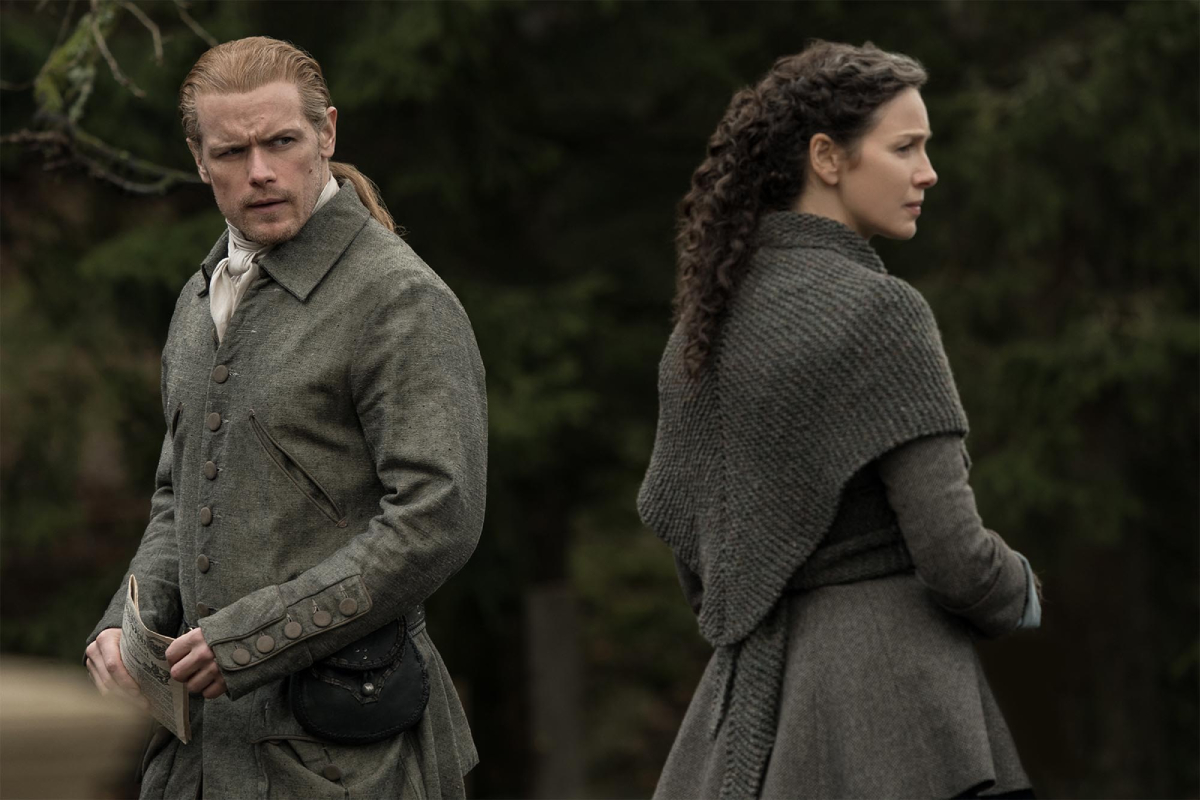 The Outlander season 6 premiere introduced fans to the Christie family — the series' newest villains. Tom Christie (Mark Lewis Jones) brought his children Allan (Alexander Vlahos) and Malva (Jessica Reynolds) to Fraser's Ridge because of Jamie's (Sam Heughan) standing offer to the former prisoners of Ardsmuir.
Fans already knew that the Christies would bring plenty of "trouble." But Heughan recently leaked a spoiler that indicates something "big" is coming that involves another troubling character.
'Outlander' season 6 began with a flashback to Sam Heughan's Jamie Fraser in prison
The new season began with a flashback to 1753 when Jamie was at Ardsmuir Prison, before the arrival of Lord John Grey (David Berry) as the facility's governor. This is where we meet Jamie's holier-than-thou Protestant Christian cellmate Tom Christie, who doesn't get along with the Jacobites since they are mostly Catholic.
Jamie attempts to avoid Tom and all of the trouble he brings. But after a fight breaks out during a hard labor session and a young Jacobite is killed, things go off the rails. Jamie attempts to bring some peace, but it's clear that he wants nothing to do with Tom.
RELATED: 'Outlander': Sam Heughan Reveals the Real Reason Some Season 6 Scenes Had to Be Re-Shot
Flash forward to Fraser's Ridge circa 1773, and viewers see Tom arrive with his children and a group of fisherfolk. He approaches the house while Jamie and Claire (Caitriona Balfe) are gone, which leaves Roger (Richard Rankin) and Brianna (Sophie Skelton) to invite him in. They welcome Tom and his group due to Jamie's offer of land to Ardsmuir prisoners. But Jamie never expected — or wanted — Tom to show up.
Sam Heughan teases that the last two episodes of season 6 are the 'big' ones
The Christie family isn't the only problem at Fraser's Ridge, though. Jamie is being pressured by the crown in the lead up to the Revolutionary War to take on the role of Indian Agent. This is a job he doesn't want, so it's offered to Richard Brown (Chris Larkin). The brother of the man who kidnapped and raped Claire at the end of season 5.
RELATED: 'Outlander': Sam Heughan Says Jamie and Claire's 'Cracks are Really Starting to Show' in Season 6
Brown and his "committee of safety" showed up at the Big House during the premiere and reminded fans just how cruel he and his family can be. But according to Heughan, what fans saw in the first episode is nothing compared to what's coming.
"The big one is the last two episodes, I think, when the Browns come into play," Heughan told Parade.
Claire is 'unraveling' in 'Outlander' season 6
In addition to all of the outside forces bringing trouble to Fraser's Ridge, Claire is struggling to cope with the events of the season 5 finale. Balfe told TVLine that she thinks her character is "unraveling in a way we haven't seen her before." She says that Claire has always been able to compartmentalize, but the kidnapping and gang rape has "shaken her to her core."
"I think these old coping mechanisms that she's had up to this point, they're not serving her. She can't ignore this fact anymore," Balfe explained. "The pain and the trauma are too much for her to cope with. And so we see her starting to self-medicate…And it's part of her need for escape, her need to get out of her own skin. To escape these feelings that are just building up within her."
RELATED: 'Outlander': Sam Heughan Confirms Season 6 Was 'One of the Hardest' to Shoot
This storyline is a departure from Diana Gabaldon's Outlander books, but Balfe gives props to the series' writers for allowing Claire some space to explore her "journey of healing and recovery."
"What we saw at the end of last season was really intense. You need that time to allow these characters to come out the other side of things," Balfe concluded.
New episodes of Outlander season 6 air Sunday nights on Starz.