Sam Heughan's Yule Log Is the Cutest Thing You'll See This Holiday Season
'Outlander' stars Sam Heughan and Graham McTavish just released an adorable 'Men In Kilts' holiday yule log to help make your season bright.
Sam Heughan and his Outlander co-star Graham McTavish have a new travel series called Men in Kilts. And for the holidays, the two Scotsmen are giving fans an hour-long yule log to enjoy.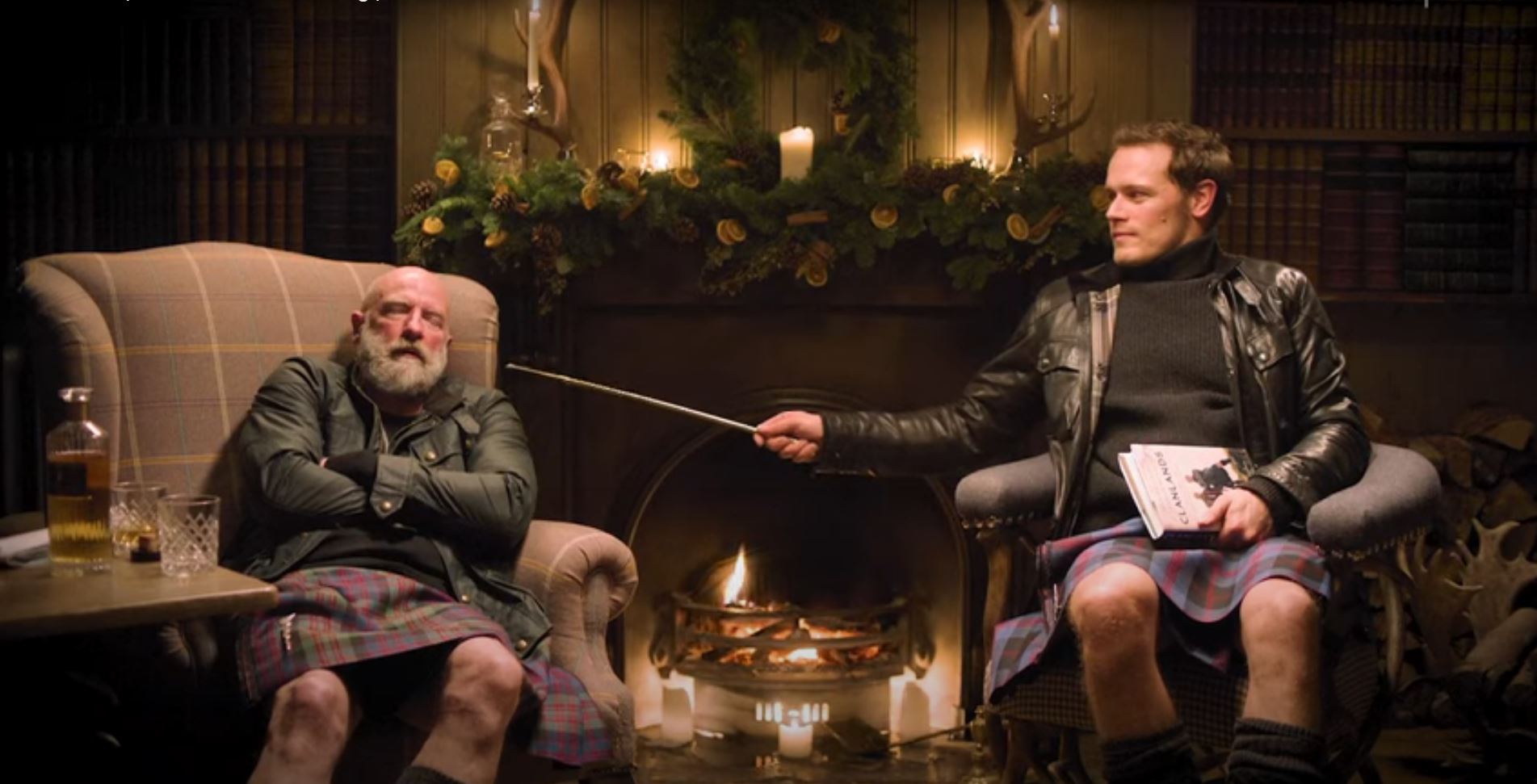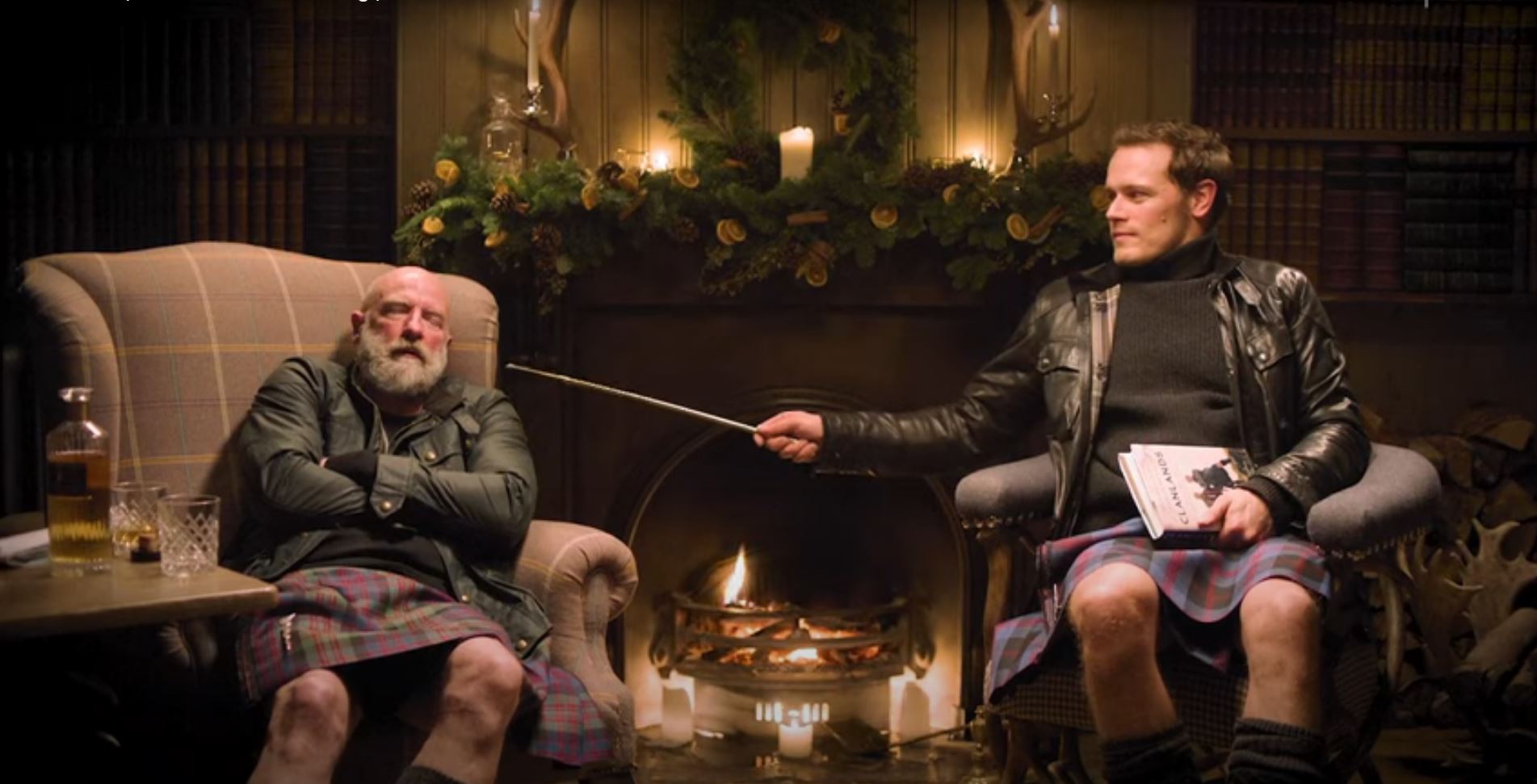 Sam Heughan and Graham McTavish were inspired by 'Outlander'
Heughan and McTavish started their Outlander journey together in 2014 as nephew/son duo Jamie Fraser and Dougal McKenzie. Inspired by the show's exploration of their country's history, the Scottish-born actors decided to go on a road trip through Scotland and detail their experiences in a podcast. 
 "We'd been playing these Highland warriors for years now, faking it, and we thought, 'You know, it'd be nice to sort of find out a bit more about it,'" Heughan told Oprah Magazine in 2019. "I've always been interested in Scotland's history, the clans, and the culture."
"We have such huge tourism from Outlander," he added. "We just wanted to sort of go on that adventure as well, and bring some of that to people, because it's part of the show that we don't get to explore anymore as the show has moved on."
They landed a series on Starz
Soon after Heughan and McTavish announced they were working on their Clanlands podcast, Starz gave the duo their own series to feature their adventures. The new show, Men In Kilts: A Roadtrip with Sam and Graham, will follow the Outlander stars as they explore Scotland's rich history and culture. 
"It's a really fun, light-hearted adventure around Scotland," Heughan said on Good Morning America. "We're really dipping into Scotland as the country that we obviously know through working on Outlander, but actually learning more about the food the drink, the people, the stories."
Through eight episodes, Men in Kilts: A Roadtrip with Sam and Graham will take the actors on various adventures. Heughan joked that viewers would watch him push McTavish into some entertaining situations along with seeing their friendly banter.
The 'Outlander' stars are gifting fans a Yule Log for the holidays
Just in time for the holidays, Heughan and McTavish are giving fans an hour-long treat. In a new video, the two Outlander stars are relaxing in front of a fireplace donned in kilts. While McTavish tries to figure out how to read his map, Heughan is pursuing their new Clanlands book. 
Approximately 21 minutes into the yule log video, the two take a drink of Heughan's Sassenach whiskey.  And at the 41-minute mark, when McTavish falls asleep, Heughan attempts to poke at him with a stick. 
Heughan announced the yule log on his social media pages. "Feeling festive?" he tweeted. "Not yet?? Well, the @MenInKiltsSTARZ have got you covered with our 'themed' Yule log. Let us keep you warm and cosy this holiday season…if  @grahammctavish doesn't hog the fire."
The Men In Kilts Yule Log is streaming on the Starz Youtube channel. The new series, Men in Kilts: A Roadtrip with Sam and Graham, premieres on Jan. 1, 2021, on Starz.