'Outlander' Star Tobias Menzies Wasn't Expecting Blackjack Randall's Torture of Jamie to Be So Dark
'Outlander' star Tobias Menzies opens up about the Season 1 finale, and admits he was surprised at how dark Randall's torture of Jamie was.
In its five seasons, fans have seen plenty of heartbreaking moments on Outlander. But most can agree that one of the most unsettling episodes was the Season 1 finale, in which Tobias Menzies' character, Captain Blackjack Randall, tortures and rapes Jamie Fraser (Sam Heughan). In a recent interview, Menzies addressed the emotional episode and revealed he was surprised that showrunners let it get so dark.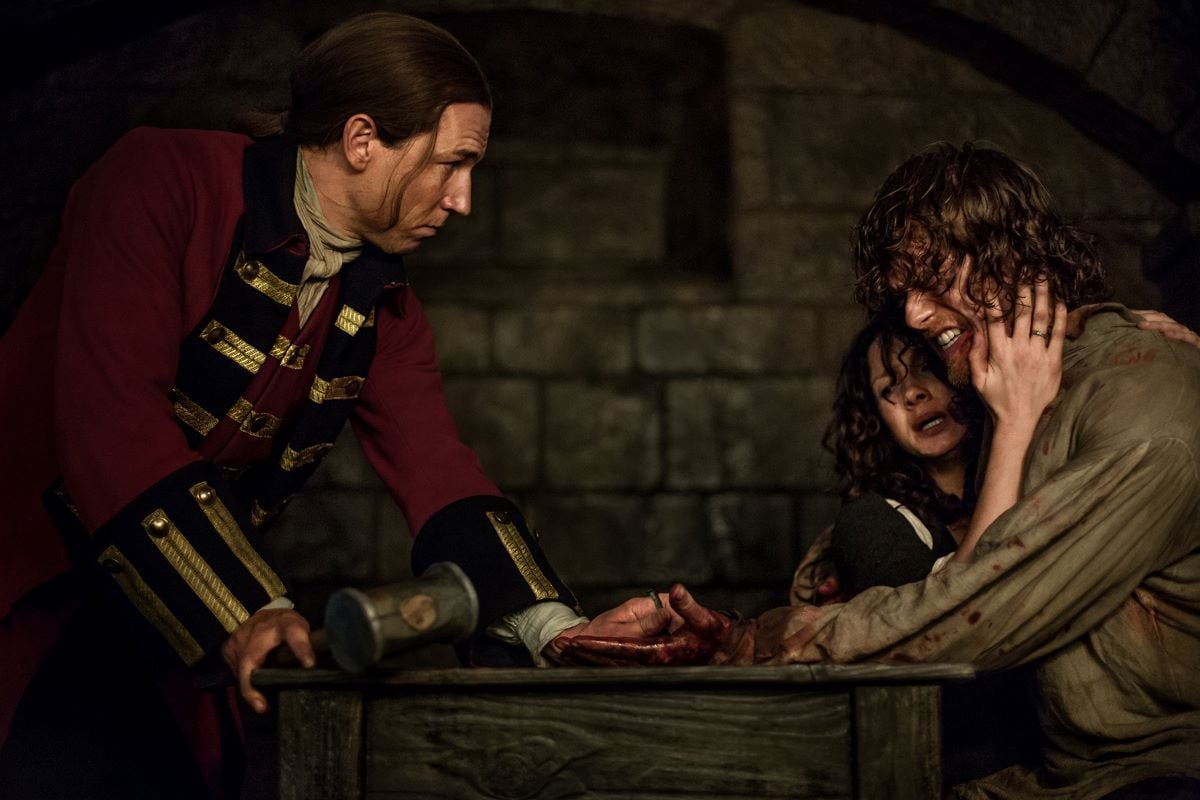 What happens in the Season 1 finale of 'Outlander'?
After being pursued by Blackjack Randall throughout Season 1 of Outlander, Jamie ends up in his grasp in the heartbreaking season finale. The episode opens with Claire (Caitriona Balfe)  and Murtagh (Duncan LaCroix) saving Jamie from Wentworth Prison. After finding him laying in a cell, bloody, battered, and bruised, they take him to a nearby monastery. 
But as Claire and the priests try to nurse Jamie back to health, he refuses to eat or talk. And he tells Claire he no longer has the desire to live. Then in a series of flashbacks, Jamie recalls the torture and rape he faced at the hands of Randall. 
Not only does Randall physically and sexually assault Jamie, but he also breaks down his will. After playing torturous mind-games, Randall also gets Jamie to agree to let him brand him with his initials. 
Claire hears Jamie's story and insists she won't live without him. Jamie realizes Claire would take her own life if he dies, so he tries to move forward. He asks Claire to cut out the branded portion of his skin, which he takes and throws in the fire. 
Tobias Menzies and Sam Heughan found the scenes challenging 
The Season 1 finale of Outlander was hard to watch. But it was equally challenging for Tobias Menzies and Sam Heughan to film. In an interview with The Daily Beast, Heughan recalled how arduous the filming process was. 
"It was pretty horrific," said Heughan. "We rehearsed the scenes and discussed them with the writers and directors, so we knew kind of what we wanted from it and what we were going to do with it, and that was very important, and then on the day [of shooting], it was pretty much just being locked in a dark room. I think that all helps toward getting the performances, but it's also about trust in the writers and director and your fellow actor. Tobias does a terrific job and it was great to play against him; he's terrifying and that really helps. It was a challenge and rewarding to get to the end of it."

The Daily Beast
When talking to Gold Derby recently, Menzies also addressed the episode. He said that while he found it challenging to shoot, he felt it was necessary to tell the story properly. 
"It was tricky to shoot, we'd been working for over a year together, Sam and I," said Menzies. "It's a hard thing to realize, but I also really believed in the necessity for that story, which has huge sweetness and romanticism and love and beauty, in that it also needed an equally kind of opposite underbelly, which really was provided by the character of Blackjack, who let's not beat around the bush is a study in sadism."  
But Menzies was also surprised by how dark the scenes were
In his chat with Gold Derby, Menzies also talked about how far the series went in depicting Jamie's torture. He said that he was not expecting it to be so dark, but felt proud that he was able to accept the challenge of portraying such a physically and psychologically abusive character. 
"I was surprised that both the showrunners and stars let us make it as dark as they did, but I actually am proud of having the courage to make it that," Menzies explained. "Because the thing I think that partly makes it uncomfortable, is it isn't just about torture and rape. Those are just the instruments that this person is using to unpick another person.  So I think the thing that actually gets to people is the sort of psychological element of it — that he's understanding this man and then using that against him to unravel him, and that's the really unsettling aspect of it."

Gold Derby