'Outlander' Stars Recall the Great Lengths Set Designers Went to Recreate the Show's Historic Scottish Castles
Claire and Jamie Fraser's epic love story on Outlander begins in the 1700s, when Claire travels back in time and ends up in the Scottish highlands. The series creators have worked hard to make the sets and costumes look authentic. And in a recent interview, stars Sam Heughan and Caitriona Balfe, revealed the great lengths set designers went to recreate some of the Scottish castles seen in past seasons.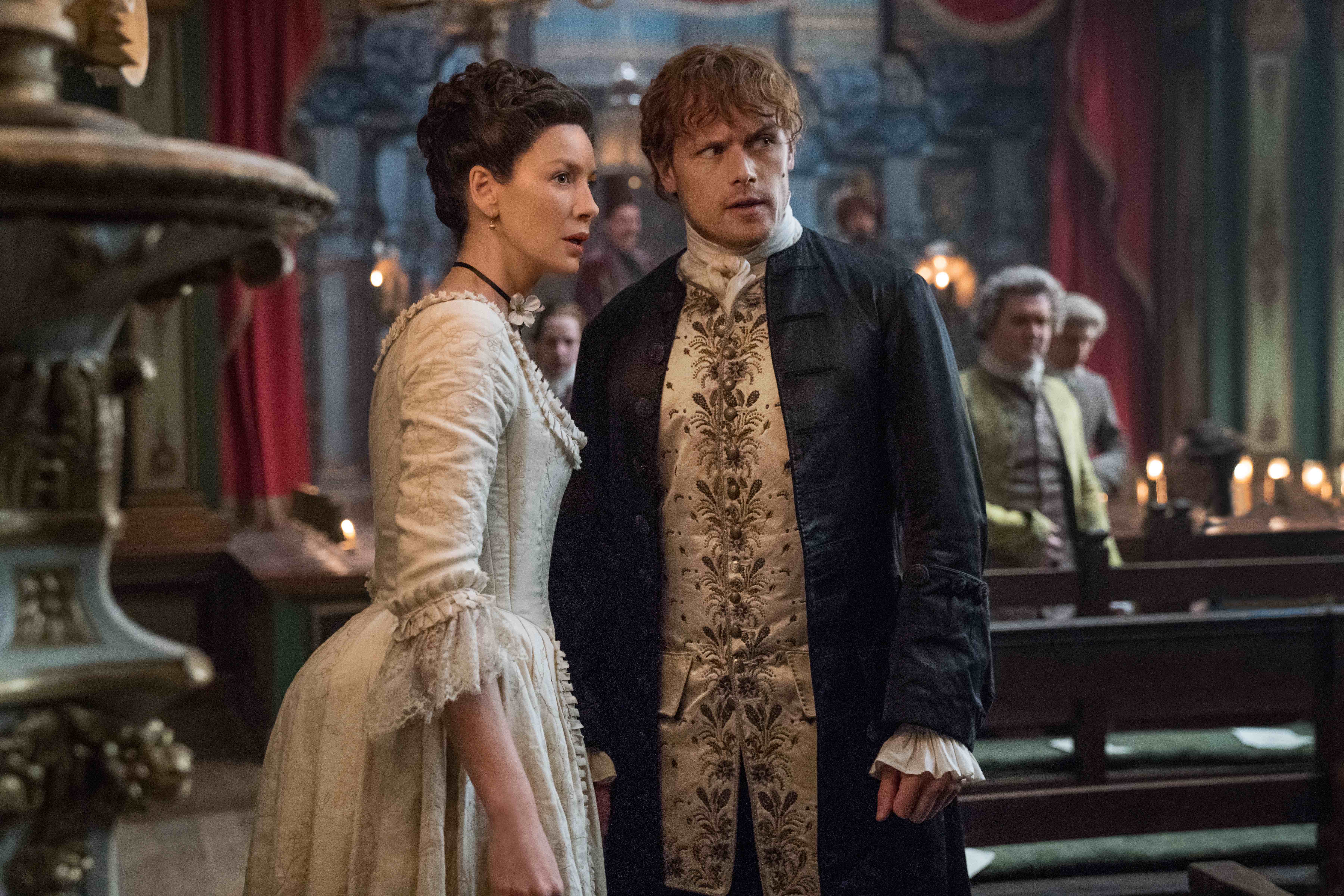 'Outlander' is filmed in Scotland
From Season 1 and onward, Outlander has been entirely filmed in Scotland. The first few seasons were set near the town of Inverness, but even as the story began moving to America and other parts of Europe, production remained in the country
When talking to Radio Times, the series' executive producer Matthew B. Roberts explained that showrunners decided to keep filming in Scotland because of the base they had established since Season 1. From sets to designers, they all make it work from their Glasgow studio. 
"We have our crew, our big studio here, so it was better to base here and remain here," said Roberts. "This [the studio] is a rare thing to have because it's ours, this is all ours. Every stage is ours, we have prop building, we have plasters, we have everything we need that we can create this world."
Emmy-nominated production designer Jon Gary Steele worked on the first five seasons of Outlander
For his brilliant work on Outlander, production designer Jon Gary Steele was nominated for a Primetime Emmy Award in 2016. He left the show after season 5, but in an interview with Gold Derby, he said working on the Starz series was the highlight of his career.  
"I had never done a period piece before," Steele said. "The eighteenth century is a great period for costumes and a great period for sets and locations — It's fun to go from a sketch of a town or a big plantation or the big house or any of the sets, then to see models and then to see it all being built… then the actors with their costumes come in and it all comes alive, it's quite an adventure."
 RELATED: 'Outlander' Season 5: Is River Run a Real Place in North Carolina?
After recreating the North Carolina countryside in Scotland for seasons 4 and 5, Steele decided it was time to move on from the show. But he noted that he loved working with the Outlander team, and will always cherish his time there.
"It was a dream job," he added. "Six and a half years, five seasons with a great team."
Sam Heughan and Caitriona Balfe describe the lengths Steele went to recreate Scotland's castles
In an interview with Deadline, Outlander showrunner Matthew Roberts, and lead stars Sam Heughan and Caitriona Balfe, talked about Steele's amazing work on the show. Heughan recalled the lengths Steele went to recreate Scotland's Doune Castle as Castle Leoch — the home of the MacKenzie clan. 
"The Great Hall, Season 1," said Heughan. "I remember it because it had such an impact on me —just seeing the detail that he (Steele) had put into it. He had taken castings from the local castle, Doune Castle I believe, and then recreated this hall, and the chandeliers were stags heads, and there were so many details… [even] the dirt on the ground."
"I think the thing with Gary and all of his work is how much it helps us in our work," added Balfe "You would go onto any set and just the attention to detail and all of those little things that make the world so alive and so available to you, that so much of your work of imagination of putting yourself in a place is already done."
Steele won't be returning for season 6 of Outlander. But he's probably leaving the show's production design in good hands.