'Outlander' Stars Sam Heughan and Caitriona Balfe Had to Re-Shoot 1 'Nookie Scene' Because It 'Wasn't Sexy Enough'
ARTICLE HIGHLIGHTS
Outlander stars Sam Heughan and Caitriona Balfe have been steaming up TV screens since the show premiered.
Sam and Caitriona recenty revealed that they had to shoot one "nookie scene" had to be re-shot because it "wasn't sexy enough."
Production on season 7 of Outlander should start production soon.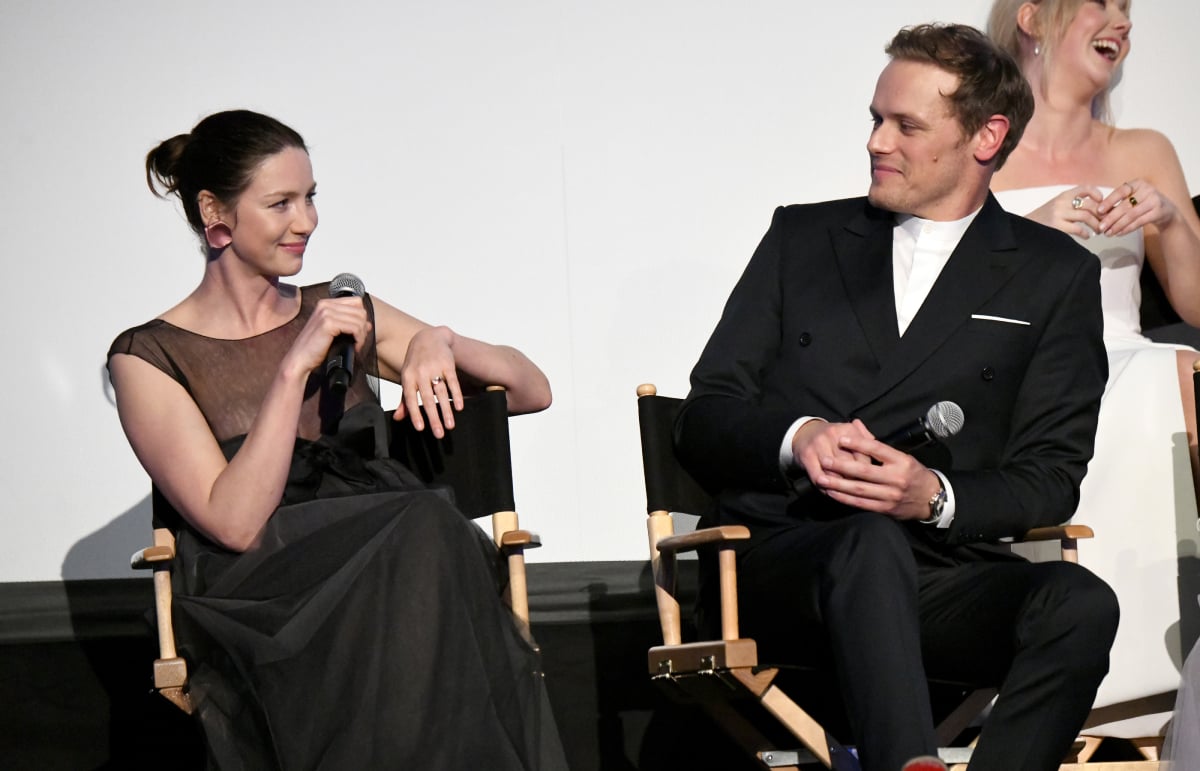 Outlander stars Sam Heughan and Caitriona Balfe are known for steaming up TV screens as Jamie and Claire Fraser. The duo has given fans plenty of hot, passionate moments in the bedroom during the first five seasons. But according to Heughan and Balfe, they had to reshoot one spicy scene because "it wasn't sexy enough."
Caitriona and Sam will be back for 'Outlander' season 6
It's been a year-and-a-half since Outlander fans have seen new episodes of the time-traveling drama. Season 5 ended in May 2020, and the pandemic hit before they had the chance to begin filming season 6.
Filming was delayed until January 2021 and continued into June. The cast and crew shot only eight episodes in order to get season 6 on Starz as fast as possible. But Heughan has promised that those few episodes will have longer running times. So, fans will still get plenty of story and character development.
Executive producer Ronald D. Moore promised fans when filming wrapped this past summer that Outlander season 6 will premiere in "early 2022."
Sam Heughan and Caitriona Balfe reveal that a romantic scene from 'Drums of Autumn' wasn't easy to shoot
Fans of Diana Gabaldon's Outlander book series may recall a saucy scene from book four — Drums of Autumn — that featured Claire and Jamie getting it on near a river. The Starz series brought that scene to life in the season 4 premiere of Outlander. But, filming the scene wasn't nearly as romantic.
According to Express, Balfe and Heughan had to shoot the scene next to a river in Scotland in November amid freezing weather conditions. They both were fully clothed while shooting the scene because it was so cold. But when the producers reviewed the footage, they decided the scene needed to be reshot.
The 'Outlander' stars had to reshoot the scene because it 'wasn't sexy enough'
Heughan and Balfe explained that they tried to make the scene as sexy as possible in the conditions they were in. But, it just wasn't working.
"There is a nookie scene where, when we were shooting it, it [was] so freaking cold", Heughan explained, with Balfe adding, "We actually reshot because there's a scene in episode one that we shot in November when it was freezing cold."
The Irish beauty continued, "We were fully clothed, and we tried to make it as sexy as possible — and I think they decided it wasn't sexy enough."
Caitriona Balfe says they are always 'dealing with the elements'
They ended up waiting until the end of the season to reshoot the infamous scene from the season 4 premiere. At that time, the temperatures in Scotland were a bit warmer. But they were still filming in the middle of the night.
"It's still nighttime, and we were doing it at 3am. So you can do something a little bit more nude at that time, but you're always dealing with the elements," Balfe explained.
'Outlander' season 7 will begin production soon
Because season 6 of Outlander has been shortened down to eight episodes, Moore promised that season 7 would be supersized and feature 16 episodes. That will make season 7 the longest season of Outlander since season 1.
Filming is scheduled to begin in early 2022, around the same time that season 6 premieres on Starz. With so many episodes in season 7, production will take almost the entire year. This means season 7 will premiere in early 2023. But, that Droughtlander won't be as near as long as the current one.
Season 6 of Outlander is expected to premiere on Starz in February 2022. Seasons 1 through 5 are available on the Starz app and Amazon Prime Video.
RELATED: 'Outlander': Sam Heughan's 7 Sexiest Moments as Jamie Fraser Ranked