'Outlander' Stars Sam Heughan and Caitriona Balfe Reveal There Are a Lot of New Faces in Season 7
'Outlander' Season 7 started production weeks ahead of the season 6 finale and stars Sam Heughan and Caitriona Balfe are spilling some tea.
Outlander just aired its season 6 finale but stars Sam Heughan and Caitriona Balfe are already talking about season 7. The on-screen couple known as Jamie and Claire Fraser promise there's "a lot going on" in the upcoming season. They also revealed that a lot of new characters are coming to Fraser's Ridge.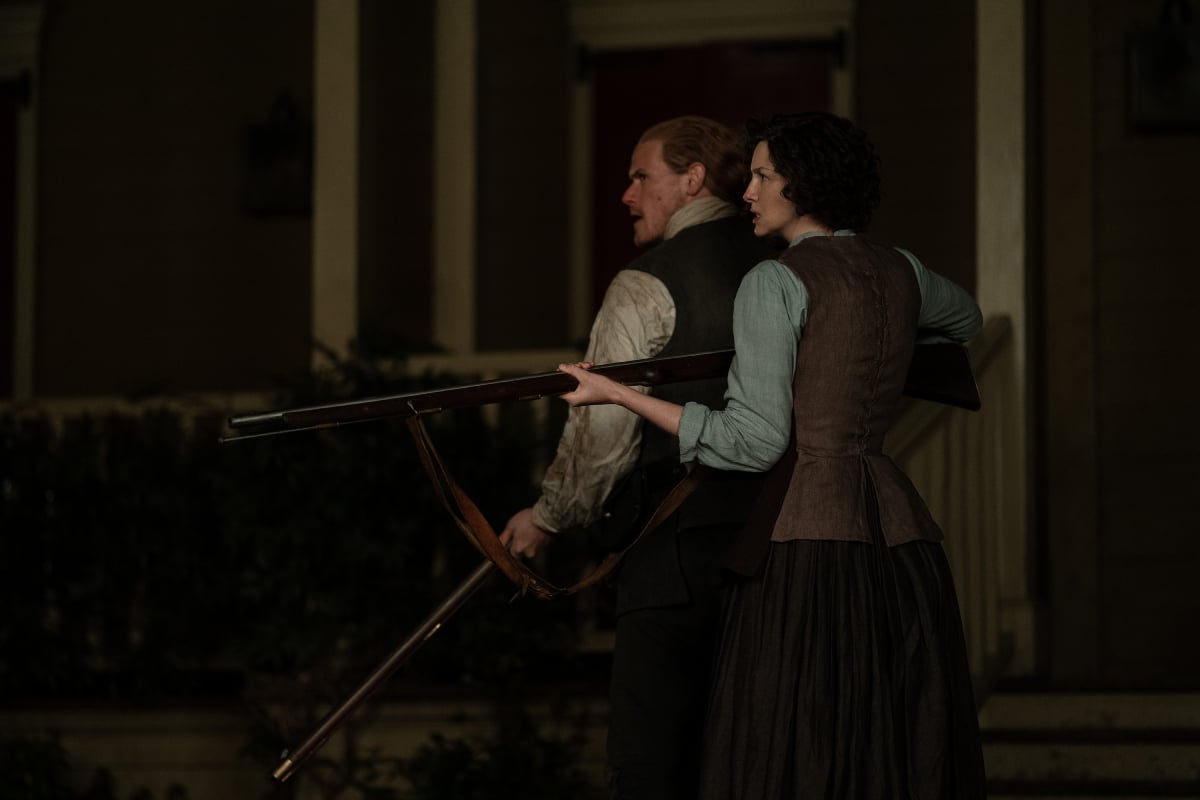 The pandemic and Caitriona Balfe's pregnancy cut 'Outlander' season 6 short
A normal season of Outlander lasts approximately 12 episodes. But season 6 of the Starz time-traveling drama only featured eight. That's because the cast and crew were presented with two unique challenges — the pandemic and Balfe's pregnancy. As a result, they made a last-minute decision to cut the season from 12 to eight episodes and get it on the air as fast as possible.
"There was going to be a point where I wouldn't be able to shoot anymore," Balfe explained to Entertainment Weekly. "Instead of writing Claire out of a few episodes, they decided instead to stop at a certain point, and then tack whatever episodes we didn't do onto this season that we're shooting now [season 7]. But that decision wasn't made, probably, until halfway through shooting."
Heughan added that they were originally going to take a break and come back after Balfe had given birth, which he admits "would have been interesting." But Balfe would have only been able to take an eight-week maternity leave, and she wanted a longer break.
Sam Heughan and Caitriona Balfe promise a lot of new faces are coming in season 7
The Outlander cast and crew has been back in Scotland since late March to film season 7, and Balfe revealed that they've almost filmed the entire first block. The Irish beauty promised fans that "there's a lot going on next season," and "everybody's really excited about it."
"We have some amazing actors that have come in. I don't know what we can say. Usually, we get a list of, 'Don't say this and don't say that,' but nobody said anything. Maybe we can just say everything right now," Balfe said.
"What we can say is there will definitely be a conclusion to some of this, some of these threads will have been tied up early on. And we will then have a lot of new characters join that are going to be very meaningful to the series."
Should 'Outlander' fans be worried about Claire's fate after the season 6 finale?
Season 6 ended with Claire and Jamie separated, as she's been sent to Wilmington to go on trial for Malva Christie's (Jessica Reynolds) murder. Balfe admits these are "very dangerous times" for the Frasers due to multiple threats.
"There's the threat of the Browns and all of that, but this is a time where law and order is completely breaking down. We don't know if there's going to be any form of trial, what that might look like, are people willing to take justice into their own hands? There's a lot going on, so you better hurry up," Balfe said.
Heughan added that Claire and Jamie's world is "breaking down around them," and they can't rely on "traditions or the moral code we're used to."
"So who knows where salvation will come from, where rescue will come from. But Jamie certainly will do everything he can to rescue her from prison," Heughan concluded.
Outlander seasons 1 through 5 are available on Netflix, and season 6 is now playing on the Starz app. Season 7 will premiere in late 2022 or early 2023 on Starz.