'Outlander': There Is 'No Room for Divas or Big Egos' on Set Says Star Caitriona Balfe
'Outlander' star Caitriona Balfe recently talked about the culture on set, revealing that there's 'no room for divas or big egos.'
Outlander fans can tell how close the cast is, both on and off-screen. Lead star, and now producer, Caitriona Balfe recently discussed the show's behind-the-scenes culture and revealed that there isn't any room for "divas or big egos" on set.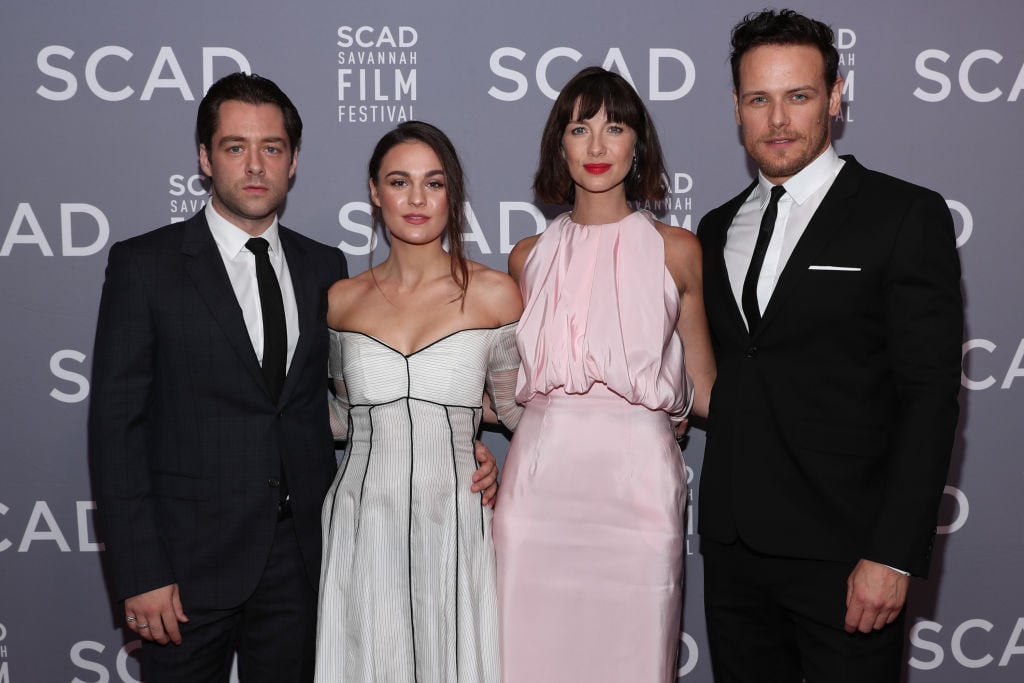 'Outlander' stars Sam Heughan and Caitriona Balfe are series' producers
For five seasons, Heughan and Balfe have been known to Outlander fans as Jamie and Claire Fraser. But just last year, the actors stepped up their game and joined the show's production team. When talking to Gold Derby recently, Balfe said the two had been trying become producers for years. 
"We sort of put in a request in prior seasons," Balfe explained. "I don't think they were ready for that. But we had a renegotiation, and part of that was that we both wanted to be producers. And it takes a long time for these things to be worked out, so it wasn't until this last season that that happens."
Balfe and Heughan took on their roles as series producers in 2019, just as Season 5 started filming. They didn't have much influence during the first part of the season, but Balfe said they were able to contribute a lot during the final episodes.
"Definitely toward the end of the season, in terms of really working the scripts, we were there and we had a lot of new writers and a lot of new producers this season," she revealed. "I think we were really helpful being on the grounds, and being able to sort of walk people — who are kind of newer to the show — through what's the core of our show, and really trying to retain the essence that we believed we may have slightly lost a little in season 4."
They are dedicated to maintaining a respectful culture on set
As lead stars and now producers of Outlander, Balfe and Heughan have made it a point to maintain a mindful culture on set. And regardless of how big or small a person's role on the show is, they try to make it feel like a team effort. 
"I think both Sam and  I really have strived from the very beginning that we have a very friendly open respectful set," Balfe said in her interview with Gold Derby. "You know every single person who comes on to set, no matter if it's a day player who has one line, or somebody who's supporting artists, everyone contributes and unless every single person is working at their best, then none of us are. We really try and make everybody as welcome as possible and also just set the tone by showing up being prepared [and] being on time." 
Balfe says there's 'no room' for big egos on the set of 'Outlander'
As Jamie and Claire Fraser, Heughan and Balfe are Outlander royalty. But according to Balfe, behind the scenes, everyone works together with humility, which she credits as a British way of working.
"There is no room for divas or big egos on our set," Balfe told Gold Derby. "You know a lot of British actors, no matter who they are, they do a bit of everything. They're doing huge movies but they're also doing radio, and it's really about the work. And that's what I love about shooting here — there are no stars throwing their weight around."
When looking at the cast's social media posts, it's clear that everyone gets along, and their positive energy translates well on-screen. It will be fun to see how Balfe and Heughan influence the tone as producers next season when this Droughtlander finally comes to an end.