'Outlander' Villain Is Reportedly In Talks to Join the DC Extended Universe
Outlander has had its share of villains during its first five seasons. One of the absolute worst was Black Jack Randall, played by Tobias Menzies. The character actor has been in a number of popular franchises during his career. And it appears he's about to add the DC Extended Universe to his resume.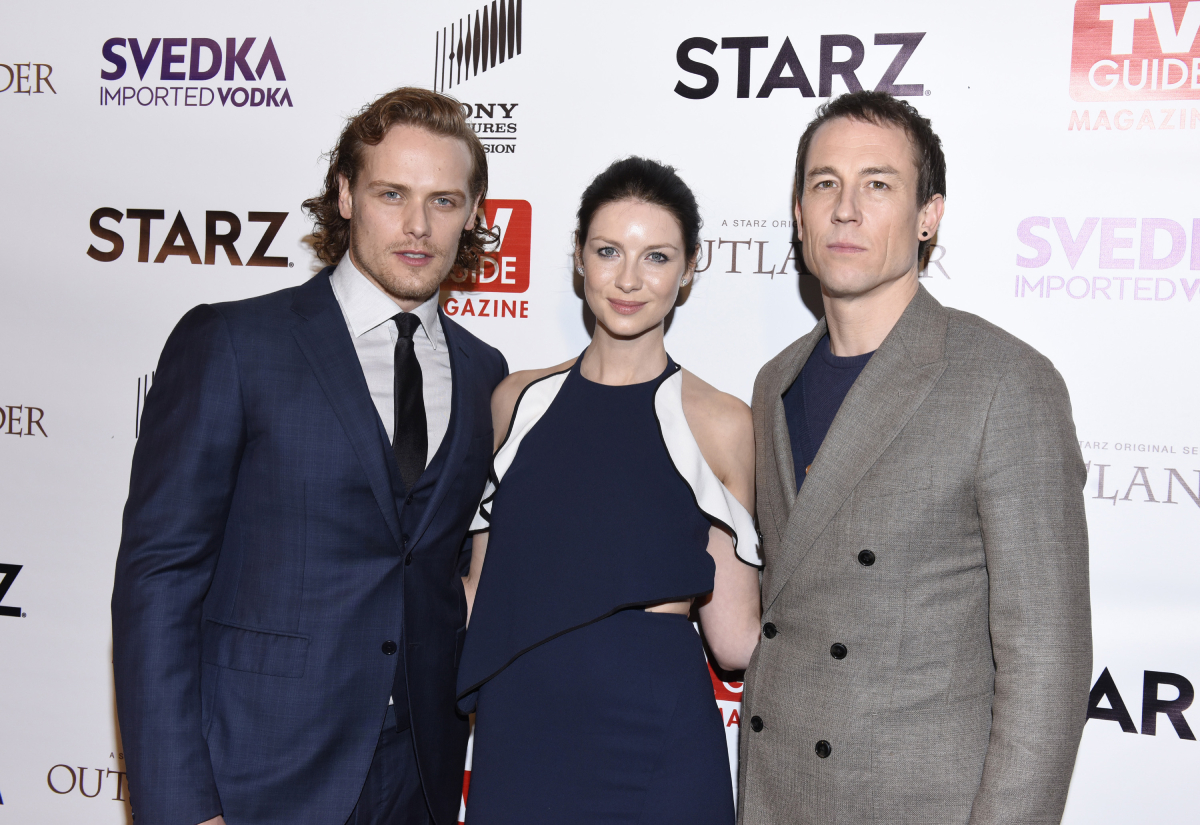 Tobias Menzies played two different characters on 'Outlander'
While playing the minor, yet memorable, role of Edmure Tully on Game of Thrones, Menzies landed a dual role on the Starz drama Outlander. Menzies was both 18th-century villain Black Jack Randall and 20th-century professor Frank Randall, Claire's (Caitriona Balfe) first husband.
In a 2019 New York Times profile, Balfe gushed about her co-star and said she learned a lot about her craft while working with Menzies.
"The questions he would ask, how much he would push about working the text, that was invaluable for me to see," she explained. "It taught me, this is what you can ask when you are an actor who really thinks about where the meat of the scene is, what is superfluous and what isn't."
Both characters have been killed off
Both of Menzies' characters were an essential part of the first few seasons of Outlander. But in the season 3 premiere, it was revealed that Jack had died at the hands of Jamie Fraser (Sam Heughan) on the Culloden battlefield.
Two episodes later, in Season 3, Episode 3 "All Debts Paid," Outlander said goodbye to Menzies for good when Frank died in a car accident. When asked if he would return to the time-traveling drama, Menzies told The Hollywood Reporter that he was done.
"That's it. It's strange. It's the end of three and a half years. I'll miss everyone very much. It's been a great journey. I worked hard on both of these characters. It was a challenge to make them different, but in a subtle way so it wasn't too obvious," Menzies said.
The 'Outlander' villain is in talks to join the DCEU
With both Game of Thrones and Outlander in his rearview, Menzies is now reportedly in talks to join the DC Extended Universe. After Marvel found such massive success on Disney+ with their TV shows, DC and Warner Bros. are now attempting to do the same thing with a number of new series on HBO Max.
RELATED: 'Outlander' Season 6: There Is Trouble Ahead For Jamie and Claire Thanks to Newcomer Malva Christie
One of the series is Green Lantern, which will explore the history of the intergalactic peace-keeping force, the Green Lantern Corps. The series will reportedly feature Lanterns Guy Gardner (Finn Wittrock) and Alan Scott (Jeremy Irvine) in a story that will span decades. According to Winter Is Coming.net, Menzies is in talks to play the series' supervillain, Thaal Sinestro.
Who is Sinestro?
Sinestro is one of the main Green Lantern villains in the comics. Once an esteemed member of the Green Lantern Corps, Sinestro was dishonorably discharged for abuse of power. He went on to form his own Sinestro Corps.
According to The Illuminerdi, the new Green Lantern series on HBO Max will focus on Sinestro's time at the Green Lantern Corps. This was when he was a "warrior monk" who was considered the "greatest of all Green Lanterns" and the "personification of grace under pressure."
However, as the other Lanterns follow his orders without question, a "dark destiny belies his otherwise Zen demeanor."
Has the 'Outlander' villain signed on the dotted line?
Reports of Menzies joining the cast of Green Lantern are considered just rumors at this point. No further details have been revealed, and there's no confirmation that the Outlander alum has signed on to the project.
In the meantime, Menzies is continuing his critically-acclaimed run on Netflix's The Crown. He is playing the role of Prince Philip opposite Olivia Colman's Queen Elizabeth, and his performance has already earned him a Golden Globe nomination. Menzies and Colman took over the royal roles from Matt Smith and Claire Foy.
RELATED: 'Outlander' Confirms 1 Fan-Favorite Character Is Returning For Season 6
Outlander seasons 1 through 5 are available on the Starz app. The Crown seasons 1 through 4 are available on Netflix.