Owen Wilson Confirms He's Returning for 'Loki' Season 2, Says Filming Should Start 'Pretty Soon'
Marvel Studios has been quiet when it comes to 'Loki' Season 2, but Owen Wilson just confirmed he'll be back for the next chapter of the Disney+ show.
Marvel released no shortage of Disney+ shows over the course of 2021, but Loki was the only live-action series to receive a season 2 renewal. Little information has come out about the show's future, but Owen Wilson recently confirmed he'll be back for Loki Season 2. He also gave an update on production.
'Loki' Season 2 was announced after the first season finale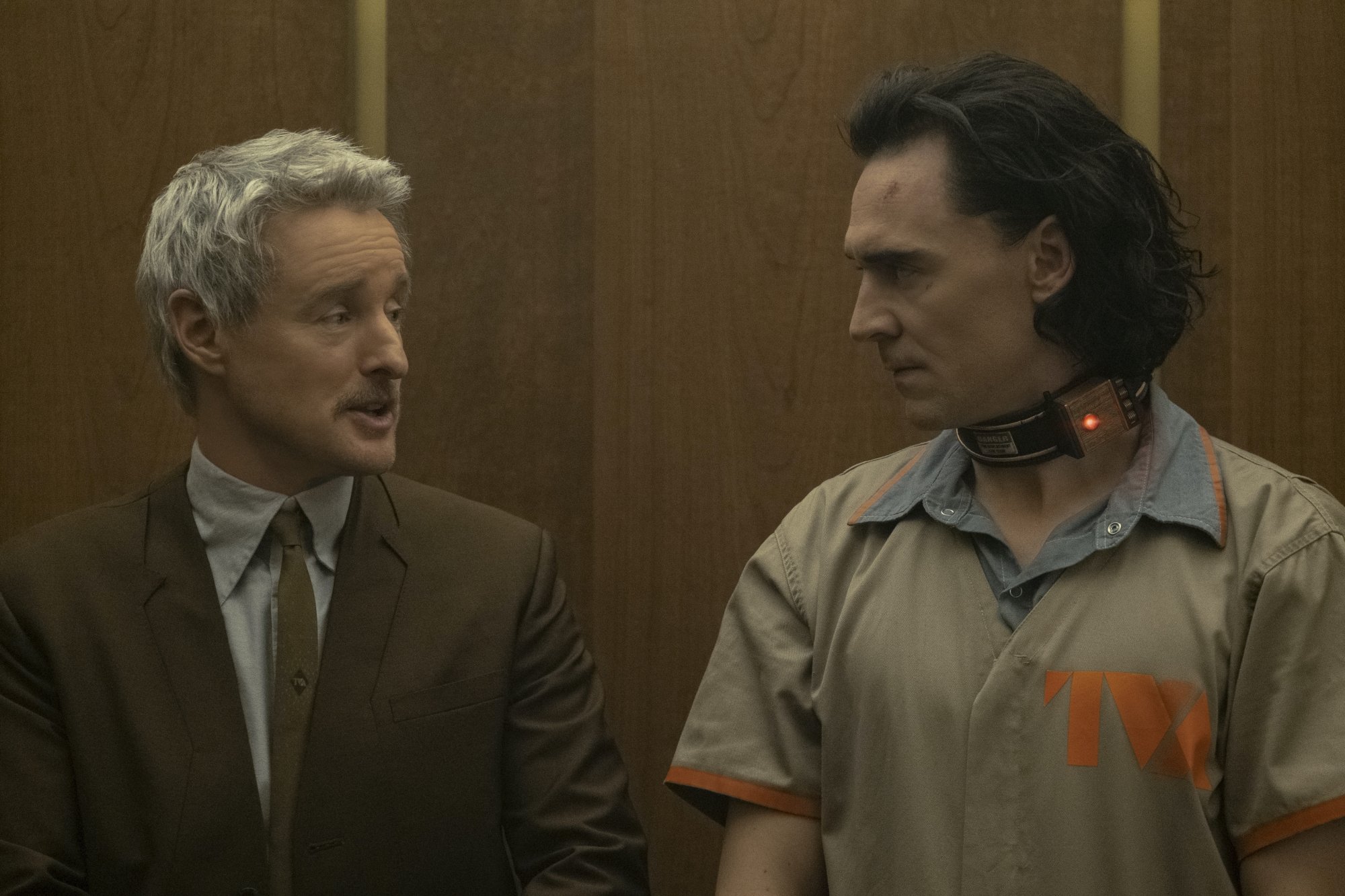 Loki Season 2 was confirmed following the first season's finale, which ended with Sylvie (Sophia Di Martino) killing Kang (Jonathan Majors) and unleashing all the timelines the Time Variance Authority worked so hard to keep from forming. Tom Hiddleston's trickster finds himself transported back to the TVA after Sylvie's betrayal. But with Mobius (Owen Wilson) not recognizing him, it's safe to say it's not the same TVA (or Mobius) Loki knows.
And with such a massive cliffhanger, it's no surprise the Marvel series immediately received a season 2. Although the timelines could be dealt with in other projects, there's still plenty to resolve when it comes to Loki, Sylvie, and Mobius.
Unfortunately, things have been quiet ever since Loki Season 2 was announced. Apart from the fact that director Kate Herron won't return for the second outing, not much is known about the coming episodes. Most assumed the main cast would reprise their roles. And Wilson just confirmed his own involvement in the show's future.
Owen Wilson confirms he's returning, says 'Loki' will start filming soon
Although most assumed the main cast of Loki would return for season 2, Owen Wilson confirmed his involvement during a recent video for WIRED. While answering the internet's most-searched queries about himself, he stumbled upon one asking, "Is Owen Wilson coming back to Loki?" His answer will put Mobius fans at ease:
"Yes, he is coming back to Loki. And I think we're going to start filming that pretty soon. I had a great time working on Loki. I really enjoyed Tom Hiddleston and all the people [working] on that."
His production update is also promising, assuming the show does start filming early this year. That means fans can probably anticipate Loki Season 2 sometime in 2023. With Moon Knight, Ms. Marvel, and She-Hulk planned for 2022, we'll have plenty to keep us occupied in the meantime.
Owen Wilson isn't the only one returning for season 2
After a long time without Loki news, the past month has been great for fans wanting to learn more about season 2. In addition to Owen Wilson, another cast member shared she'll be back for Loki's next outing: Gugu Mbatha-Raw.
Mbatha-Raw played Mobius' boss at the TVA — Ravonna Renslayer — in season 1. And her arc turned out to be more complicated than fans expected. While Mbatha-Raw couldn't shed light on what's next for her character, she did confirm she'll be back during an appearance on Good Morning America.
"I know there is a season 2," she said. "I know that I'm in it. And that's about all I can say."
Fans will need to wait for more details about the next chapter of the series, which will hopefully surface once it enters production. In the meantime, there's more than enough reason to rewatch season 1.
Loki Season 1 is currently streaming on Disney+.