Padma Lakshmi's Doctor Has a Message For All of Us
We're in a new normal these days with the spread of the novel coronavirus (COVID-19) practically everywhere. With everyone being encouraged to stand at least three feet apart and avoid crowds, it's not surprising that each of us is being asked to do our part at this time.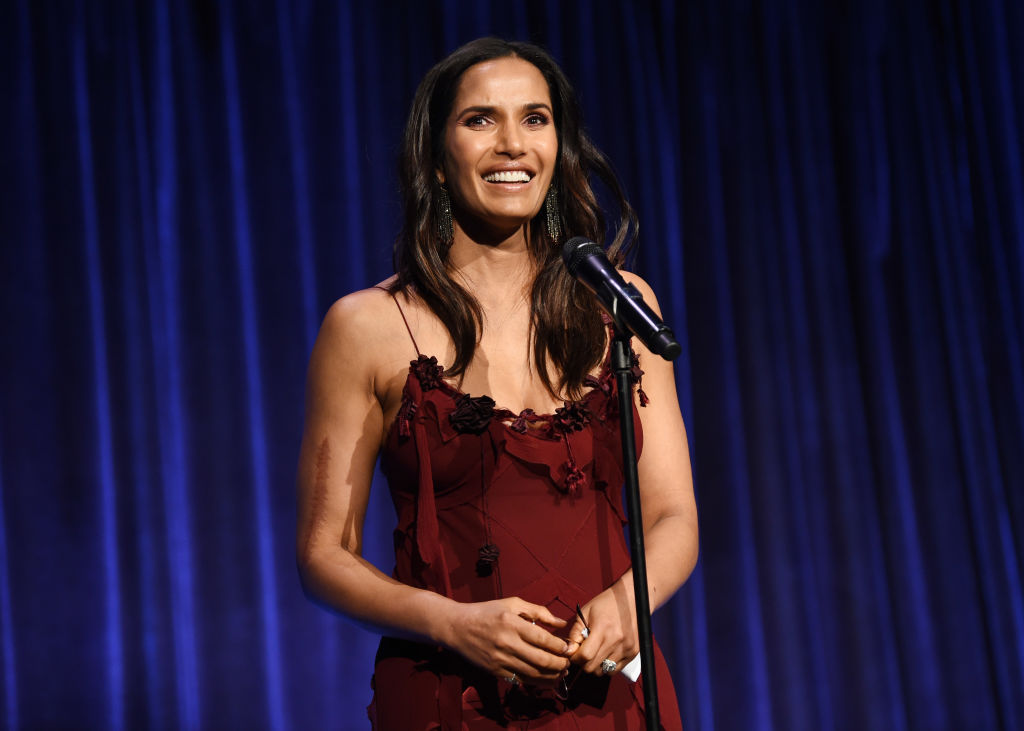 It's no different for Padma Lakshmi. The Top Chef host and judge posted this week on Instagram about a favor her doctor asked of her.
She appears in the new season of Netflix's 'Ugly Delicious'
The mother of one espoused her love of her native India's cuisine when she made a guest appearance on the Netflix series, Ugly Delicious. Show host and Momofuku founder David Chang welcomed Lakshmi's gastronomic journey through the food that her palate was founded on.
"In the past few years, I've realized that there are huge gaps in my understanding of the world," Chang explained to Eater this month about his choice to cover more cultures in the new second season of the show.
"One of the big revelations from Season 1, for me, was learning that al pastor originates in Lebanon. Whether it's the spice trade or the vertical spit, these are cultures and traditions that have completely defined the world. For my own sake, I needed to know more."
The items Lakshmi suggests you 'hoard'
The former model has been doing her part, helping her followers on social media with some guidance on what to keep in your pantry during this coronavirus era that is keeping us all home, as well as some freezable recipe ideas for having healthy food on hand. During these kind of "hunker down" times, the default setting in so many is to eat comfort food and junk. Lakshmi offered a better way.
". . . [I]f you want to prepare to be home and not buy things," she said on Instagram, "you know, you can not only freeze stuff but just buy frozen vegetables, because frozen is better than canned and they usually flash freeze vegetables so they retain most of their vitamins."
Padma Lakshmi's doctor asked her to relay a message on Instagram
The 49-year-old show host shared on Instagram that her ear, nose, and throat (ENT) doctor asked her to help him clarify a widely believed misconception about the coronavirus by posting it on her social media account.
"I had one doctor tell me that, as long as I was asymptomatic, I probably was ok to go out. And then I spoke to an ear, nose, and throat specialist who's on the forefront of this stuff and he was like, 'Absolutely not! You should not go out whether you think you have it or not because you could get it, you could be carrying it and be asymptomatic. It could be several days before you realize you have it through any symptoms.' "
Lakshmi then continued in her post, urging her followers to put aside any ideas of stepping out to sit in a cafe, or visit friends at this time.
"You really have to self-quarantine," she continued. "We all have to do our part. This is not a battle that's going to be won in hospitals; it's a battle that's going to be won in our homes. . . we really have to take this seriously, it is for everyone, young, old, rich, poor to do their part."
Read more: What Padma Lakshmi's Young Daughter Said That Scared The 'Top Chef' Host