Padma Lakshmi's Response to Being Called 'Immoral' in a Recent Instagram Post
Find out what 'Top Chef' host Padma Lakshmi had to say in response to those who opposed how she dressed in a recent social media post.
Top Chef host Padma Lakshmi is not one for being shy about her body, and with her statuesque physique, it's no wonder.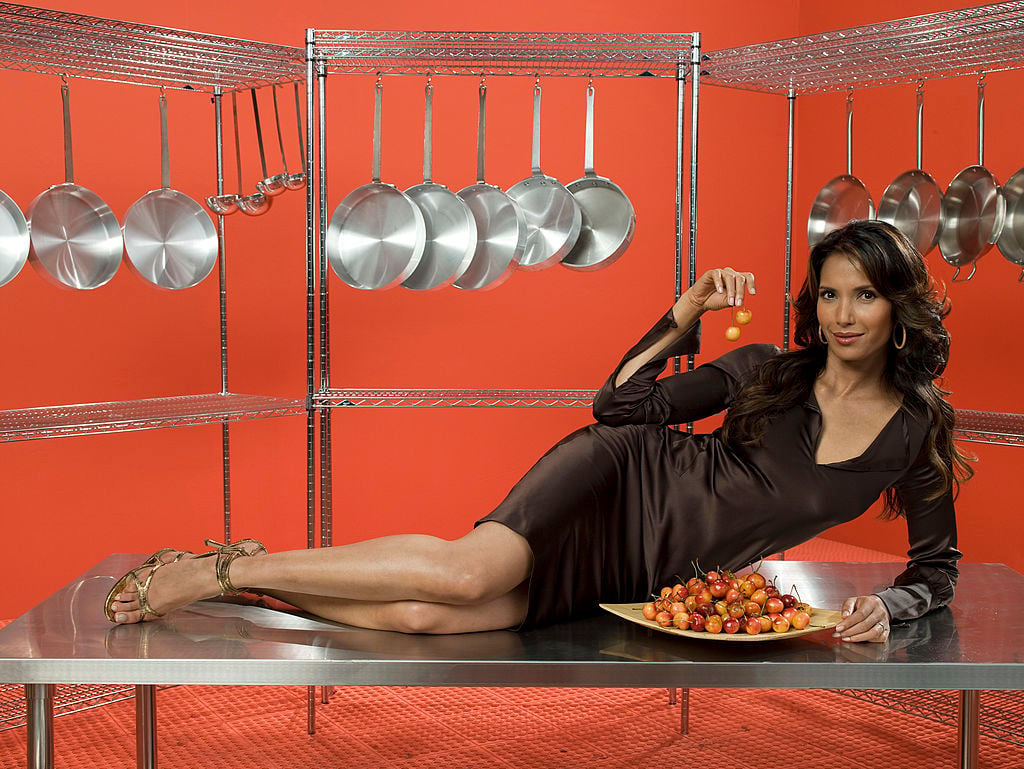 Recently, the model blew back at critics who referred to her as immoral for dressing a certain way in her own kitchen.
Here's what she had to say.
Lakshmi has been cooking smart during shelter in place
Lakshmi has strategies for keeping her family cared for during our recent global health crisis. With so many worldwide rethinking a new normal for living daily life to reduce the chances of the coronavirus (COVID-19) from spreading, it's a distressing time.
". . . [I]f you want to prepare to be home and not buy things," Lakshmi told Savannah Guthrie on Today in Mar. 2020, "you know, you can not only freeze stuff but just buy frozen vegetables, because frozen is better than canned and they usually flash freeze vegetables so they retain most of their vitamins."
Her doctor's message during the current pandemic
Soon after our government mandated shelter-in-place orders for the country, Lakshmi posted on Instagram that her ENT physician had asked her to help him clarify a widely believed misconception about the coronavirus by posting it on her social media account.
"I had one doctor tell me that, as long as I was asymptomatic, I probably was ok to go out. And then I spoke to an ear, nose, and throat specialist who's on the forefront of this stuff and he was like, 'Absolutely not! You should not go out whether you think you have it or not because you could get it, you could be carrying it and be asymptomatic. It could be several days before you realize you have it through any symptoms.' "
As it turns out, time has proven Lakshmi's ENT to be correct, and in fact, most states are urging residents to wear some kind of facial covering or nose and mouth mask.
"You really have to self-quarantine," she continued. "We all have to do our part. This is not a battle that's going to be won in hospitals; it's a battle that's going to be won in our homes. . . we really have to take this seriously, it is for everyone, young, old, rich, poor to do their part."
Padma Lakshmi's response to being called 'immoral'
This week, the 49-year-old posted a video of herself preparing a lasagna with white ragu on Instagram wearing a blue sports bra.
She noted in her post that "I got some comments last time that it was immoral for me to not wear a bra in my own kitchen during the quarantine. So those people should be happy to note that I'm wearing two today."
She had been wearing just the one bra in a previous post and seemed to be wearing one on top of another in this one.
She made sure to add at the end of her message, "But seriously, let's not police women's bodies in 2020 ok?"
Read more: 'Top Chef': Padma Lakshmi And Why She Felt Like A Faker On The Reality Show