'Pam & Tommy': Why Did Lily James Join The Series Despite Pamela Anderson's Disinterest?
Lily James reached out to Pamela Anderson before 'Pam & Tommy' but was rejected. The actor wants to provoke a conversation about how women are treated before and after the age of the internet.
Hulu's Pam & Tommy has resurfaced one of the biggest Hollywood scandals from the mid-90s. The miniseries explores the story behind the illegal distribution of Pamela Anderson and Tommy Lee's private sex tape. The incident became the first-ever celebrity sex tape in the world wide web era. Actor Lily James plays the leading role of Anderson in Pam & Tommy. Despite Anderson's refusal to partake in the series in any form, James sought to raise awareness with her story.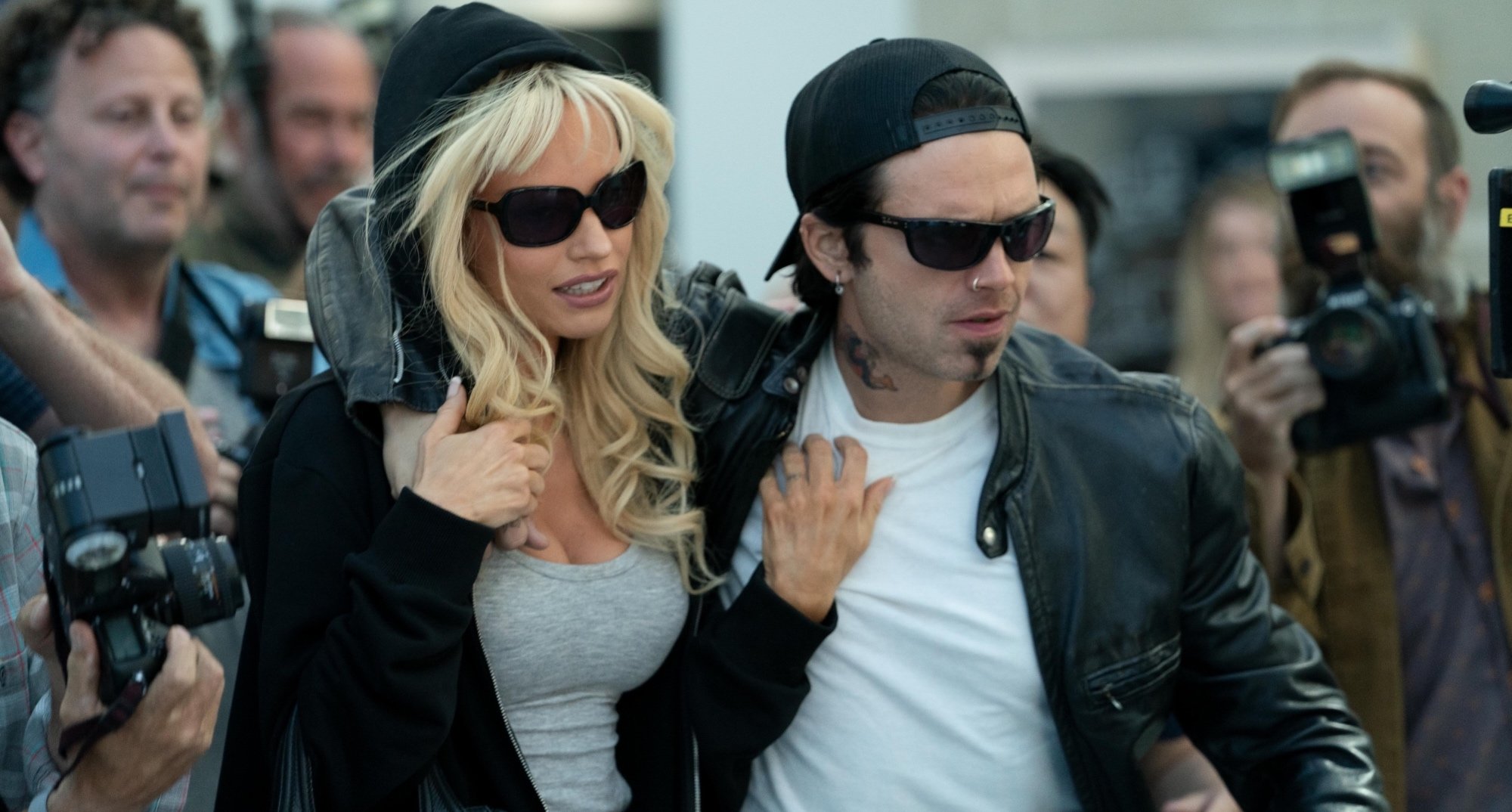 'Pam & Tommy' is more about the sex tape's effect on Pamela Anderson
More often than not, most people know Pamela Anderson and Tommy Lee for two different reasons. Some know Anderson from starring as the blonde bombshell in Baywatch, while Lee is the drummer for Mötley Crüe. In 1995, the two celebrities became known for another reason.
At the height of their careers, the two fell in love and got married. Pam & Tommy chronicles the events leading to their private honeymoon sex tape being stolen from their home and illegally distributed. This resulted in the first celebrity sex tape.
The trailer for the Hulu miniseries made clear the story it is meant to tell. It sheds light on how the scandal affected Anderson as the resident "sex symbol," her privacy, and her career as an actor.
Lily James wanted to play Pamela Anderson in 'Pam & Tommy' to send a message
There is no denying the sex tape negatively affected Anderson and is a dark moment in her past. A source close to Anderson told ET Online that Anderson does not regret her life. "But the only thing she would probably erase is this burglary. She feels so violated to this day," said the source. James reached out to Anderson before filming Pam & Tommy but never got a response.
Knowing Anderson disapproved of the series, why did James decide to star in Pam & Tommy? In an interview with the LA Times, the actor explains, "I just know that my intentions — our intentions — were good. I would never have come on board if I didn't think it was a worthy story to look at in order to provoke a conversation about how we treat women."
With IndieWire, James explained how Anderson's story is not only relatable to her but a majority of women. "Unfortunately, whether you're Pamela Anderson [or not] there are moments of sexism, or misogyny, or double standards where you're not treated the same as your male co-worker. It's sort of an age-old story," said James.
The Pam & Tommy actor goes on to explain, "Your sexuality is weaponized" and is prevalent beyond just Anderson's story.
'Pam & Tommy' Lily James says the series is holding up a mirror to society
James did extensive research about Anderson, read her book, using prosthetics, and often stayed in character around her family to prepare for her role. James had the perfect response when asked if it was time for the public to admit their role in the scandal.
"I'm glad you use the word "culpability" because that was very much our intention with the show was to hold a mirror up to make people look at their own culpability in perpetuating this unhealthy viral internet behavior. We are all complicit, and we have to become more aware and sensitive," said James.
Anderson and Lee's story shifted the narrative about what it meant to be a celebrity in the public eye. "I think Pamela and Tommy had a lot to do with changing that because what they had to put with is just unbelievable and relentless, so invasive. How do you live your life with that kind of intrusion?" said James.
Despite Anderson's disinterest in the series, Pam & Tommy was a shot for James to spotlight the continuing disregard toward women that still exists even before the mid-90s.