Paris Hilton 'Hated' Sister Nicky's Bridesmaid Dresses
In the realm of social media influencers, no one star shines brighter than Paris Hilton. The socialite and heiress has been a tabloid mainstay since she was a young girl, and now, even at the age of 40, she's still making headlines and surprising fans with new revelations.
Recently, in an episode of her reality TV show Paris in Love, Hilton opened up about the experience of serving as a bridesmaid in her sister's 2015 wedding—acknowledging that she "hated" the bridesmaid dresses that her sister chose for the occasion.
Paris Hilton served as a bridesmaid in her sister's high-profile wedding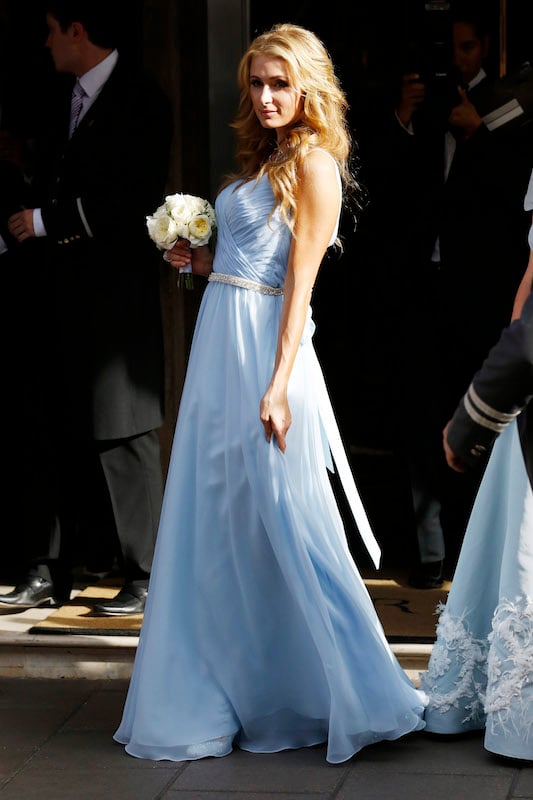 Well before Paris Hilton had her own fairytale wedding, her younger sister, Nicky Hilton, was married to James Rothschild in an extravagant ceremony that drummed up considerable fan interest. Nicky Hilton and Rothschild's wedding took place in July 2015 at Kensington Palace in London. According to E! Online, the wedding featured a wall of stunning white flowers and a non-denominational service that was performed by a female officiant.
Nicky Hilton wore a beautiful white wedding gown designed by Valentino, which featured sheer illusion sleeves and a ball skirt. She wore her hair pulled back and rocked simple, stunning makeup that perfectly complemented her features. The wedding made headlines all around the world, not least because Paris Hilton served as a bridesmaid in her sister's ceremony. 
What did Paris Hilton say about the bridesmaid dresses that Nicky Hilton chose for her wedding?
Paris Hilton recently talked about the experience of being a bridesmaid in Nicky Hilton's 2015 wedding. In an episode of Paris in Love, her reality television show on Peacock, Paris Hilton admitted that while she loved being there for her sister, she wasn't a fan of the bridesmaid dress that she wore. As reported by Page Six, Paris Hilton said "We hated Nicky's bridesmaid dresses! Nicky's bridesmaid dresses were beyond. They were just itchy, uncomfortable. I liked the color, they were baby blue, but other than that — brutal." 
The same episode of Paris in Love featured Paris Hilton shopping for bridesmaid dresses for her own wedding. Ultimately, she chose a soft pink color for her bridesmaid dresses, created by Alice + Olivia CEO and designer Stacey Bendet.
Paris Hilton allowed her bridesmaids, which included Nicky Hilton as well as her close friends Farrah Aldjufrie, Tessa Hilton, Halle Reum Hammond, and Brooke Wiederhorn, to choose their own style, with Nicky Hilton selecting a long-sleeved version and the other bridesmaids picking short-sleeved versions with sweetheart necklines. 
Paris Hilton recently had her own over-the-top wedding
Paris Hilton and Carter Reum tied the knot on November 11, 2021, in a ceremony that truly lived up to Paris Hilton's own signature style and taste for the extravagant. Paris Hilton wore a total of six different looks throughout her wedding weekend, including a custom Oscar de la Renta gown to walk down the aisle in and corseted Ghalia Lav dress for her reception.
Sources have noted that Paris Hilton's primary wedding dress seemed to be a nod to the wedding dresses worn by her mother and sister on their respective wedding days. Notably, all three of the Hilton women's wedding dresses have featured long sleeves and lace detailing.
For Paris Hilton's fans, the wedding was a culmination of a love story that has been nearly two years in the making. Hilton and Reum have continued to share details of their big day with followers, and between Paris Hilton's social media pages and her reality show, it seems likely that fans will continue to learn even more about the glamorous wedding. 
RELATED: Paris Hilton Reveals 1 Worry She Has With Her Future Daughter