'Parks and Rec': Retta Describes This Surprising Actor as Her 'Set Husband'
One of the best things about Parks and Rec is the relationship that the characters create with one another. Although they all start off as coworkers, by the end of the series they've become a small family of people who care deeply for one another. But, the love fest extends beyond the screen. The Parks and Rec cast have developed great connections with each other off-screen also. In fact, many of them still make it a point to keep in touch today.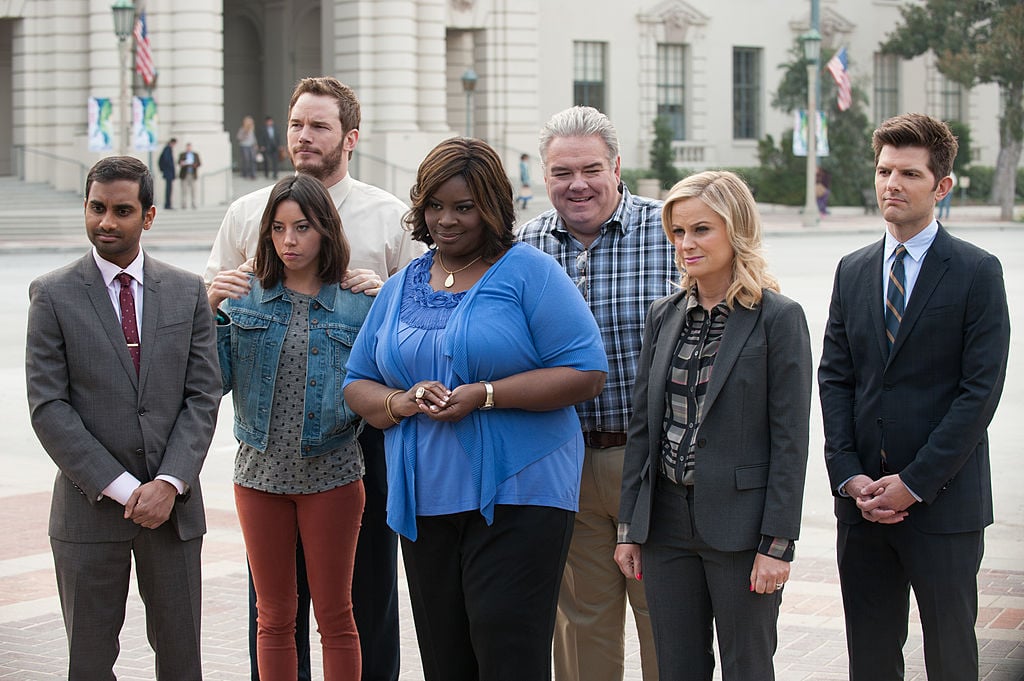 But, while the cast of Parks and Rec are all close now, it took some time for them to get that way. In an interview with Vulture, Retta, who played the hilarious and uber-confident Donna Meagle on the show, recalled what it was like to meet her fellow castmates for the first time. Naturally, people assume that she and Azis Ansari (Tom Haverford) were always close because of the relationship their characters had. But, that wasn't the case.
Retta recalls meeting her 'Parks and Rec' castmate for the first time
"I did not know Aziz when were first started working together. I knew of him because I knew Paul Scheer, and I knew that they did Human Giant together. But, I didn't know his stand-up or anything about him. Aziz was kind of in his head a lot. He thinks a lot. Unless he's engaged in a conversation, he doesn't necessarily engage in a conversation," Retta revealed about her fellow Parks and Rec alum.
Retta also revealed that Ansari was often very busy because his stand up comedic skills put him in high demand. However, the pair ended up bonding over their colorful characters and the sheer amount of time they spent filming together on the set of Parks and Rec. "But because of the way they wrote our friendship, Aziz and I became friends. Now we'll text each other things we find out about Tom and Donna. The show made us friends," the actress revealed.
Retta and Aziz Ansari bonded over their characters
One episode that really bonded them came in the fourth season of Parks and Rec. Though the main storyline involves the Pawnee Rangers and Leslie competing with Ron for the best camping troupe, many fans know it as the "Treat Yo'Self" episode. Treat Yo'Self 2011 became an instant phenomenon and even found itself into mainstream culture. In fact, many people still reference it today.
"But that Pawnee Rangers episode, where we did Treat Yo'Self — we spent a lot of time together. I feel like that was my first full storyline. And I just remember we had so much fun doing the fashion montage … and the scenes in Donna's Benz. We just hung out all day together. I got to find out how funny Aziz was as a person," Retta revealed about embracing their characters brought her closer together to her fellow Parks and Rec castmate.
Retta calls 'Parks and Rec' star, Jim O'Heir her set husband
But, Ansari isn't the only person who Retta spent a lot of time with. Retta immediately bonded with Jim O'Heir (who plays Jerry/Gary/Larry Gergich) and they became fast friends. The pair even shared a trailer on the set of Parks and Rec. "Jim is my set husband. We share a trailer. So whenever he leaves the bathroom, he bangs on the wall so I can hear it and says, 'Got it!' The joke is never unfunny to him," Retta revealed.
Whether bonded by characters or proximity, there's no love lost between the Parks and Rec cast. It's rare that people genuinely like and get along with all their coworkers; but, the cast of the hit comedy seemed to have found a way to make things work.