'Parks and Recreation': How 1 Amy Poehler Improv in Season 1 'Changed the Course of the Show'

Every show is still finding itself in its first season and Parks and Recreation was no exception. The first season was only six episodes, so it didn't even have much time to get started. Characters like Andy Dwyer (Chris Pratt) weren't even intended to be series regulars, but that sure changed. Co-creator Mike Schur said star Amy Poehler steered them down the right path with a single line, one she made up on the spot.
[Spoiler alert: This article contains spoilers for Parks and Recreation.]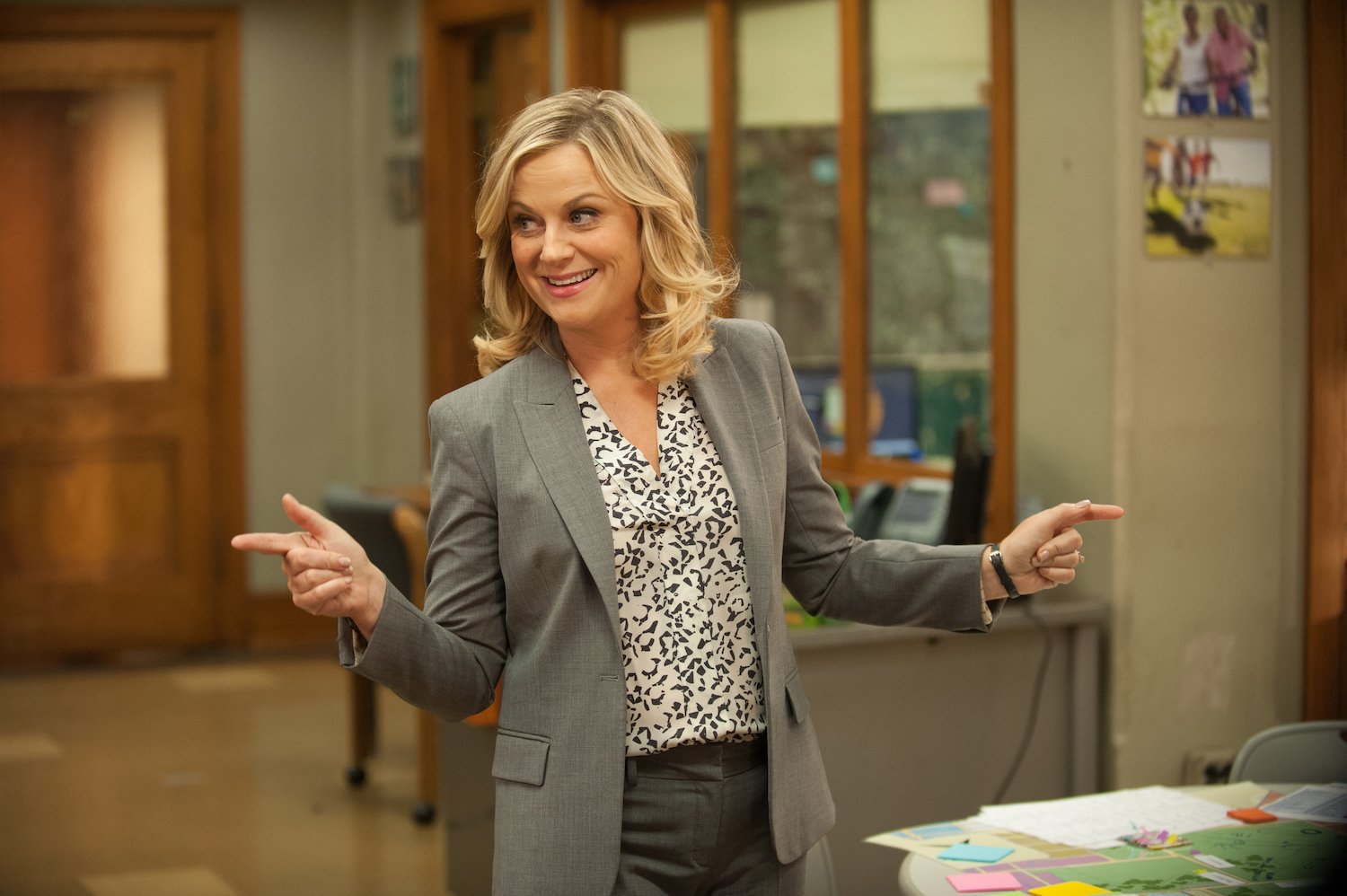 Schur held an AMA on Reddit on Oct. 29 to celebrate the release of the Mouse Rat album on vinyl. He told one story about an early improv by Poehler that he says "changed the course of the show."
'Parks and Recreation' was built around Amy Poehler
Schur co-created Parks and Recreation with Greg Daniels. They had worked together on Daniels' American adaptation of The Office. Poehler was the first star attached to Parks and they developed it as a vehicle for her. Season 1 introduced Leslie Knope (Poehler), the ambitious Pawnee, Indiana Parks and Recreation department worker who wanted to turn a dangerous, unsightly pit into a park. The style was similar to The Office where the characters would talk to the camera in interviews.
RELATED: 'Parks and Recreation': Oscar-Winner Octavia Spencer Auditioned for This Role and Almost Got It
"Amy did an improvised talking head in the very early days — like the 3rd or 4th episode — where she had just accidentally knocked over a table in the courtyard and smashed a bunch of bottles," Schur wrote. "Her line was about how she was shattering those bottles like she was shattering the glass ceiling, or something kind of meh."
Amy Poehler has a history of improv
Poehler was a member of the Upright Citizens Brigade improv comedy troupe. She also starred on the Upright Citizens Brigade sketch comedy series on Comedy Central. Poehler has also been a cast member of Saturday Night Live and co-host of the Golden Globe Awards, so she had experience going off script.
When filming the broken bottles scene, Poehler improvised some of her own lines. One of them ended up redefining the whole character. Poehler was also an executive producer of Parks and Recreation.
RELATED: Chris Pratt Thought 'Parks and Recreation' Would Get Canceled as Soon as It Premiered — Here's Why
"And she got super cocky and looked back at the men sweeping up and improvised something like, 'Am I breaking into the boys' club? I dunno. I mean, just look at all those bitches cleaning up after me,'" Schur continued. "It was obviously way funner than what we had written, but also a light bulb went off for us."
How 'Parks and Recreation' changed from that day forward
The early episodes of Parks and Recreation showed Leslie as a by the books administrator. She remained ambitious and organized throughout the series, but the show learned to have more fun with her personality. The pit story soon gave way to Leslie having to defend the entire Parks department from a state audit. Leslie eventually dated Ben Wyatt (Adam Scott) through long distance hurdles when he got a job on a congressional campaign. Leslie ran for city council in season 4 and won the election. Leslie would continue working her way up the Indiana political change through the series finale, which flashed forward to 2025.
"Where we realized in that moment we had been writing her character wrong — that she should be more fun and loose and not so uptight and 'politician'-y," Schur said. "Changed the course of the show with that one line."