'Parks and Recreation' Creator Weighs In on The Best Singers In the Cast
It's no secret that the Parks and Recreation cast is plenty talented. Whether showing off their dramatic or comedic chops, the show features an extraordinarily talented ensemble cast. But, there's more to the Parks and Recreation cast than just great acting skills. Many of them also boast other talents as well such as comedy, improv, and, of course, great musical abilities.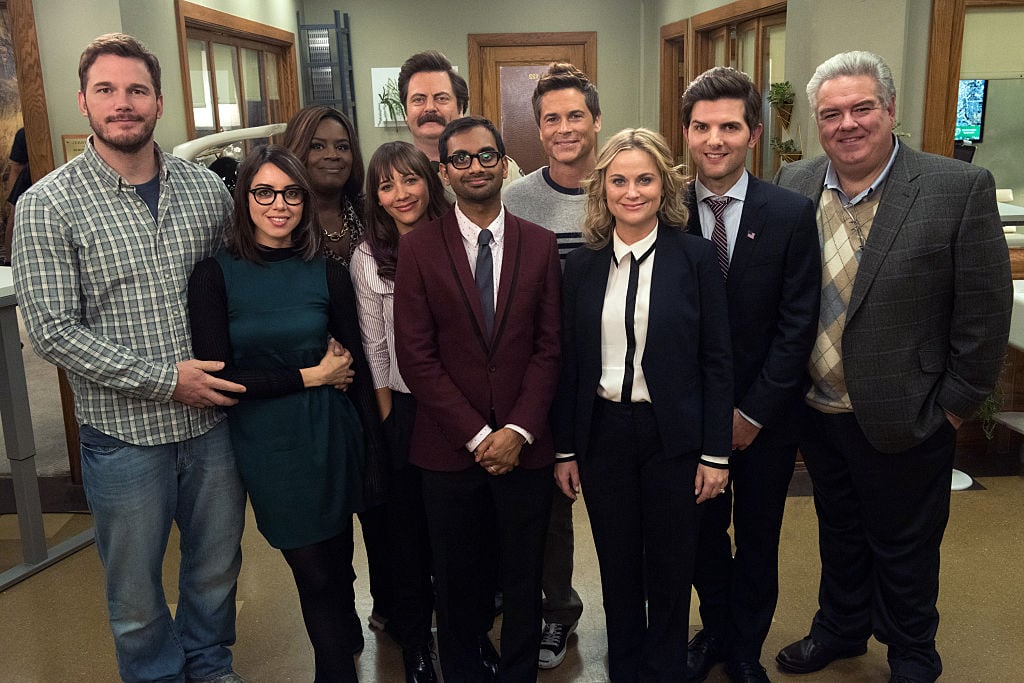 Music plays a huge role in Parks and Recreation and it is woven through all seven seasons of the popular series. Whether we're watching Andy Dwyer perform as the lead singer of Mouse Rat or listening to the smooth saxophone stylings of Duke Silver aka Ron Swanson, music was a constant throughout the show. But, the most memorable song from the series is arguably "5,000 Candles in the Wind."
'Parks and Recreation' cast reunites and sings '5,000 Candles in the Wind'
"5,000 Candles in the Wind" was a song written by Andy which pays tribute to Pawnee's favorite miniature horse, Lil' Sebastian. The song was first performed at his memorial service and was played many times after that during events like the Pawnee/Eagleton Unity Concert. The song has become a true staple in the Parks and Recreation world and fan favorite. In fact, the song is so well-loved that during the recent Parks and Recreation reunion show, the entire cast sang along.
RELATED: 'Parks and Recreation': These Two Cast Members Are Married in Real Life
But just how did the Parks and Recreation cast pull off their most recent rendition of the iconic song? In a recent interview with Entertainment Weekly, Mike Schur (one of the show's creators) opened up about the logistics of recording the song for the reunion. "They all had to sing it individually, and then our editor, Matt Freund, had to make it all line up, which was a heroic feat. Some of them had earpieces and were listening to the track to give them a sense of timing. And then others were doing it by memory or would listen to the track just to feel it for a second and then hit record and then record themselves singing it," Schur revealed.
Who has the best singing voice in the cast?
But who has the best voice in the cast? Schur revealed that two women easily claim that title. "Rashida [who plays Ann Perkins] and Retta [who plays Donna Meagle] have the best voices in the cast, I would say. At various times they've both been professional singers, so it stands to reason. Amy's voice is great. She doesn't think of herself as a singer, but I think her voice is lovely," the Parks and Recreation creator confessed.
Schur continued on to praise other cast members for their singing talents. He stated that he could see Chris Pratt (Andy) starring in a musical one day because of the way he sings. "Pratt's incredibly good at faking a rockstar voice, you know? He embodies a rock star. I feel like there's A Star is Born-type movie in his future because I don't think he has any vocal training at all, but he just understands how to sing somehow or how to like act like a singer. That's really him singing and he sounded really good. He sounds gravelly and smoky and cool," Schur shared. Clearly, the Parks and Recreation cast is multi-talented. We can't wait to see what they do next.