'Parks and Rec': This Cast Member Also Auditioned for Michael Scott on 'The Office'
Most fans of Parks and Recreation and The Office know that there is one cast member who played a key role in both shows. Before Rashida Jones joined Parks and Recreation, she was an integral part of The Office for the entire third season. Jones played Jim's love interest, Karen Filippelli, who he meets in Stamford and ultimately returns to Scranton with him. The pair dated for several months before Jim ultimately got with his true love, Pam.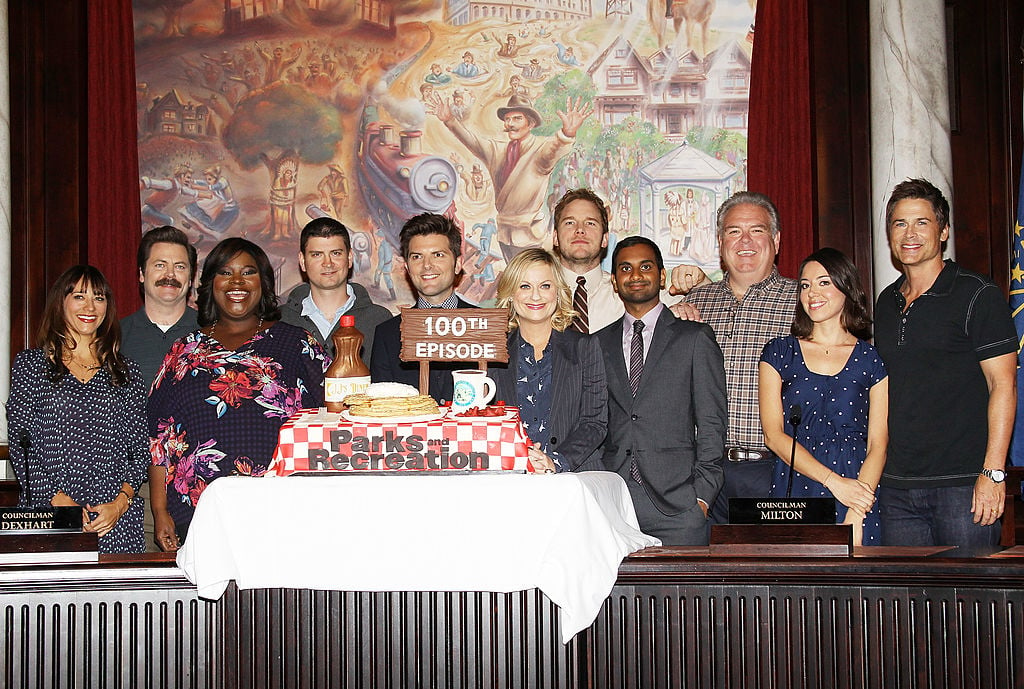 While Jones went on to guest star in a few episodes of The Office in later seasons, ultimately, because of her character's storyline, serving as a permanent member of the cast didn't make sense. Fortunately for Jones, she found her place on Parks and Recreation as Ann Perkins and became a series regular on the show. But, Jones isn't the only Parks and Recreation cast member with a connection to The Office. Adam Scott, who played Ben Wyatt, auditioned for the role of Jim Halpert. And, Nick Offerman, who famously played Ron Swanson, also has a history with the show.
Nick Offerman auditioned for 'The Office' before being cast on 'Parks and Recreation'
In a recent interview with GQ, Offerman broke down how he came to be cast on Parks and Recreation. The actor shared that he first auditioned for The Office, another show that Parks and Recreation co-creators Greg Daniels and Mike Schur were heavily involved in. "I originally auditioned for the role of Michael Scott. Dave Koechner, who played Todd Packer, among other legendary comedy roles, he and I auditioned the same day to play Michael Scott," Offerman shared.
Another person who originally auditioned for the role of Michael Scott was Rainn Wilson. Offerman had actually known Wilson for quite some time so after Wilson was cast as Dwight K. Schrute on the show, Offerman and his wife, Megan Mullally, would watch the show together. The Parks and Recreation alum recalled watching The Office and thinking that he could become a household name playing a larger-than-life role on T.V. also.
Offerman felt he'd get his big break if he was cast on a show like 'The Office'
"I was a huge fan of The Office and I had known Rainn Wilson for a long time and I would say to Megan, we'd watch The Office, and I would say, 'You know what, if I'm ever gonna get a big break I think it's gonna be on a show like this. In a part like Dwight Schrute.' Which is crazily exactly what happened," Offerman revealed, recalling how he predicted his time on Parks and Recreation.
Of course, being cast on Parks and Recreation was far from easy for Offerman. While Daniels and Schur loved him, the network wasn't easily convinced. In fact, Offerman was originally supposed to play Jones' love interest until the network nixed the idea. Fortunately, the creators and the writers were able to all work together to dream up Ron Swanson.
'Parks and Recreation' would be lost without Ron Swanson
Offerman's character of Ron started off fairly simple. He was a Libertarian who despised all things government. But, over time, we got to see the many nuances of his characters. "I think with any character on a show that lasts, it's a collaboration between the writers and the actor to continue fleshing it out, coloring in between the lines as you go," Offerman admitted when speaking about his infamous Parks and Recreation character. While Offerman didn't land the lead on The Office, we think he booked the best role for him. We couldn't imagine Pawnee without him.