This 'Parks and Recreation' Character Almost Had a Totally Different Look
The cast of Parks and Recreation is one that's hard to top. It's been years since the NBC show ended but the fandom lives on through syndication and streaming platforms. Nick Offerman's character Ron Swanson is the meat-eating, facial hair-toting libertarian of the group. The role is likely Offerman's most famous so it's hard to imagine him having any other look.
Nick Offerman's 'Parks and Recreation' audition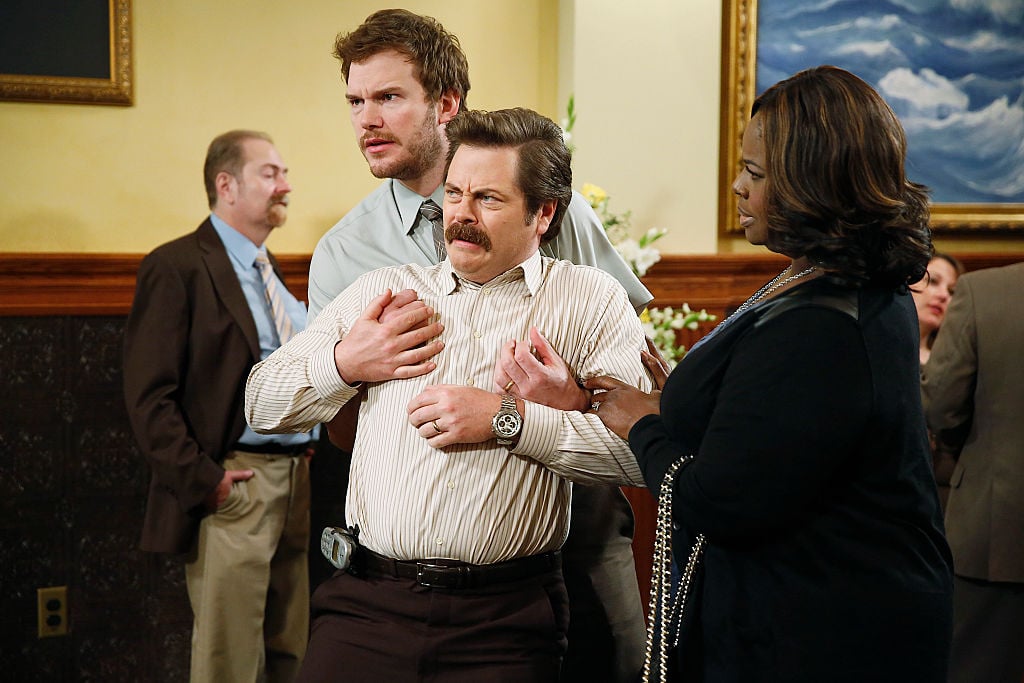 RELATED: 'Parks and Recreation': Megan Mullally Only Had Sex With Nick Offerman After a Series of Intricate Steps Proving They're Just Like Ron and Tammy 2
For seven seasons, Offerman played the uncomparable Ron Swanson on Parks and Rec. The star's first audition attempt at making it onto the Mike Schur production was for a character that ultimately got cut. "Josh" was slated to become Ann Perkins's (Rashida Jones) love interest. It's rumored that "Josh" morphed into Mark Brandanawicz (Paul Schneider) and Adam Scott went for it, too.
Offerman (or Scott) didn't get the part (obviously) but Schur wrote his name on a Post-It to remember his name after Offerman auditioned for The Office prior to Parks and Rec. He didn't fit what they were looking for but Schur wanted him for Ron Swanson.
Offerman remembered the way things went down telling The Guardian in 2019 how it went down with NBC.
"'This guy is going to have to kiss Rashida Jones at some point, and we don't think Nick is visually in that category,'" he recalled. "Mike said: 'OK, let's cast him as Leslie Knope's boss.'"
Others were initially considered for Offerman's role such as Veep's Matt Walsh and Yes, Dear's Mike O'Malley. Luckily, Offerman won out in the end and we can't imagine it any other way.
Before 'Parks and Rec', Offerman almost had this going for him
RELATED: 'Parks and Recreation': The Most Meme'd Moment of the Series Wasn't Even Scripted
If Parks and Rec started more than a decade sooner, Offerman might not have developed the Ron Swanson look we've all come to know and love.
"When I was just starting out in TV, the 'cute guys' all had these boys' hairless torsos. It was suggested that I wax," Offerman told GQ in 2011.
Ron without his infamous mustache might not have the same effect. It's something Offerman recalled casting directors pointing out saying, "You are going to play a lot of cops someday."
The star hasn't played a lot of cops but he has transformed himself from full-facial hair to none at all through the years. As it turns out, Offerman helped develop Ron's look along with Schur.
"I've been very blessed with hair all over my body," Offerman. "For an actor, it's a great toolbox – I can give you any iteration of facial hair. When Mike and I started developing Ron, we said: 'Let's give him that kick-ass midwestern mustache'. We had no idea it would become such a sensation."
It's a good thing Offerman didn't wax, although there's still that season 3 storyline with Tammy No. 2 (Megan Mullally) when Offerman shaved, and no — we're not over it.
Offerman influenced a lot of who Ron Swanson became
RELATED: 'Parks and Recreation': Are Nick Offerman and Megan Mullally Anything Like Ron and Tammy No. 2?
Ron Swanson may have been based on a real person but it's Offerman's insight that mae the character so beloved.
"It started with a pretty simple idea: a libertarian who hated government, working as director of parks and recreation," he said. [The writers] thought it was really funny that the head of the department was trying to bring down the government by keeping things inactive."
"He continued: "That also served as a wonderful foil to the ebullience of Leslie. It developed into Ron's love of old-fashioned American tropes such as red meat, the great outdoors, hunting, fishing and woodwork; combined with his strange relationships with his ex-wives. They created a great deal of fodder."
With Offerman's love of woodworking and musical abilities with the saxophone (like Duke Silver), Ron Swanson comes alive on the screen.