'Parks and Recreation': Nick Offerman Got So Much Free Meat From Fans His Doctor Intervened
When it comes to Parks and Recreation, there is no shortage of colorful characters to entertain fans. From Ben Wyatt's nerdiness to Chris Trager's eternal optimism, the Parks and Recreation department of Pawnee, IN is certainly a hoot. But, one character who stuck out to fans from the very first season is Ron Swanson.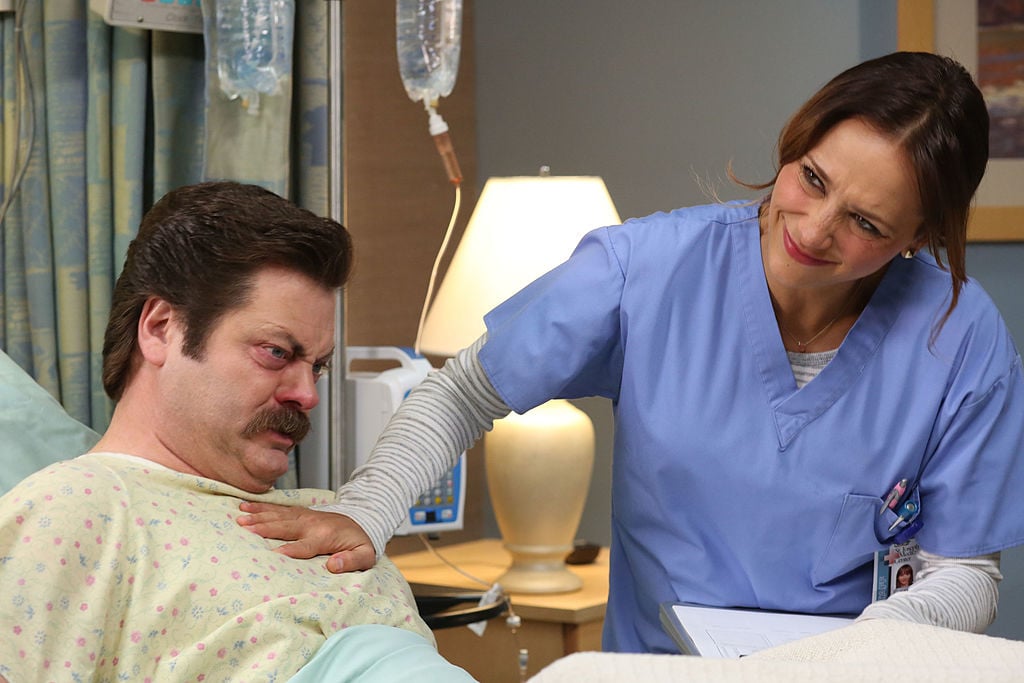 Played to perfection by Nick Offerman, Ron Swanson is one of the best characters on the show. A meat-loving, wood-working, anti-establishment man, Ron is the perfect balance to Leslie's overexuberance. Though Offerman has admitted that he shares some similarities with Ron e.g. a passion for woodworking, he also feels that Ron is a sort of caricature who can only exist in the TV world of Parks and Recreation.
'Parks and Recreation' cast member, Nick Offerman, receives tons of free meat
But, despite his differences with his infamous character, Offerman has admitted that Parks and Recreation fans often find it hard to distinguish him from his character. In an interview with The Guardian, Offerman confessed that his cardiologist had to intervene after his fans kept plowing him with so much free meat. As Ron's love of steak and bacon is practically a personality trait, Offerman is often gifted with more way more meat than he can manage.
"There are several areas in which people conflate me with Ron's cartoon physicality. Sometimes in a restaurant, if the chef is a fan and hears I'm dining, they'll add an inch-thick layer of bacon or send over an extra steak. At first, it was amazing. Who doesn't love free meat? But my cardiologist pointed out that a real digestive system can't eat like that. Or indeed drink scotch in Ron's quantities and hope to lead a productive life," the Parks and Recreation cast member shared.
Leaning out to play a wider array of characters
In the years since Parks and Recreation stopped filming, Offerman certainly has prioritized his health. Fans note that the talented actor has lost weight since he played his infamous character. And while Offerman has made changes to his diet and exercise regiment, he also has shared that being stocky was a request made by his Parks and Recreation boss. Once he was no longer playing Ron Swanson, he was able to make some substantial changes to his build. Those changes ultimately led him to a wider variety of roles.
"My Parks and Rec boss asked me to 'stay beefy', which is one of the best things you can hear from your employer. But as the show ended, the parts coming my way fell into a similar trope: 'An ex-sportsman, 30lb past his prime, standing in his briefs, crying in the mirror.' I decided I'd like to live as long as possible and get a wider variety of roles, so I cleaned up my diet and trimmed down. Maybe now I'll be cast as a thinner version of that depressed, gone-to-seed sportsman," Offerman shared about his new look leading him to new characters.
Offerman is no Ron Swanson
It's hilarious to think that so many Parks and Recreation fans believe Offerman really eats like his character. Fortunately, for his health, Offerman seems more adept at making sure that he eats a healthy and balanced diet than Ron Swanson.