'Parks and Recreation': How Nick Offerman Got Into Character for Ron Swanson
The hit NBC comedy series Parks and Recreation is famed for his bevy of colorful characters. But, one of the most beloved characters in the cast is none other than Ron Swanson. Serving as Leslie Knope's boss for majority of the series, Ron is the meat-loving, loveable, government hating, Parks and Recreation leader we all …
The hit NBC comedy series Parks and Recreation is famed for his bevy of colorful characters. But, one of the most beloved characters in the cast is none other than Ron Swanson. Serving as Leslie Knope's boss for majority of the series, Ron is the meat-loving, loveable, government hating, Parks and Recreation leader we all know and love.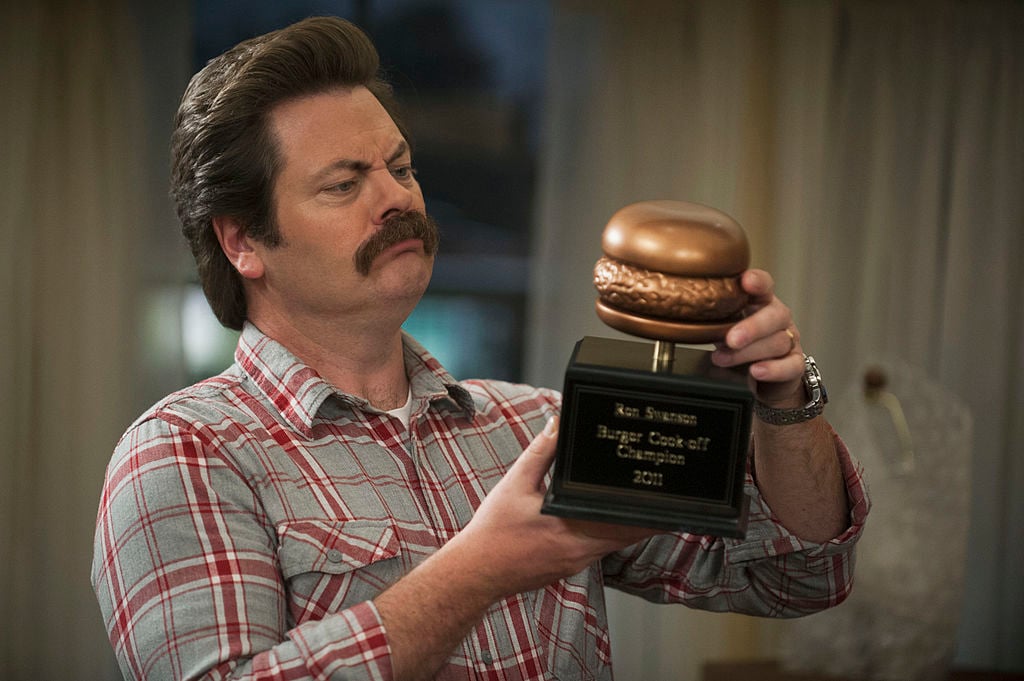 Played brilliantly by Nick Offerman, Ronald Ulysses Swanson is truly a fan favorite. And though Offerman's time on Parks and Recreation made him a household name, he had plenty of experiences playing other characters prior to joining the show. In fact, Offerman had been a working actor for about a decade. A true lover of the craft of acting, he wasn't worried about achieving fame or worldwide recognition.
Nick Offerman was a successful actor before getting cast on 'Parks and Recreation'
"I'd been making a really nice living for about 10 years here in L.A. I always felt successful just doing that. I've been working steadily as an actor since around 1998. I wasn't well known in the public, but I was a dependable working journeyman. I was working more than all the people I knew from college and my Chicago theater community, so I didn't notice that I wasn't 'successful' enough. When I got my job on Parks [and Recreation], it was so dreamy, kind of unfathomable. I didn't think a job that excellent could exist for me," Offerman shared with The Hollywood Reporter.
Part of the reason that Offerman likely found his experience on Parks and Recreation so dreamy is that the cast was truly allowed to collaborate on their unique characters. In fact, many times the actors' characters drew inspiration from their personal lives. In fact, one of Ron's biggest passions is that of woodworking, which is also a personal interest of Offerman's.
How Nick Offerman gave us one of our favorite 'Parks and Rec' characters
But, Offerman is quick to say that Ron Swanson isn't based on him as a person. Ron's over-the-top persona is likely only a fit for television. But, there is a sense of kinship he shares with his Parks and Recreation character. "Ron is sort of an epic mythological character in a TV comedy. But if I were a set of paints, they would be using the same colors to paint Ron but in a much larger and bolder fashion," the actor confessed.
But just how did Offerman manage to embody a character who is so larger than life? According to the actor, it didn't take much for him to prepare for him for his scenes on Parks and Recreation. He even channeled some people he knew in real life into the role. "Ron is always inside me, waiting to exact his righteous indignation. There's a little bit of my dad and grandfather and every school principal I've ever come in contact with in Ron — people who have a pomposity about being an administrator," Offerman revealed. Offerman truly did a great job embodying Ron Swanson. We couldn't imagine the show without him.