'Parks and Recreation': Chris Pratt Reveals the Real Reason He Improvised So Much and Wanted to 'Cause Destruction'
Chris Pratt had a big confession about his time on Parks and Recreation — he wasn't very professional, it turns out. During a podcast appearance with his former co-star Rob Lowe, Pratt shared that he never knew his lines and that's why he improvised on the show so much, something that worked well for his character, Andy Dwyer.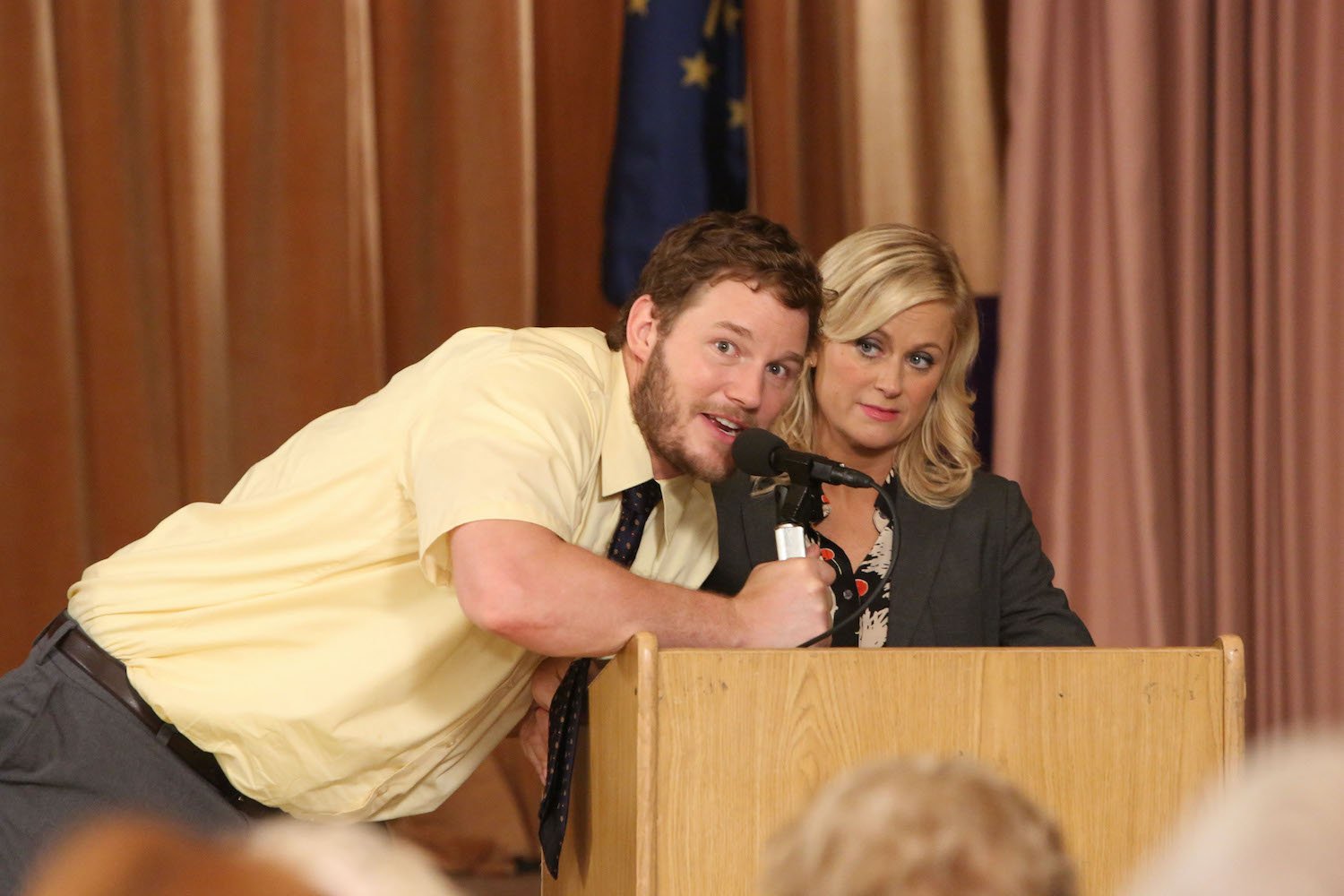 Pratt shared why he wasn't usually prepared
Rob Lowe invited Pratt on his first Literally! with Rob Lowe podcast episode and the stories about their time on Parks and Rec didn't disappoint.
While discussing the special reunion quarantine episode, Pratt shared that while "it was fun to be a part of," he didn't realize how much work it would be because he had to memorize his lines, something he rarely did during his run on the show.
"We are so spoiled as actors, especially me on that show," Pratt shared, noting that since he lived close to the studio, he'd often show up late and unprepared.
"I haven't read the script," Pratt recalled. "I don't know what the dialogue is. It was perfect for me in that regard because Andy was never carrying that much emotional through line weight."
He felt that as long as he kept the timing, he was able to ad lib some things. "I could just riff and as long as I stayed in timing, I'd say whatever I want," he explained.
That involved him looking over the script a few minutes beforehand, he said, explaining he would "give them a version of that but then it would spin into something else. It was a lot of improv for me to do that character."
In addition to being mostly unprepared, Pratt also confessed he was a bit wild on the show. "My whole thing on Parks and Rec was just to cause destruction and break sh*t that they didn't know they were going to have to pay for at the beginning of the day. I loved just breaking stuff."
His lack of preparation resulted in comedy gold
Despite Pratt's confession that he didn't know his lines on the show, he was quick on his feet and some of his improvised material went down as iconic moments on Parks and Rec.
The line he delivered in the "Flu Season" episode is a perfect example. During the PaleyFest panel for Parks and Recreation in 2012, series co-creator Michael Schur called it "the funniest line ever spoken on our show."
"And I'm not kidding, as a writer, it made me furious. I'm still really upset and angry," Schur said. "He did it once, the camera happened to be on him, he did it once… I think it's the funniest joke that's ever been on our show. It's my favorite joke."
Pratt wasn't even supposed to be in the scene
During the podcast, Lowe praised Pratt for the genius moment, saying, "It's pretty much a given that you have the single greatest ad lib in the history of Parks and Rec."
Pratt shared the story behind the iconic joke, explaining that the director asked if he wanted to say something in the scene where Ben and Leslie are talking about her flu symptoms as they leave the office.
"Leslie, I typed your symptoms into the thing up here and it says you could have network connectivity problems," Andy tells her. It became a fan-favorite joke of the entire series.