'Parks and Recreation': Here's Exactly How Long It Takes to Grow a Ron Swanson Mustache
One of the most popular characters on Parks and Recreation wasn't a character at all. The Ron Swanson mustache was meticulously grown and groomed by Nick Offerman for the entirety of the NBC series. The star has had many looks since then but that enviable 'stache lives on in infamy. Surprisingly, it took a while to grow the whiskers to the perfect Swanson length and thickness.
Nick Offerman's mustache was its own character in 'Parks and Rec' and yes — he did shave it for an episode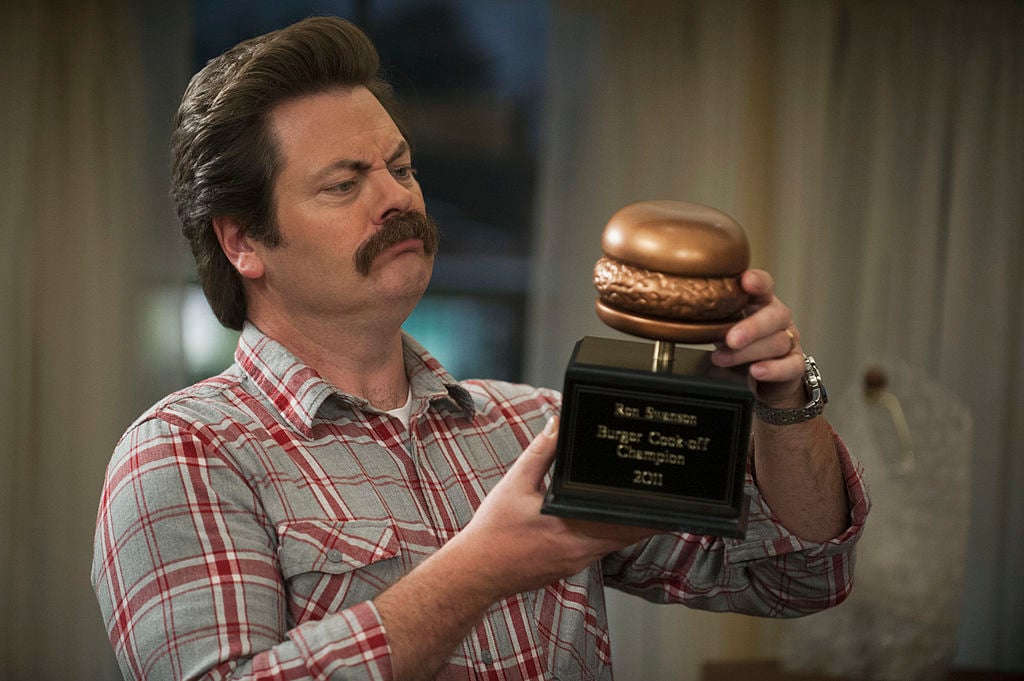 RELATED: 'Parks and Recreation' Star Nick Offerman Explains Why He's Nothing Like Ron Swanson in Real Life
Ron's mustache has taken on a life of its own since the premiere of Parks and Rec in 2009. When Offerman's character fell prey to his wife Tammy No. 1 (Patricia Clarkson), he shaved off the famous hair, revealing to Entertainment Weekly, in 2012 that "everyone was really freaked out" when they saw his clean-shaven face.
"There was a real sense of having shorn Samson of his locks," Offerman said. "And it really felt sacrilegious. That was by far the hardest, strangest thing I've had to do as Ron Swanson."
He added that, without the facial hair, it was harder to say the dialogue.
"Certain consonants didn't feel right without a huge bristle brush impeding their exit from my mouth," he said.
In another interview with The Hollywood Reporter, Offerman lamented on the hype over Ron's facial hair saying, "Our country has become so emasculated that a national audience can be astonished by a man merely growing whiskers, as though I were growing diamonds on my face."
Once Parks and Rec ended and the star shaved again, many questions followed Offerman about when it might make a return.
"I'm a character actor, so that was something I used for my character," he said via Today. "That job is over, so that tool is hung up in the toolbox for a while."
Here's how long it took Offerman's to grow Ron's 'stache
RELATED: 'Parks and Recreation': How Many Names Did 'Jerry Gergich' Have?
If you've ever watched an episode of Parks and Rec and dreamed of having your very own Ron Swanson mustache — known as the "walrus" mustache — it might take longer than you think.
"Two weeks is a passable mustache," Offerman told Believer Mag in 2012. "It's like, 'Yeah, that's a mustache'. But it takes longer for the upper nasal labial whiskers to reach the top lip. To grow the full 'stache is five to six weeks."
Offerman revealed his mustache was cared for by the makeup department — not the hair department.
"I have a very healthy growth of both head and facial hair. People always want to attribute further superhuman powers to me," he said. "It's funny the way the audience really seems to want me, Nick the actor, to exhibit the same machismo as Ron Swanson. They're like, 'You could chop a whole forest of trees down in ten minutes, right?' No, I exist in reality."
The famous mustache was donated to charity
RELATED: Is Rob Lowe Anything Like His 'Parks and Recreation' Character or Is He 'Literally' Acting?
In 2012, one lucky person placed a bid on the Swanson 'stache and won, helping the pediatric cancer charity Because of Ezra. According to Vulture, Offerman had the hair professionally shaved and had each hair perfectly reassembled atop the lip on a Ron Swanson replica face.
To take it a step further, Offerman paid for a glass enclosure to keep the hairs in-tact. The exhibit was aptly titled "The Nick Offerman Mustachium."
"My mustache and I are tickled pink to have the opportunity to help raise some funds for this great charity," Offerman said. "My mature bush is also available by private auction, but only serious bidders (Zuckerberg or Romney) need apply."