'Parks and Recreation': Inside Chris Pratt's Most Hilarious Improvised Andy Dwyer Moments
Rob Lowe kicked off his first Literally! with Rob Lowe podcast with his Parks and Recreation co-star Chris Pratt. Naturally, the conversation took a little walk down memory lane about their time on the TV series, including some favorite unscripted moments from Pratt. The former co-stars also gave behind-the-scenes details about how these moments made it on to the show.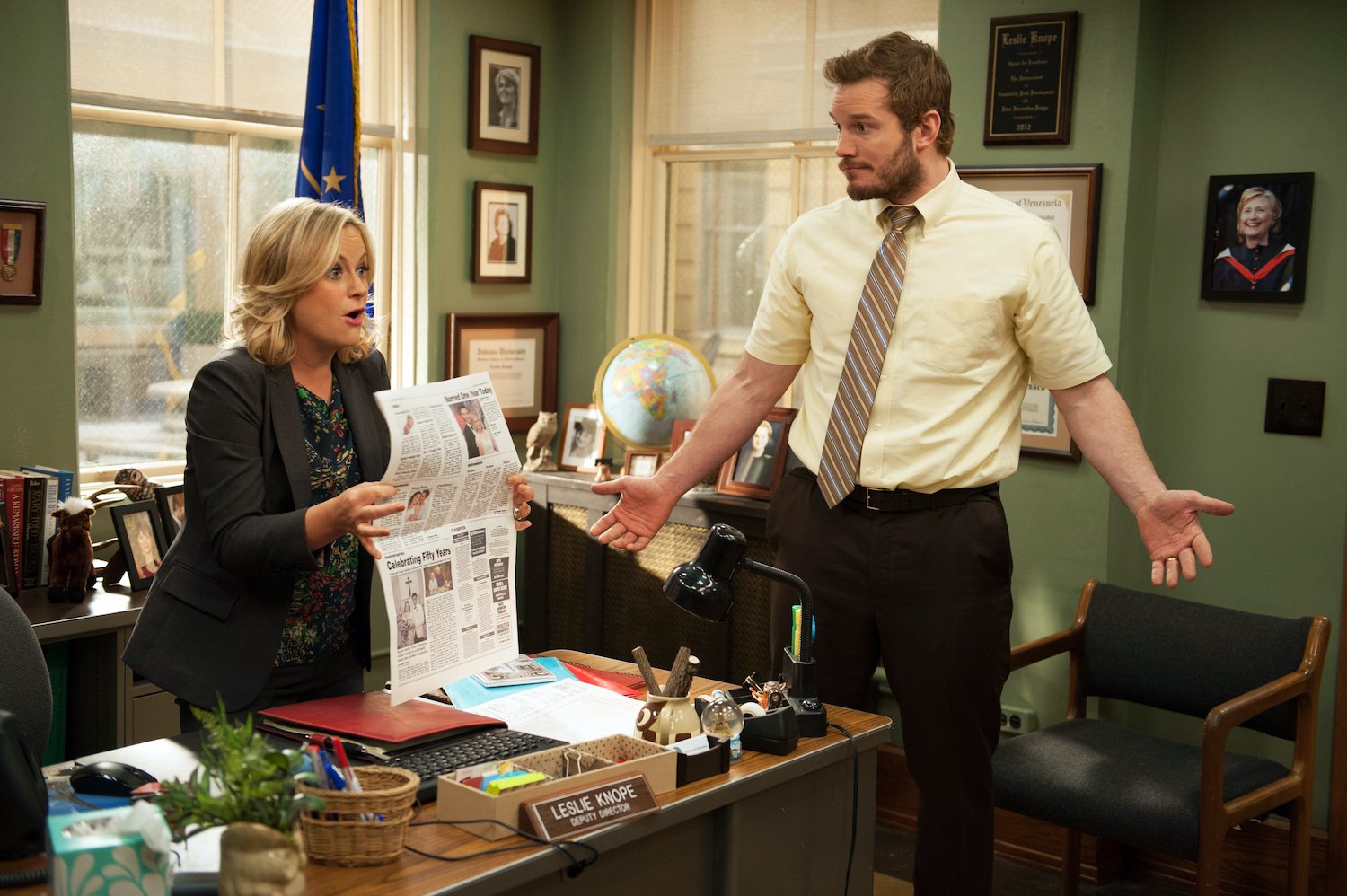 Pratt and Lowe reminisced
During Lowe's Literally! podcast, Pratt and Lowe, who played Andy Dwyer and Chris Traeger on the hit series, discussed how the cast came together for the recent Parks and Rec reunion quarantine special.
"It was really fun. It was fun to watch, it was fun to be a part of," Pratt said, sharing that when show co-creator Mike Schur reached out to the cast it only took 10 minutes for everyone to commit to doing it.
Then the reality set in, with Pratt explaining when he got the script he realized it would be a lot of work. The challenge for Pratt came in preparing for the special compared to how he used to approach the role, noting, "We are so spoiled as actors, especially me on that show." He lived close to the studio, which allowed him to show up 10 or 15 minutes late and totally unprepared.
"I forgot how much work it was," Pratt said of the reunion show, adding, "We had to do all this sh*t ourselves," including setting up the camera and lighting and memorizing his lines without anyone to play off of. "It was really hard, but I gotta say it was really worth it and it looked great. It was really fun and funny and great to see everybody."
They also revisited some of their favorite moments together, with Pratt explaining, "my whole thing on Parks and Rec was just to cause destruction and break sh*t that they didn't know they were going to have to pay for at the beginning of the day. I loved just breaking stuff."
One of Andy's funniest moments was unscripted — and destructive
The conversation turned to some classic Andy moments on the show that weren't scripted, including the scene where Andy, as Burt Macklin, slides over a counter with a briefcase.
"Remember when we did that scene where I had to slide across the countertop and then I threw the briefcase across the room and it smashed into the light switch and literally broke the light switch off the wall and shut all the lights off in the whole building?," Pratt asked.
He added, "It wasn't scripted that I throw a briefcase… I think I just literally saw somebody's briefcase and slid across the countertop and then improv'd that I had just stolen it and you improv'd that I should probably put it back."
"It all starts with an improv," Lowe said of the scene.
Pratt delivered the show's funniest line
They also had to discuss the other "famous" improvised moment from Pratt. "It's pretty much a given that you have the single greatest ad lib in the history of Parks and Rec," Lowe said.
Pratt recalled the "Flu Season" episode when he's seated at a desk in the office as Ben and Leslie, who has flu symptoms, walk out. The line about "network connectivity problems" was improvised by Pratt after the director asked him if he wanted to say something in the background and he agreed to improv a line or two.
As the characters walk past him, Pratt delivers the famous line: "Leslie, I typed your symptoms into the thing up here and it says you could have network connectivity problems."