'Parks and Recreation' Asked Marisa Tomei to Play a Role With Aziz Ansari — Here's What the Lost Episode Was About
Parks and Recreation had some phenomenal guest stars. On the political side there were the Bidens, John McCain, and Michelle Obama. From Hollywood, the likes of Bill Murray and John Cena graced Pawnee, Indiana with their presence. One star they approached but never found an episode for was Oscar-winner Marisa Tomei. This lost episode would have paired Tomei up with Parks regular Aziz Ansari.
[Spoiler alert: This article contains spoilers for Parks and Recreation.]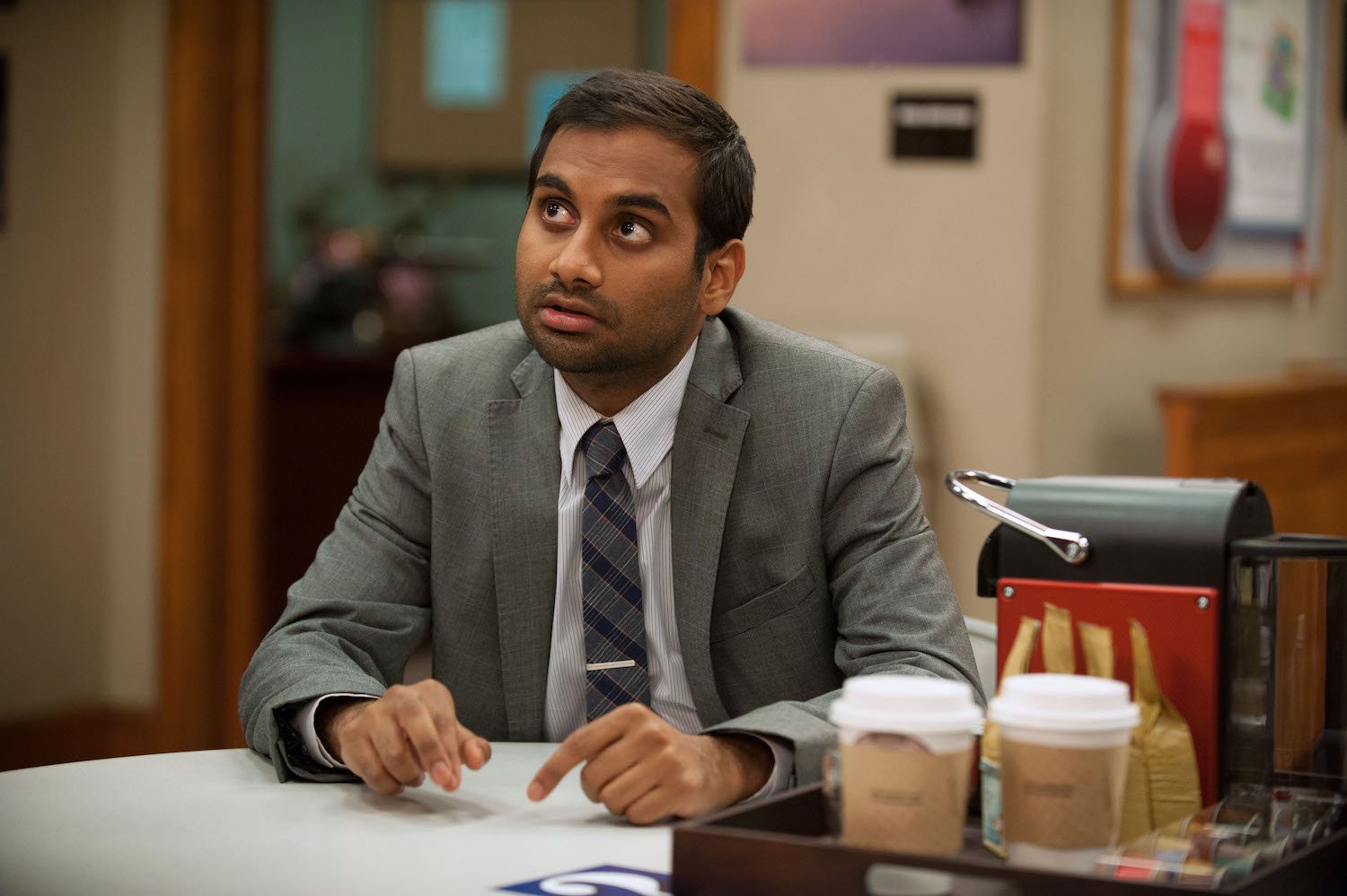 Parks and Recreation co-creator Mike Schur had an AMA for fans on Reddit on Oct. 29, to celebrate the release of the Mouse Rat album on vinyl. Answering one fan's question, Schur revealed a role he envisioned Tomei to play, but they never got around to making that episode.
Marisa Tomei would have been a love interest for Aziz Ansari's 'Parks and Recreation' character
Aziz Ansari played Tom Haverford, Pawnee Parks and Recreation Department administrator. Tom has many side hustles, including Entertainment 720, Rent-a-Swag and a restaurant. He also had a rocky love life. Tomei could have been one of Tom's love interests.
"We at one point wanted Tom to date an older woman (older than he was, I mean) — thought that would be fun," Schur wrote. "Actually approached Marisa Tomei about it but the timing didn't work out."
That's not the only lost episode of Parks and Recreation. In the Parks and Recollection podcast, writer Alan Yang described another one from season 1.
Tom Haverford's love life on 'Parks and Recreation'
Had Tomei appeared on Parks and Recreation, she would have been in good company. Tom's storyline involved many memorable romances. Prior to the show, Tom was married to Wendy (Jama Williamson)to help her get a greencard. They divorced as per their arrangement, but it broke Tom's heart. 
When Ann Perkins (Rashida Jones) was single, she and Tom dated. Schur said they were never intended to end up together.
"No, we never thought they'd end up together," Schur wrote. "Just thought it would be fun to have them pair up for a bit. Was always intended as a weird sidestreet for both of them."
After Tom hired Mona-Lisa (Jenny Slate), Jean-Ralphio (Ben Schwartz)'s sister at Rent-a-Swag, he started dating her even though she was as volatile personally as she was at work. 
Tom had a brief season 6 relationship with Doctors Without Borders doctor Nadia (Tatiana Maslany) until she had to leave for Rwanda. He finally married again when he reconnected with Lucy (Natalie Morales), after hiring her to manage his restaurant. Tom proposed to Lucy and she accepted. 
Was there room for Marisa Tomei?
Tom sure had a busy lovelife. So it seems Parks and Recreation wasn't hurting for missing out on Tomei. That said, an arc where Ansari and Tomei got to riff with each other surely would have been magic. Given her game appearance as herself in Seinfeld and her wild character in Crazy, Stupid, Love, Tomei definitely would have brought it to Pawnee.
Alas, Tomei was quite busy. She made 14 movies while Parks and Recreation was on the air from 2009 – 2015, plus an arc on Empire. Schur said the timing didn't work out but did not elaborate. He could have meant timing to find a window in Tomei's schedule, or perhaps he meant they could never find a time for that storyline in the Parks and Recreation arc.
When exactly would Tom date a new character? His pregnancy scare with Mona-Lisa happened after Ann and then came Nadia and Lucy. As great an idea as it was, no show can include all the ideas. Marisa Tomei is the one that got away from Parks and Recreation.