'Parks and Recreation': Megan Mullally Only Had Sex With Nick Offerman After a Series of Intricate Steps Proving They're Just Like Ron and Tammy 2
'Parks and Recreation' stars Nick Offerman and Megan Mullally waited to get steamy in the bedroom — at Mullally's request. Here's why it worked for them.
Nick Offerman and Megan Mullally had a complicated relationship on Parks and Recreation. In real life, the two have an enviable marriage that's lasted almost 20 years. In the beginning, however, Mullally requested Offerman follow a string of intricate steps before she'd take it any further — and he obliged.
'Parks and Rec' alums Nick Offerman and Megan Mullally have a storybook romance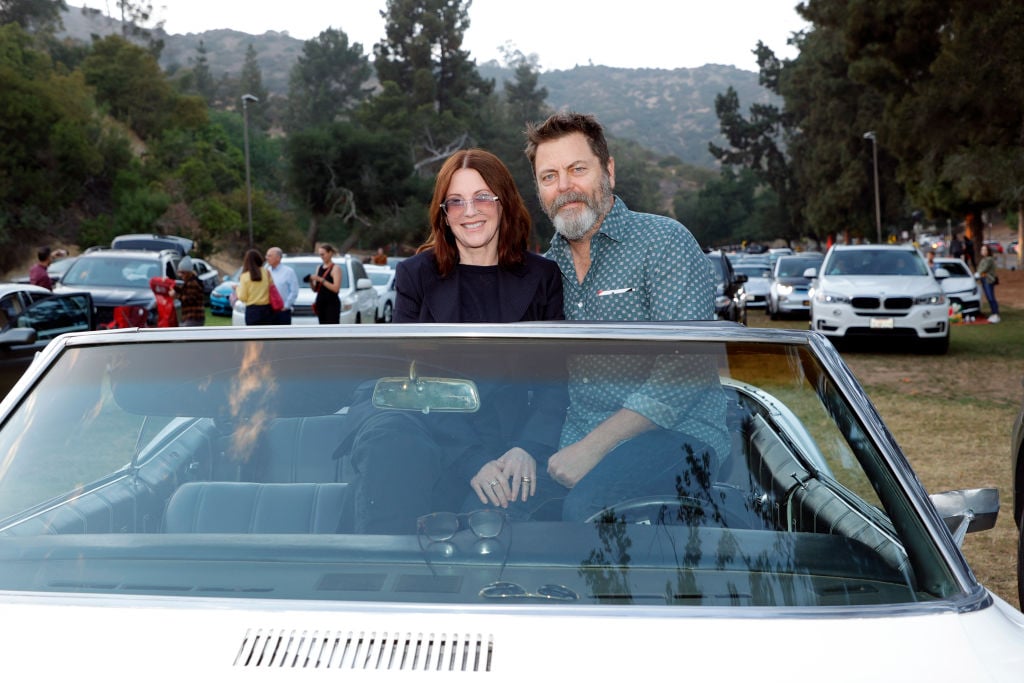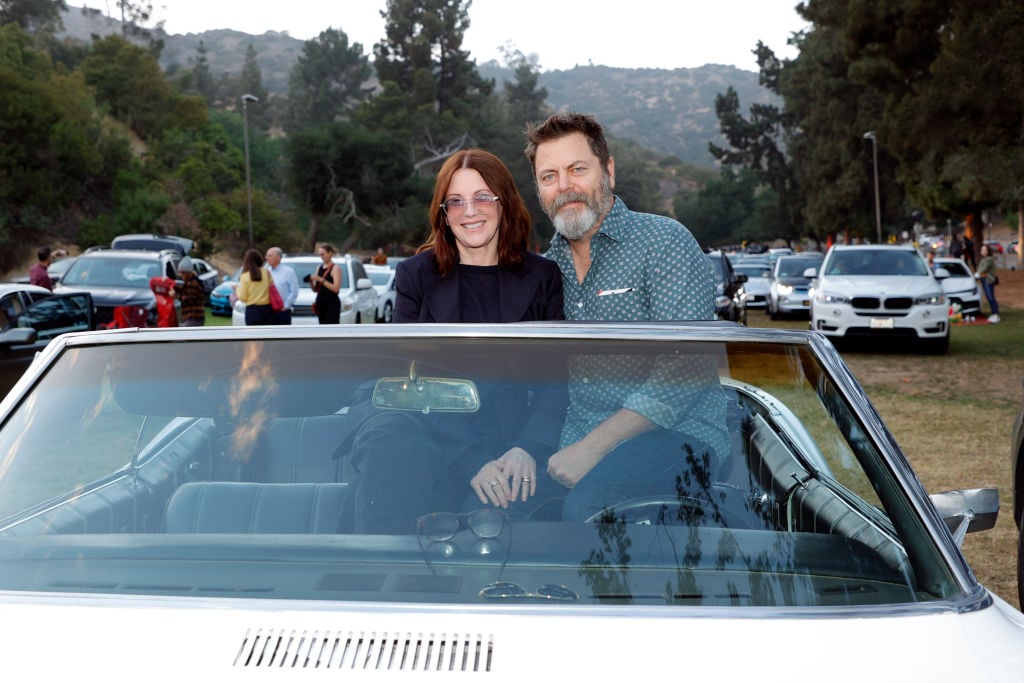 Ron Swanson and Tammy No. 2 from Parks and Recreation are one of the most toxic, intriguing couples ever written. The real-life counterparts, however, might have them topped. Offerman and Mullally met in 2000 while both took part in a Los Angeles play The Berlin Circle.
Mullally — who was already a star on Will & Grace — told Buzzfeed there was an instant connection.
"I think we were the only two non-company members. It was our first time working with that theater company," she said. "We had a lot of scenes together, and I started thinking, 'Wait a minute, he's funny.' And then I started thinking, 'Wait a minute, is he cute?' What's happening?"
Offerman felt the same. "I remember thinking, 'Wait a minute, is she a fucking genius? Wait a minute, is she looking at me? Grrrrr! She good-lookin.'"
The only problem? Mullally thought Offerman was much older.
"I thought he looked old! And he was mature, so when I found out he was 29, I said these two words: You motherf—-r. And I almost ran my car off the road," Mullally told GQ.
By then, it didn't matter. The two fell in love and in 2001, he guest-starred on Will & Grace. In 2003 (and again in 2018), they held a surprise ceremony the day before the Emmy's with only 20 guests in attendance.
The couple has since appeared in numerous projects together including a live comedy tour as well as co-writing the New York Times bestselling book The Greatest Love Story Ever Told.
Here's what Mullally required of Offerman before things went further
Even with that instant connection, Mullally had a few ground rules before things got intimate. In, what she referred to as "very well-orchestrated" while speaking on Alec Baldwin's Here's the Thing podcast, she wasn't willing to get to business too fast.
"I wouldn't even let him come over to my house," she said. "Then, finally, he could come over to the house. But he couldn't come in. He could just drop me off, or we could stand outside in the yard. Then he could come in, but only the living room. Then he had to go. Then he could come in, and we could make out in the living room. Then he could sleep on the couch, but I would sleep in the bedroom. Then he could sleep in the bed, but we couldn't have sex. Then, finally, sex."
She explained why it had to go this way saying, "I'd just been burned so many times that I was gonna be goddamned if it was going to happen again. I was making really, really sure."
Offerman chimed in to say he was totally fine with taking things slow.
"I would have done four years," he said. "I knew it was it, so I was like, This couch is comfy."
The couple have a few rules to keep their marriage fresh
Nearly two decades of marriage later, Mullally and Offerman are just as close as ever thanks to a few non-negotiables.
The couple told New York Magazine that they have a rule that they can't spend more than two weeks apart. They even take it one step further by choosing to do most things together.
"We love working together. If we drive together, if we share a dressing room, we know going into it that we're going to get along. We're very domestically compatible," Mullally told USA Today. "People often say to us, 'Are you crazy? I can barely stand my spouse at home every day after work, how can you choose to go to work with her?' And we say, 'Well, that sounds really sad for you, because we just like each other.'"
Offerman credits Mullally with keeping him on the straight and narrow.
"I was a hedonist when I met Megan," Offerman said in the book. "I was smoking a lot of tobacco and I was drinking a lot. Just by nature of coexisting with her it was obviously like, 'Oh, if you want this relationship to last, you really have to clean up your act—because right now, you're kind of a stinky hog-like human.' I feel like I was partly looking for this relationship because it saved my life."
Offerman and Mullally's tips for a long-lasting marriage
To have a marriage like Offerman and Mullally, they suggest a few minor tweaks to your relationship. The first is to consider giving up the idea of Christmas gifts and buy each other presents at any time.
"We appreciate a personal touch more than anything," Offerman said in response to a fan question via AV Club. "A small handmade trinket or card is much more meaningful than anything you can purchase.
When it comes to disagreements or the possibility of an argument, Mullally said in their book they announce when something will be discussed with the warning there might be a disagreement.
"Depending on who the subject matter is more prickly for, the other will sort of wear the pacifist cloak and be like, "OK, I know this is upsetting," she said.
Likewise, if things get heated, Offerman said they "go in the other room for five to 12 minutes, then we come back in and say, 'Sorry I yelled… I didn't mean all those things I said'. Nowadays I can usually avoid the screaming match by just going in the other room preemptively, or I go for a walk and then come back and say, 'Ok, I was about to lose my temper, and now I'm cool. Let's talk this out.'"
There's a reason (or 50) these two have made it work all these years. Yes — Ron and Tammy 2 are the truest example of #RelationshipGoals.