'Parks and Recreation': Mike Schur Says April Ludgate Was Supposed to 'Turn Into Leslie' — Why That Never Happened
'Parks and Recreation' co-creator Mike Schur explained to fans how the show evolved over seven seasons. One big change was in April Ludgate (Aubrey Plaza)'s character. Schur explains why they ditched plans to turn her into another Leslie Knope (Amy Poehler).
A lot of things changed over the seven seasons of Parks and Recreation. Chris Pratt got to be a series regular as Andy Dwyer. They brought on Rob Lowe and Adam Scott at the end of season 2, but said goodbye to Rashida Jones and Lowe in season 6. Aubrey Plaza's character, April Ludgate, was there the whole time with Leslie Knope (Amy Poehler), but April may have deviated from the original plan for her the most. 
[Spoiler alert: This article contains spoilers for Parks and Recreation.]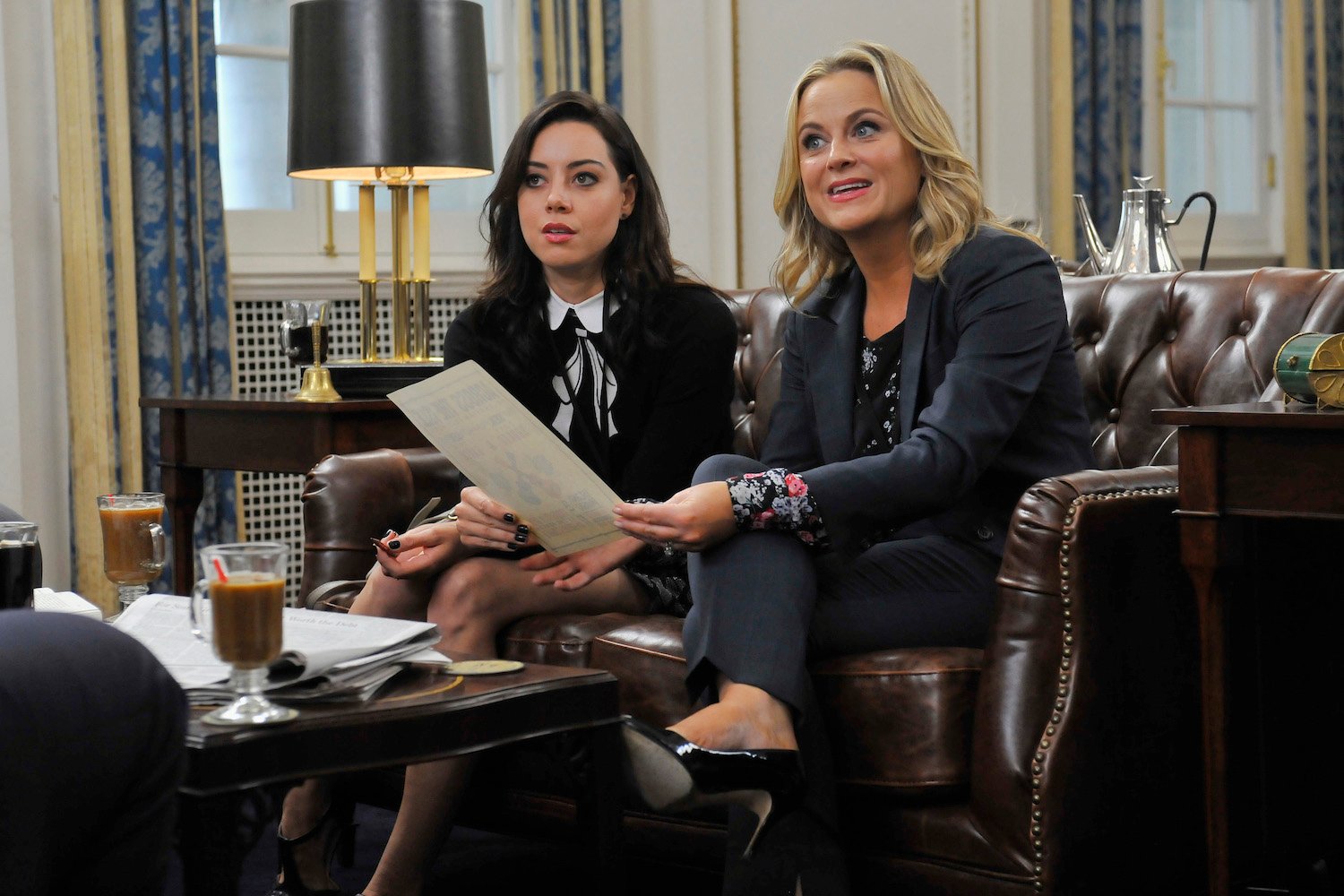 Parks and Recreation co-creator Mike Schur held an AMA for fans on Reddit on Oct. 29 to celebrate the release of the Mouse Rat album on vinyl. Questions about developing the beloved characters led to some surprises. Schur revealed the original plan for April, and why the way she ended up was better. 
Mike Schur's original plan for April Ludgate and Leslie Knope on 'Parks and Recreation'
April began as an intern in the Pawnee Parks and Recreation office. She was still in college and doing the internship for credit, but didn't take it very seriously. Her sarcastic responses to government red tape were part of her charm. Had Schur stuck to his original plan, you might have seen April gravitate towards government work. 
"The original pitch was that April would start as a disaffected millennial and eventually turn into Leslie," Schur wrote. "But as she developed and changed over the years we found a way to take that idea and alter her path into its own unique thing. I think her arc is secretly the most satisfying."
While that story would have made Leslie proud, it wasn't the story Parks and Recreation ended up telling. Leslie always found a way to maximize April's abilities but she didn't ultimately pressure April to follow in her footsteps. 
Leslie Knope still influenced April Ludgate 
April went to work for the Parks and Recreation office full time after college. In fact, she floated between many of the staff, sometimes serving as Chris (Lowe)'s assistant. April  reluctantly became involved in many of Leslie's projects, and eventually dated and married Andy. Later, April ended up working on a congressional campaign with Ben and became Deputy Director of Pawnee Animal Control. She ultimately goes to work for the American Service Foundation, although never lost her sarcastic edge. 
"We found that interesting path where she didn't just 'become Leslie,'" Schur wrote. "She found a thing she liked doing, that wouldn't have been possible if not for the way Leslie rubbed off on her. I like that ending for her a lot."
Mike Schur invented April Ludgate for Aubrey Plaza
April Ludgate was full of surprises for Schur, not the least of which was the creation of the character itself. A lot of things were in flux the first season of Parks and Recreation. There was a character who ended up not included in the show, and there was no April Ludgate. 
Casting directors Allison Jones and Ben Harris told the story on the Parks and Recollection podcast. They had seen Plaza for Scott Pilgrim Vs. the World. While casting Parks they recommended Schur meet with Plaza even though there was no role in the script for her yet. 
That meeting must have gone well. Schur agreed they needed to have her on the show. So, he created the character of April for her. Now Schur has revealed how his plan for April changed along the way the more he got to know Plaza writing for her for years on Parks and Recreation.