'Parks and Recreation': The Most Meme'd Moment of the Series Wasn't Even Scripted
Parks and Recreation characters Jean-Ralphio (Ben Schwartz) and his "twin sister from the same mister" Mona Lisa Saperstein (Jenny Slate) bring the party wherever they go. The duo appears in multiple episodes over the course of seven seasons and each cameo is more hilarious than the last. This is exactly why Slate and Schwartz's improvised scene made the TikTok rounds more than any other Parks and Rec meme.
Ben Schwartz gave Jenny Slate solid advice for her first day on 'Parks and Rec'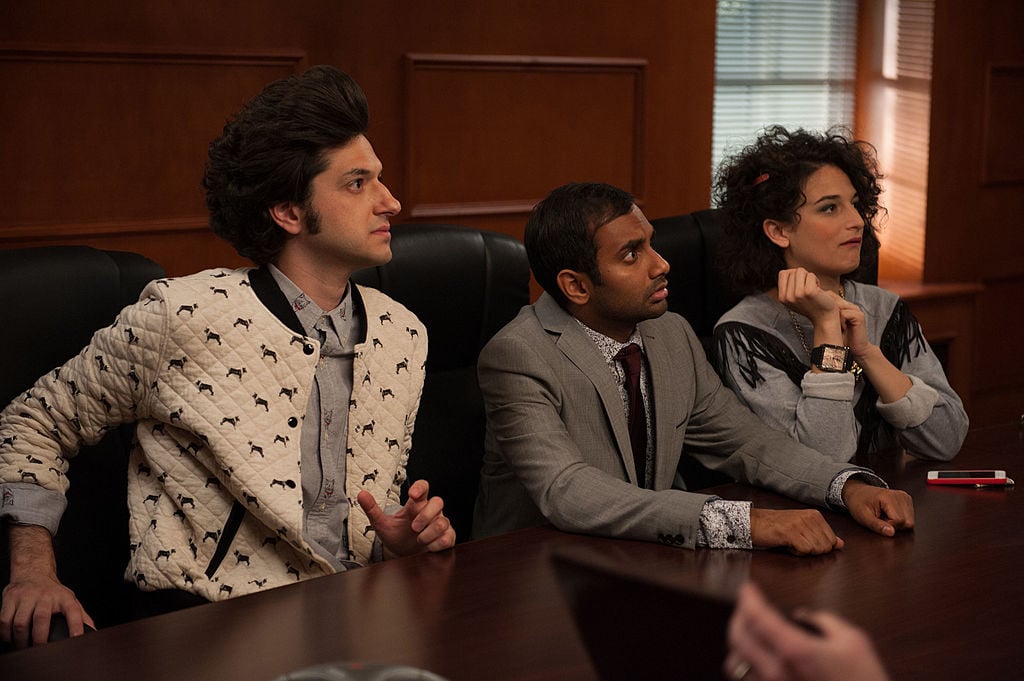 RELATED: 'Parks and Recreation': Here's Exactly How Long It Takes to Grow a Ron Swanson Mustache
Though Schwartz and Slate previously worked together on House of Cards, the two were thrilled to co-star as twins on Parks and Recreation. Schwartz — who appeared on Parks and Rec first – said it felt "like family" between him and Slate from the moment they stepped on set together.
"It was very two goofballs, very much and felt like family very quickly between us," he told Esquire. "It just feels like a good friend that you could talk to, but also just being absolute maniacs and singing Disney songs and doing bananas things."
He recalled the first day Slate appeared, saying he told her to do "the stupidest version" in her head. She took the advice making the Saperstein twins something to contend with in terms of comedic timing.
Slate said in the same interview she was nervous because her character was "very different" than her actual personality.
"Joe Mande, one of the writers on the show was like, I wrote you this character. And I was like, why did you think of me for this? This person is literally called the worst person in the world. I was so, so nervous," she said. "And I remember, that one of the first scenes I shot was where she tells Jerry 'hard pass'. She's like 'would hit, would hit, would hit, hard pass'. And I just remember thinking, I watched this, I know that they do this to Jerry. And I know that everyone's used to it, but it felt so heartbreaking."
'Don't Be Suspicious' became a 'Parks and Rec' mainstay
RELATED: Is Rob Lowe Anything Like His 'Parks and Recreation' Character or Is He 'Literally' Acting?
Perhaps the most iconic scene with the Saperstein twins is the one that went viral. The "Don't Be Suspicious" jingle made the rounds of TikTok with over 1.2 Billion views as of Feb. 23, 2021. There are remixes and over-dubs, and even an Electronic Dance Music (EDM) version. But as it turns out, it was improvised.
"All it says in the script is, 'pan over, there is the Rabbi played by Dave King', Schwartz said. "He says his thing about Lil Jon. And then it says 'pan over to a tree behind which Jean-Ralphio and Mona-Lisa are hiding'. Then I say, 'Okay, they bought it. You got the insurance money?' And Jenny says, 'No doubt, no doubt. Let's hit it'. And I say, 'Oh yeah, time to start a casino in…' And then it says, 'sing-song to Tajikistan'. Then it says 'they run off,"' and that's it."
He elaborated saying that means the song wasn't in that version of the script but remember Schur mentioning they should sing leading them to practice near a tree but he didn't recall how it started adding,"it wasn't a very thought-out thing."
The two never knew what would actually make it into the show but they had a good time doing it.
Here's why the Saperstein family didn't get a spin-off
RELATED: Chris Pratt's 'Parks and Rec' Band Mouse Rat Are Releasing an Album and No, This Isn't a Drill
Undoubtedly Parks and Rec fans would've loved a spin-off in any form. Schwartz said the idea came up for Jean-Ralphio and Mona-Lisa but it was quickly shut down.
"I remember when the show was ending, some fans said what about a Saperstein spin-off with Jenny [Slate] and Henry [Winkler] and Ben, and I was like 'oh'," he told NME in 2020. "And [creator] Mike [Schur] brought it up once and he was like, 'you can't have too much Jean-Ralphio, otherwise he'll get too annoying'.
Schur quickly added, "not annoying — there's a certain amount of Jean-Ralphio that's the perfect amount of Jean-Ralphio. If you extend that, I feel that the audience will start doubting their [wishes that] 'we should make a whole 30 minutes of this!'."
The idea died there but Scwartz said he'd go for a spin-off if the opportunity arose.
"If there was ever a person to do this it's Mike Schur that could pull it off," he said. "I loved that character and I loved that writing and cast. Jenny Slate as my sister and Henry Winkler as my dad. I would be hard-pressed to ever say no to anything like that".
That said, the star added he "can't imagine a world where the public is ready 30 straight minutes of singing in somebody's ear," which is a fair point.