'Parks and Recreation': Are Nick Offerman and Megan Mullally Anything Like Ron and Tammy No. 2?
Nick Offerman and Megan Mullally play exes Ron and Tammy (No. 2) Swanson on Parks and Recreation. Their car crash of a relationship often became the only reason Ron backed down, ran away, or fell prey to Tammy's mysterious ways. With Offerman and Mullally's real-life marriage, some wonder if the two are anything like their characters.
Ron and Tammy No. 2 have a complicated relationship on 'Parks and Recreation'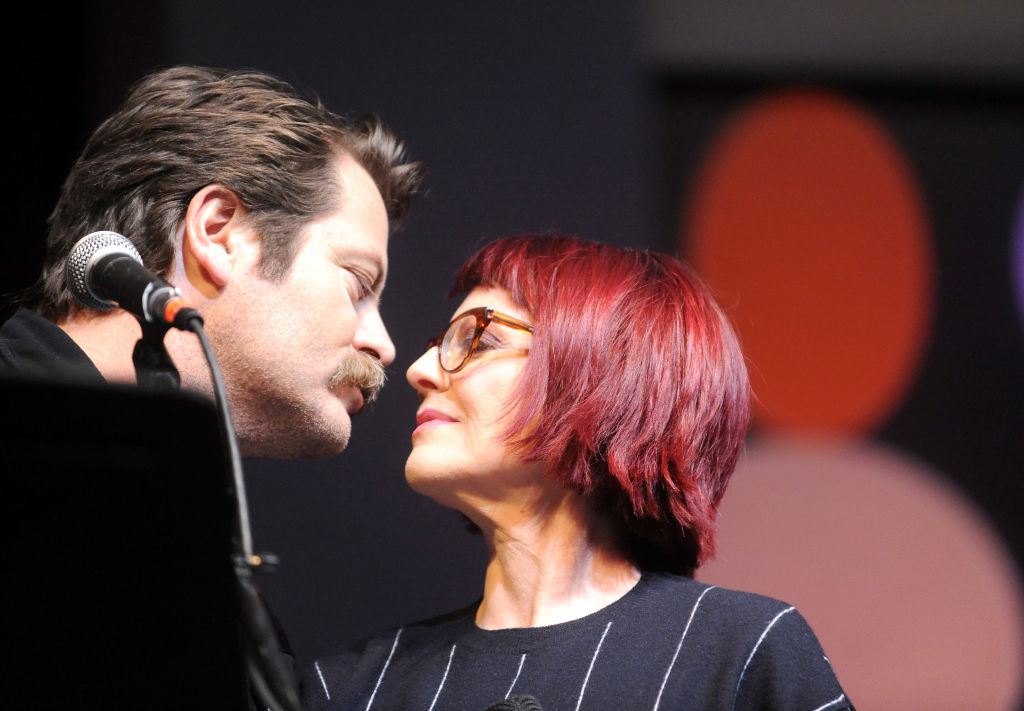 RELATED: 'Parks and Recreation': How Many Names Did 'Jerry Gergich' Have?
Mullally, known as Tammy No. 2 on Parks and Rec, appeared in season 2 in the prolific episode, "Ron and Tammy." Though Ron had two other Tammy's in his life, Mullally's version is the most aggressive and manipulative. She utilized every tactic to get Ron to do anything she wanted — often times making him go against everything he believed in.
For nine episodes, viewers got a glimpse of the power Tammy No. 2 had over Ron. Eventually, she made Councilman Jeremy Jamm (Jon Glaser) her next victim until Ron and Leslie (Amy Poehler) saved him.
While the Ron and Tammy ordeal is entertaining to watch, Offerman and Mullally have been married in real life since 2003.
Are Nick Offerman and Megan Mullally similar to their fictional counterparts?
RELATED: Is Rob Lowe Anything Like His 'Parks and Recreation' Character or Is He 'Literally' Acting?
When watching a Parks and Rec scene with Ron and Tammy No. 2, it's both uncomfortable and hilarious — even more so when you remember the two are actually happily married. They met in 2000 in the theater scene after Mullally was already a Will and Grace star.
"She was literally the answer to my prayers," Offerman told Believer Mag in 2021. "I was drinking a lot of bourbon. I was miserable"
Both have publicly confessed their love to one another time and time again on all social platforms, proving that the Ron and Tammy passion is real, just not the toxicity.
"We're just collaborators," Offerman said. "I mean, we love to see each other work. And then we love knowing one another's strengths and weaknesses. We then love to say, 'Hey, you're doing that funny voice. You don't have to do that when you're playing that one bit.' If I was to do something right now to try and make you laugh, I'm really trying to make her laugh."
He continued: "She is not only my wife and my best friend, but she's my teacher in a lot of ways, she's also just a comedy legend. She's like a walking Mel Brooks movie. And so it's, you know, it'd be silly and masculine of me to not take advantage of the fact that my wife is a champion in the very sport that I try to excel at."
Mullally feels the same way. "There were some articles written about our marriage, mythologising it, making it into the greatest love story ever told," she told The Guardian. So we used that as a springboard for this show, to say: indeed, it's true. There isno greater love, and here's how you too can achieve it."
Clearly there's too much love for Offerman and Mullally to be like Ron and Tammy No. 2. but it makes for great Parks and Rec episodes.
Mullally on the one way they're similar to Ron and Tammy No. 2
RELATED: These 'Parks and Recreation' Stars Appeared in 7 Different Projects Together (So Far)
While the majority of Offerman and Mullally's love is noticeably unlike the Ron and Tammy No. 2 saga, there might be a few similarities, such as sex.
"That relationship is very funny and sexual, dangerous and horrible," she said. "And strangely intriguing. So people were reeled in by that," she said. "And then I joined social media and started posting pictures of the two of us. And that pushed it over the edge."
Add to that their podcast, In Bed With Nick and Megan, their co-written books about romance, and the sometimes NSFW photos shared online and it's easy to see how their love might be compared to Ron and Tammy No. 2. The reality reveals itself in any of their shows together and interviews as their chemistry is as palpable as Ron and Tammy No. 2 in jail together.
"You also see two people who are not only in a healthy relationship, but are also having fun together. And a lot of people say they've been inspired by that," she said. "I think it's nice for younger people to know that you can be older than 27 and still get it on with your husband. A lot of young people think it all comes to a screeching halt once you're 32. But it really doesn't."
She added, "We're really happy together, and we always can't wait to see each other," making everyone everywhere swoon with envy. The couple may not be Ron and Tammy No. 2 — they're way better (and healthier).