'Parks and Recreation': The Amazing Moment That Left Chris Pratt 'Covered in Goosebumps'
The cast of Parks and Recreation experienced so many amazing moments together making a comedy with a lot of heart, but Chris Pratt recently revealed one moment that left him "covered in goosebumps," even thinking about it years later.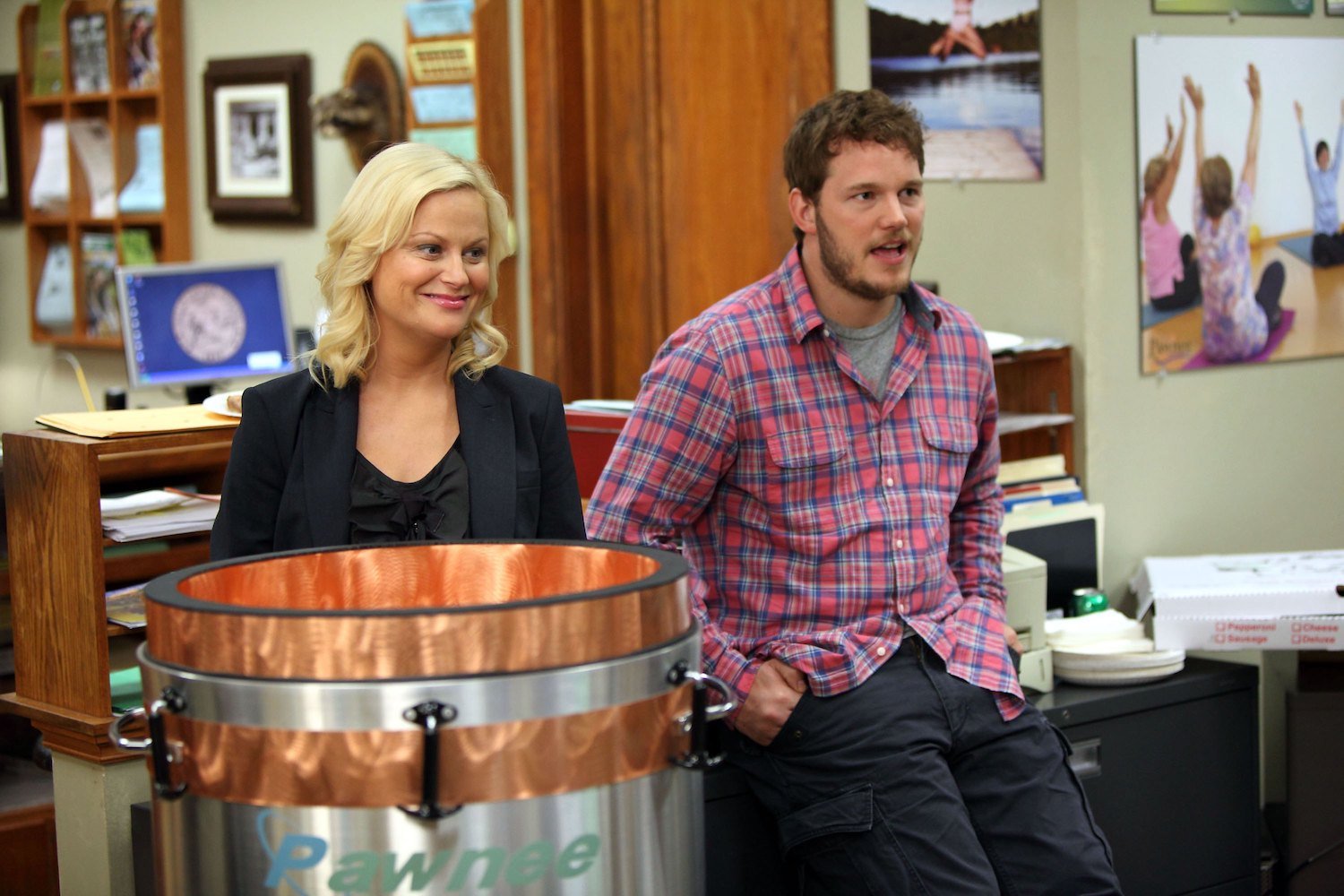 They filmed at a special location
In Parks and Recreation Season 5 Episode 10 "Two Parties," Ben and Leslie have respective bachelor and bachelorette parties, with Ben opting for a low-key beer and board games night with his pals. The party moves to a bar, where the guys have the realization that none of them had bachelor parties and Chris Traeger says they'll spend the rest of the night fulfilling everyone's bachelor party wishes.
Andy Dwyer, played by Pratt, said his dream is to see the Colts beat the Patriots 49-0 so Chris makes arrangements for their group to go to Lucas Oil Stadium, where they meet players Andrew Luck and Reggie Wayne.
Andy tells Reggie Wayne he "got married in your jersey, that's no joke" and Wayne responds, "That's weird, but I respect that." Andy then successfully catches a touchdown pass thrown by Luck after Andy says it's his dream.
Pratt recalled the special moment
During an appearance on Lowe's new podcast, Literally! with Rob Lowe, the former co-stars chatted about their time on Parks and Rec and some of their favorite moments from the series.
One of the highlights, Pratt said, is when they filmed the bachelor party episode at the Indianapolis Colts stadium. "I'm covered in goosebumps right now, that's official," he said while describing the moment. "That was so cool."
Lowe recalled how he asked Colts owner Jim Irsay if they could shoot in the stadium and they were given the go-ahead. He was also impressed that Pratt "caught every single pass Andrew Luck threw… It was insane!"
Pratt revealed that, because he was 40 pounds heavier, he was "drenched in sweat" for the scene, but "having so much fun. That was pretty remarkable."
Pratt recalled a hilarious improv when he broke part of the set
During their walk down memory lane, Pratt shared some behind the scenes details about an unscripted moment when he slid across a counter with a briefcase and threw it just right that he broke a light switch.
"Remember when we did that scene where I had to slide across the countertop and then I threw the briefcase across the room and it smashed into the light switch and literally broke the light switch off the wall and shut all the lights off in the whole building?," Pratt said.
He added, "It wasn't scripted that I throw a briefcase… I think I just literally saw somebody's briefcase and slid across the countertop and then improv'd that I had just stolen it, then you improv'd that I should probably put it back."
"It all starts with an improv," Lowe said. Pratt added, "That was so fun."
Breaking things was part of Pratt's "thing," he explained during the podcast. "My whole thing on Parks and Rec was just to cause destruction and break sh*t that they didn't know they were going to have to pay for at the beginning of the day. I loved just breaking stuff."