'Parks and Recreation': How 'The Office' & a Post-It Note Helped Nick Offerman Become Ron Swanson
When it comes to the Parks and Recreation cast, it's hard to imagine without it without Nick Offerman. Playing the hysterical Ron Swanson...
When it comes to the Parks and Recreation cast, it's hard to imagine without it without Nick Offerman. Playing the hysterical Ron Swanson, Offerman's character perfectly counterbalanced the exuberance of Leslie Knope. To date, Offerman is often recognized for his infamous Parks and Recreation character. But how did Offerman even get cast on the hit NBC comedy series? It turns out his journey started with The Office.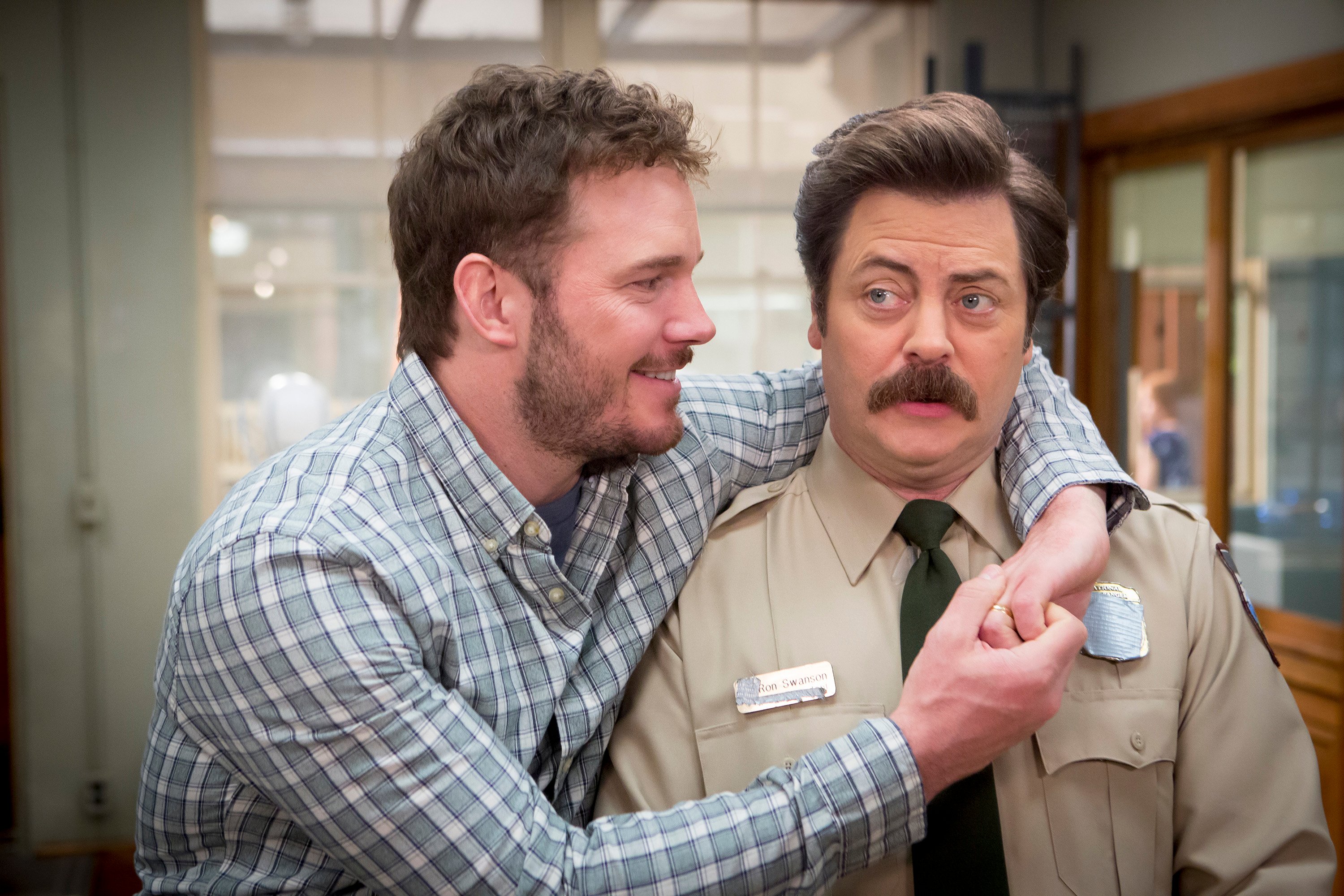 Fans of The Office and Parks and Recreation will note that that there's quite a bit of overlap between the two shows. Micheal Schur and Greg Daniels, who co-created Parks and Recreation, actually previously worked as writers for The Office. Rashida Jones was also a cast member on both shows, though she had a much larger role on Parks and Recreation as Ann Perkins. Finally, more than one member of the Parks and Recreation cast originally auditioned to be on The Office.
Two members of the 'Parks and Recreation' cast auditioned for 'The Office'
Adam Scott, who played Ben Wyatt, actually auditioned for The Office prior to being cast in Parks and Recreation. But, he wasn't the only one. Offerman also threw his hat into to ring for the show. While he obviously wasn't cast in The Office, the audition actually helped secure to his role as Ron Swanson. In an interview with The Guardian, Offerman reminisced about how he landed the role of everyone's favorite meat lover.
"I'd auditioned for the American version of The Office, specifically for Mike Schur who, unbeknownst to me, wrote my name on a Post-it and stuck it to his computer," Offerman began. "A few years later, he remembered the Post-it and said: 'I want this guy on my new show.' NBC looked at me for one role and said: 'This guy is going to have to kiss Rashida Jones at some point, and we don't think Nick is visually in that category.' Mike said: 'OK, let's cast him as Leslie Knope's boss,'" the Parks and Recreation cast member shared.
How the writers built one of the series' most beloved characters
Of course, there's a little more to the story than that. Offerman had to go to multiple rounds of auditions for Parks and Recreation first. Once that was done, Schur had to figure out who his character was going to be. Ultimately, they chose to use a real-life person as a base and endow the character with some of Offerman's interests as well as some American stereotypes.
"Ron was based on a real person the writers had met," Offerman confessed. "They thought it was really funny that the head of department was trying to bring down the government by keeping things inactive. That also served as a wonderful foil to the ebullience of Leslie. It developed into Ron's love of old-fashioned American tropes such as red meat, the great outdoors, hunting, fishing and woodwork; combined with his strange relationships with his ex-wives," The Parks and Recreation star revealed.
'Parks and Recreation' creator, Michael Schur, has an eye for talent
It's funny to think that Offerman's journey on Parks and Recreation actually started with an audition for another show. Clearly, Schur knows how to spot talent when he sees it.