'Parks and Recreation': What Is the Age Difference Between Andy Dwyer and April Ludgate?
NBC's long-running sitcom Parks and Recreation was a hit among viewers and continues running in syndication. One of the more interesting aspects of the show is the relationships between the Pawnee Parks Department employees. Andy Dwyer (Chris Pratt) and April Ludgate (Aubrey Plaza) remain intriguing due to their oddities. That said, how old are the characters throughout the run and what is their age difference?
'Parks and Recreation' employees Andy Dwyer and April Ludgate's relationship timeline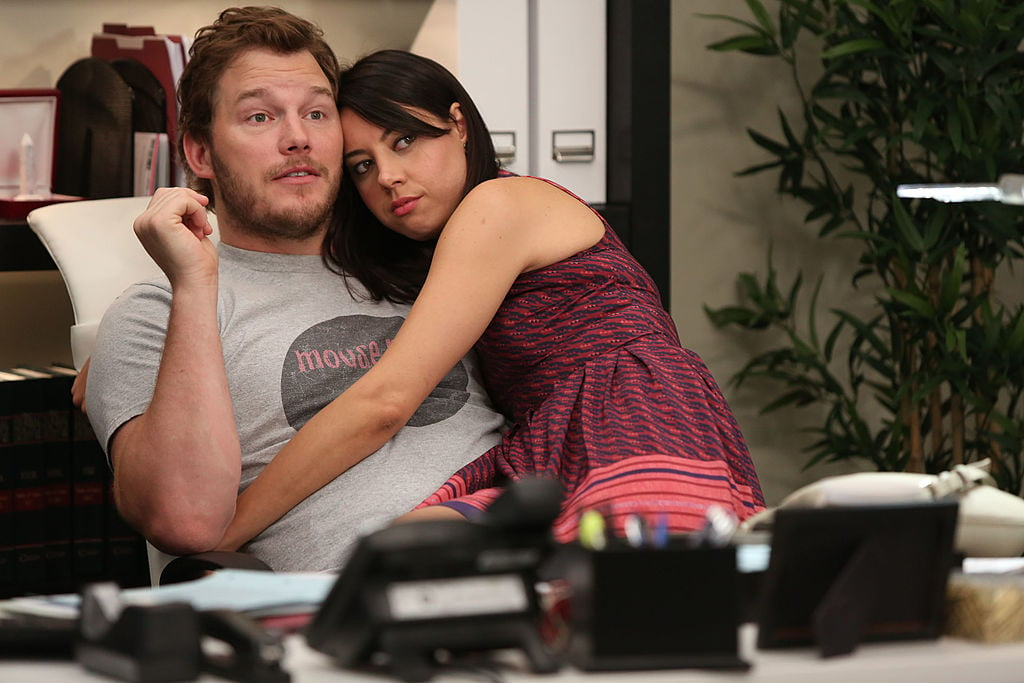 When Parks and Rec first began in 2009, creators Greg Daniels and Michael Schur couldn't have known the legacy the show would leave. For seven seasons (and a 2020 virtual reunion) and 125 episodes, the Pawnee Parks Department employees became a part of our lives.
Andy and April — who some compare as an extreme version of The Office couple Jim (John Krasinski) and Pam (Jenna Fischer) — didn't start as a couple, but ended the series married with a child.
When April began as an intern for the parks department, she's already in a dual relationship with Derek (Blake Lee) and Ben (Josh Duvendeck). At the start of the series, Andy is dating Ann Perkins (Rashida Jones) until the big pit near Ann's house becomes a parks department issue. Thus, all their lives intertwine forevermore.
The relationship between Andy and April started with a slow burn and a lot of flirting. Eventually, Andy gets a job working for the department, and April moves from intern to a full-time position as Ron Swanson's (Nick Offerman) assistant. By the end of the season 2 finale, Andy reveals his feelings for April, but by season 3, she and Andy get together. After a month of dating, they marry, eventually bringing their son, Burt Snakehole Ludgate Karate Dracula Macklin Demon Jack-o-Lantern Dwyer, into the world.
The age difference between Andy and April
Andy states on multiple occasions that he worried the age gap would become a problem. In the show's first season, Leslie Knope (Amy Poehler) introduces April as being 19.
According to Screen Rant, April was on the verge of having a birthday in the first season. The show aired in 2009, which would've meant she was likely born in 1989 — turning 20 by the end of the first season. Likewise, by the end of season two, Andy brings up their eight-year age difference. This all translates to Andy's birth year around 1981.
By the time Parks and Rec ended, April should've turned 26 and, based on the future timeline during the show's flash-forward in 2048, and she'd be 59. That makes Andy 67.
Are there any other major age gaps between the 'Parks and Rec' characters?
Andy and April aren't the only couple to have a multi-year age difference. Season 2 introduced Chris Traeger (Rob Lowe). Though he and Ann don't get into a relationship right away (it took a while), season 3 revealed that Chris was 44 years old in 2011.
Ann's age or birth year isn't directly mentioned. With dating Andy, it's safe to assume they were roughly the same age. By the show's flash-forward, Chris would've turned 80, with Ann around 67. However, considering Andy's maturity level, Ann could've been older from the start.
Regardless of any age gaps, we love them just the way they are.