'Parks and Recreations' Bosses Told Nick Offerman to 'Stay Beefy' Until the Show Ended but It May Have Hurt His Career
Nick Offerman's Parks and Recreation character Ron Swanson was a simple man. His diet consisted mostly of steak and bacon which isn't the healthiest way to live in real life. Offerman said bosses wanted Ron to remain on the heavy side, which meant Offerman had to live the same. Did living this way through five seasons hurt his career?
Nick Offerman doesn't eat or drink like his 'Parks and Rec' character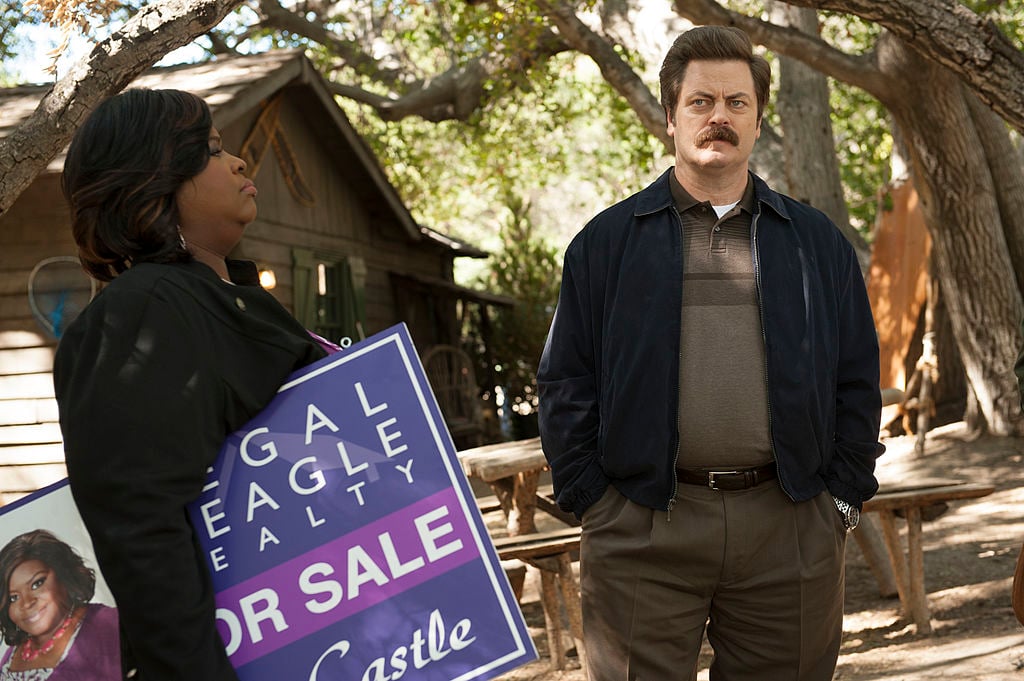 RELATED: 'Parks and Recreation' Star Nick Offerman Explains Why He's Nothing Like Ron Swanson in Real Life
On TV, Offerman's a pro at living the Swanson lifestyle, and that's no easy feat. The character lives on all things meat, drinks hard liquor and doesn't exercise. While funny for sitcom punchlines, Ron isn't exactly the healthiest of the Parks and Rec bunch. Offerman agrees.
"There are several areas in which people conflate me with Ron's cartoon physicality," Offerman told The Guardian in 2018. "Sometimes in a restaurant, if the chef is a fan and hears I'm dining, they'll add an inch-thick layer of bacon or send over an extra steak. At first, it was amazing. Who doesn't love free meat? But my cardiologist pointed out that a real digestive system can't eat like that. Or indeed drink scotch in Ron's quantities and hope to lead a productive life."
He continued: "In terms of eating meat alone, everybody can understand the hero-worship of someone who can eat an entire bucket of lard in one sitting. That would kill us. Ron can drink an amount of whiskey that would send me to the hospital or my grave. And that's to be admired, to be celebrated."
Keeping the character consisent meant Offerman had to maintain a physique he otherwise might not have. Parks and Rec bosses weighed in suggesting the star not lose any weight during the series.
Offerman's character had to 'stay beefy'
RELATED: These 'Parks and Recreation' Stars Appeared in 7 Different Projects Together (So Far)
Co-creator and executive producer Mike Schur may have had a hand in Ron's look for the duration of the series.
"He has asked me not to trim up," Offerman said. "The camera really does add ten pounds. We also dress Ron in a way that points out the parts of my body that are not buff. He always wears these thick shirts tucked into pleated pants. He doesn't try to stand in a way that he's going to be on the cover of some sort of exercising publication."
When Offerman's bosses told him to "stay beefy," he was excited at the prospect — at first saying it's "one of the best things you can hear from your employer."
But, as the show came to an end, Offerman said he only received roles with "a similar trope: An ex-sportsman, 30lb past his prime, standing in his briefs, crying in the mirror."
At the conclusion of Parks and Rec, Offerman took a different path.
"I decided I'd like to live as long as possible and get a wider variety of roles, so I cleaned up my diet and trimmed down," he said. "Maybe now I'll be cast as a thinner version of that depressed, gone-to-seed sportsman."
Offerman lost weight then put it back on for a new role
RELATED: 'Parks and Recreation': How Many Names Did 'Jerry Gergich' Have?
Shaving off the weight Ron carried was Offerman's final goodbye to the character, though he told People it was "a great gift." The star reportedly ate high-calorie meals that included cheeseburgers and pizza until the show wrapped but then worked to shed the weight.
"I'm in my mid-40s and ten years ago I was able to engage in a lot more hedonism in my diet and over the years, I've mainly become focused on being healthy," he said. "But at our house, my favorite thing to do is grill. I love to cook and my favorite way to cook is grilling."
He added that he and wife Megan Mullally enjoyed Offerman's special burger mix and bratwurst on the grill — especially when he had to pack on the pounds he'd just lost for a new role as Ignatius J. Reilly in the stage version of Confederacy of Dunces.
"Well, you know, I'm playing a very fat man in this play, and so to put on the weight I have a regimen going of some of my favorite fatty meats… I have a three-part plan laid out," he told host Jimmy Fallon on The Tonight Show in 2015.
One of those included pig that ate a turducken, cooked. He deemed it "The Flying Pig" and honestly we've never heard anything more Ron Swanson than this.