'Parks and Recreation': How Many Names Did 'Jerry Gergich' Have?
NBC's beloved sitcom Parks and Recreation may have ended in 2015 but one character lives on: Jerry Gergich. The Pawnee Parks Department employee (played by Jim O'Heir) typically became the butt of all jokes — including those about his name. Here's a look at how many names the character had and where they originated.
Jim O'Heir said fans still call him 'Jerry' but is he anything like his 'Parks and Rec' character?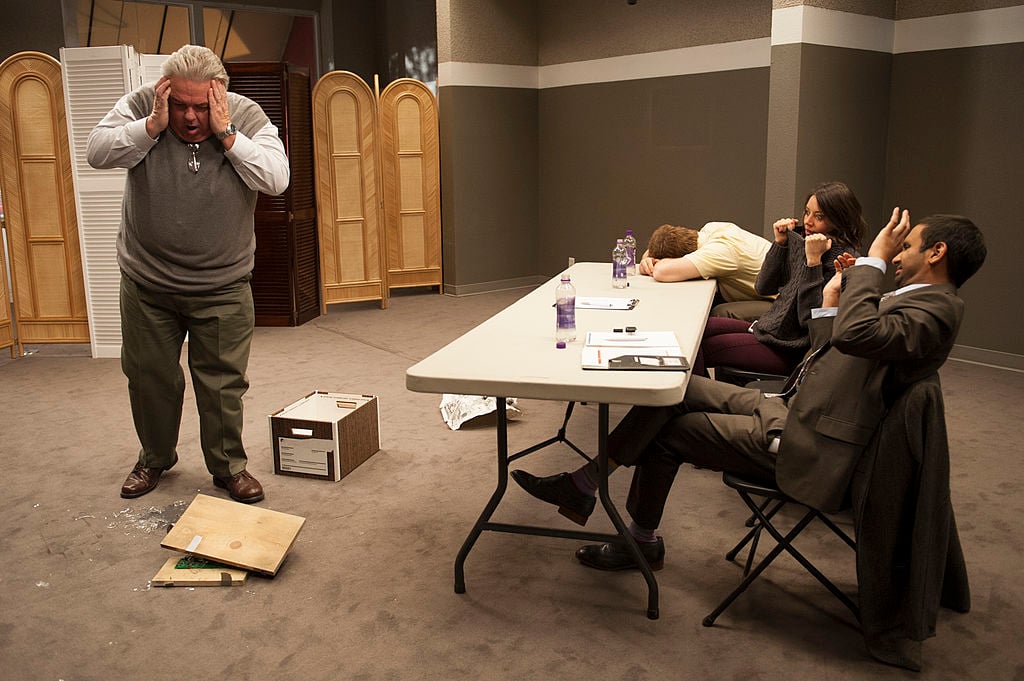 RELATED: Chris Pratt's 'Parks and Rec' Band Mouse Rat Are Releasing an Album and No, This Isn't a Drill
O'Heir's character Jerry appeared on all 7 seasons of Parks and Rec. He began as an office manager who worked his way up to the Mayor (by the series finale). With so much time playing Jerry, fans want to know if O'Heir can relate.
In a Reddit AMA ("Ask Me Anything"), O'Heir addressed the question with the kind of answer only Jerry Gergich could give saying he's been known to fumble his words. The biggest thing he has in common? Jerry's coworkers often responded with exasperation after something went wrong on the show. O'Heir said fans do the same, though it's all in good fun.
"Every day of my life. All day of my life. I hear "dammit Jerry" a lot," he said.
O'Heir also added that if someone called him the wrong name in real life, he'd likely respond the same as Jerry. That said, Jerry's actual name on the show — Garry — was even misspelled on his headstone in the flash-forward finale.
All of Jerry Gergich's names explained
RELATED: Is Rob Lowe Anything Like His 'Parks and Recreation' Character or Is He 'Literally' Acting?
Though most Parks and Rec fans will forever refer to O'Heir as "Jerry Gergich," the character had a few others. In Season 4 Episode 9, "The Trial of Leslie Knope," Jerry announced his real name — Garry — in a public court hearing. He explained that it started at the Parks Department when a supervisor called him Jerry and he never made the correction.
"Garry" came up again in season 6 after Pawnee merged with Eagleton. There, the affable employee accidentally called himself "Larry Gengerch." This led to April Ludgate (Aubrey Plaza) paving the way for Jerry's new name.
Three years later (in fictional Pawnee time), "Terry Gergich" manifested when another employee named Larry arrived. By the finale season, the Parks crew finally addressed O'Heir's character as Garry when he found a place card at Donna's wedding. April and Andy (Chris Pratt) chanted "Garry! Garry!" making this a full-circle moment.
"After 30 years, my coworkers are finally going to call me by my real name," he said on the show. "Oh, boy, I am blessed."
Though Jerry/Larry/Terry/Garry should've been enough, the character also appeared as Mailman Barry in The Johnny Karate Super Awesome Musical Explosion Show. He's now known as Jerry/Larry/Terry/Garry/Barry forevermore.
O'Heir said this 'Parks and Rec' scene is his 'badge of honor'
RELATED: These 'Parks and Recreation' Stars Appeared in 7 Different Projects Together (So Far)
The continued success of Parks and Recreation isn't lost on O'Heir. The star uses his alter ego every now and then to address fans on social media. He also holds a Cameo account where he answers questions about the show. In seven seasons, some wonder what O'Heir loved most about working on the show and it's the answer we all hoped for.
"We lose it a lot, so just know that," he told Vulture in 2013. He described a scene where he "makes an entry," adding, they "literally were four takes in before nobody broke up because Jerry makes this ridiculous entrance."
He continued, adding why everyone loves Jerry: "I really believe that Jerry is — at least Jerry believes this — that they think the world of him. As much as they sh*t on him and as much as they use him as a punching bag, there are episodes where they have his back and they come to his rescue."
Among the episodes that O'Heir is remembered for most are arguably the most embarrassing such as the "fart attack," in which Jerry "farts uncontrollably" while having a heart attack.
"That's a badge of honor, my friend," he said.