'Parks and Recreation' Star Nick Offerman Explains Why He's Nothing Like Ron Swanson in Real Life
Ron Swanson is a self-confirmed non-conformist on 'Parks and Recreation. Star Nick Offerman says he's nothing like that in real life.
After years in Chicago's theater scene, Nick Offerman made a name for himself on seven seasons of NBC's Parks and Recreation. The comedian's alter ego Ron Swanson, however, became bigger than the star himself. It's been years since the Parks and Rec series finale and yet Offerman reveals that fans still think he and Ron are one-in-the-same (they're not).
'Parks and Recreation's helped Ron Swanson become a TV icon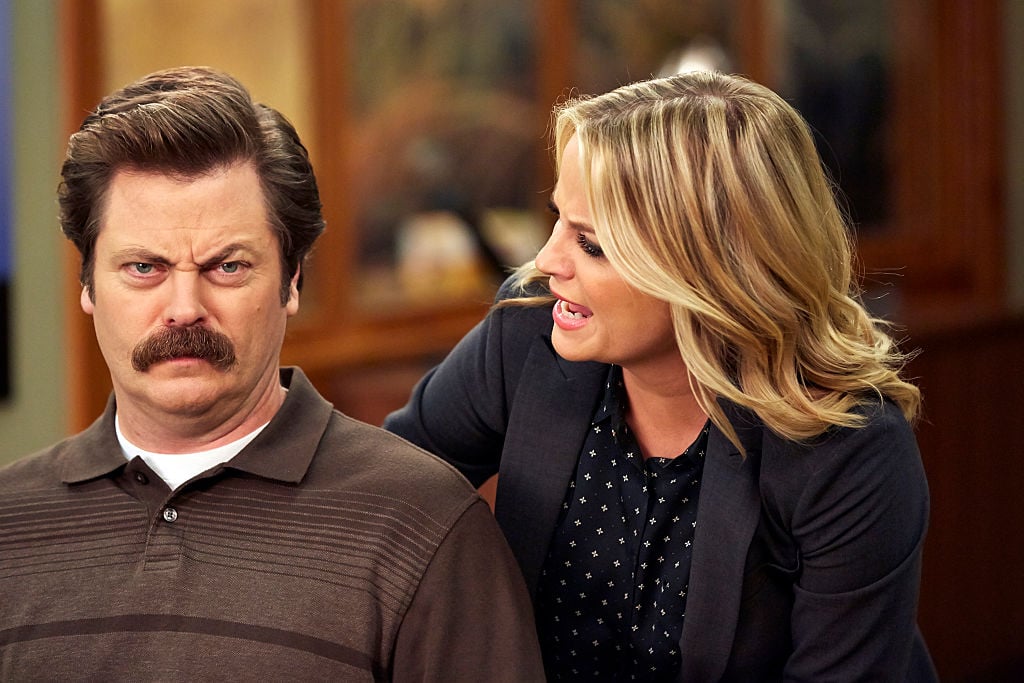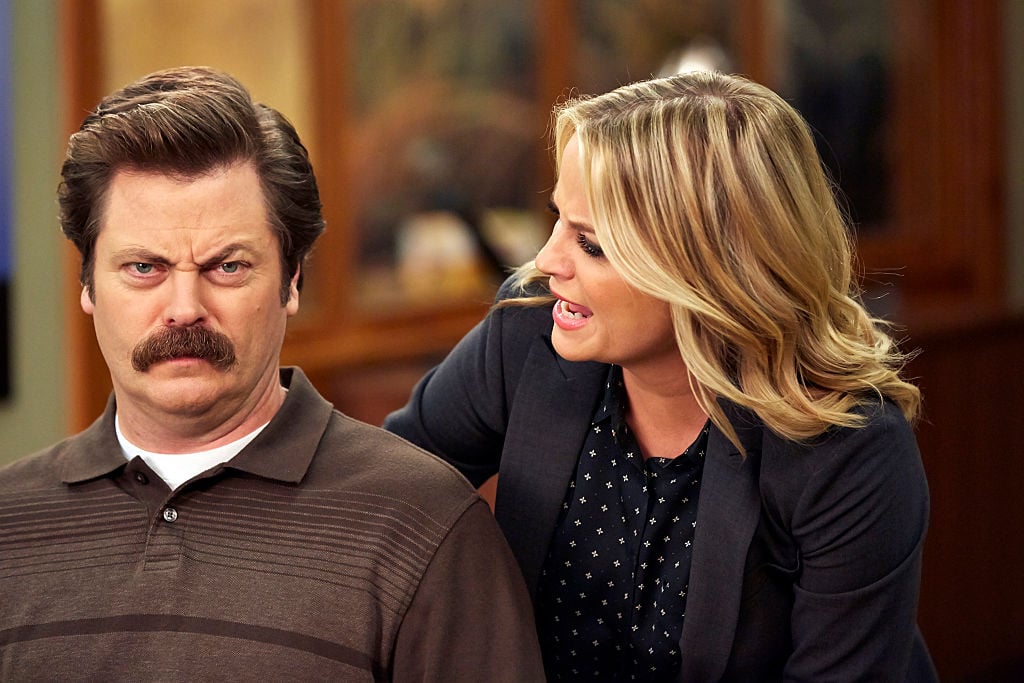 As a meat-loving, whiskey-drinking, anti-government-government-official, Offerman's portrayal of Ron Swanson took on a life of its own. Though his official title was "director" of the fictional Pawnee Parks Department, the staunch libertarian despised interacting with the public and often attempted to undermine anything remotely resembling big government rules.
Ron, who appears to be a stereotypical masculine figure, shows he's more complicated than we might believe. Not only is he terrified of the three Tammy's in his life (two exes and his mother), but he's also a secret saxophonist known as Duke Silver. The tough guy with a heart-of-gold act is a difficult ask but Offerman's version has amassed millions of followers in real life. The only problem? They expect him to behave just as Ron Swanson would.
Offerman says fans will be disappointed if they're expecting him to act like Ron Swanson
RELATED: 'Parks and Recreation' Star Nick Offerman Revealed He Was Once 'Traumatized' From a Season 3 Storyline
Despite years away from the hit NBC sitcom, Offerman is still approached by fans who want Ron Swanson.
"I think there is a small percentage of the audience that sadly is not very good at watching television," he told Men's Health. "I've had people get quite angry with me when they come to learn that Parks and Rec was not a documentary. And I try to be gentle with them because I want them to hear what I have to say. And I am interested and respectful of what they have to say. But yeah, it's a funny thing when people see a cleverly written comedy character and are somehow able to extrapolate real-life personal heroism from that."
Likewise, Offerman said many request Ron for events.
"At most of these schools, the students run the activities board. A lot of the requests will say things like "We don't even care if Nick Offerman shows up. We just want Ron Swanson," he told Believer Mag in 2012.
He also noted that, while he enjoys meat, he could never consume the amount Ron does.
In terms of eating meat alone, everybody can understand the hero-worship of someone who can eat an entire bucket of lard in one sitting. That would kill us," he said. "Ron can drink an amount of whiskey that would send me to the hospital or my grave. And that's to be admired, to be celebrated."
With a character so well-received, the star does acknowledge the viewers' excitement. "I am working with the same toolbox," he told WBUR in 2019, "but he's much more brilliantly written than I am, unfortunately."
Don't fret 'Parks and Rec' fans — Ron and Offerman share a few qualities
Offerman is fully aware of the demand and doesn't deny that he shares a few similarities, such as his love of scotch whiskey. In celebration of Father's Day, Offerman teamed up with Lagavulin Whiskey for the second time to offer The Lagavulin Offerman Edition: Guinness Cask Finish.
"The opportunity to collaborate on this truly sublime, smoky giggle-juice renews my gratitude for the simple things in life, like a father's love, and the good manners he taught me," Offerman said in a statement, per Food and Wine.
Other traits fans can count on include Offerman's belief of, "standing up for one's principles first and foremost. It means being true to your word and having good manners and pursuing decency. It doesn't mean, you know, getting in a fistfight or any of the habits that are associated with misogyny," he said in the same Believer Mag interview. "I think good manners and the sensitivity to show one's emotions are something that's much more manly and require more bravery than acts of violence or feats of physical strength."
And, as many know, the star also has one very Ron-like quality that can't be denied.
"I'd been cast. I'd be on the phone with the writers and I'd say, 'Hang on. I'm at my shop. I gotta shut off the band saw,'" he recalled. "As that sank in the second or third time, they said, 'We're coming over there'. The entire writing staff got in a van and came to my shop. They immediately were like, 'Your character has a woodshop.'"
While these things might be enough for some, Offerman's rendition of "I Am Not Ron Swanson" is worth a listen just in case.