Patrick Mahomes and Brittany Matthews Celebrate Their Upcoming Wedding With Lavish Bachelor and Bachelorette Parties
Patrick Mahomes and his fiancée Brittany Matthews celebrated over the weekend with separate, but lavish bachelor and bachelorette parties ahead of their upcoming wedding.
Patrick Mahomes and his fiancée Brittany Matthews are both celebrating their last days of being single. The high school sweethearts will soon become husband and wife. But before their big day, they both enjoyed lavish bachelor and bachelorette parties with their closest friends.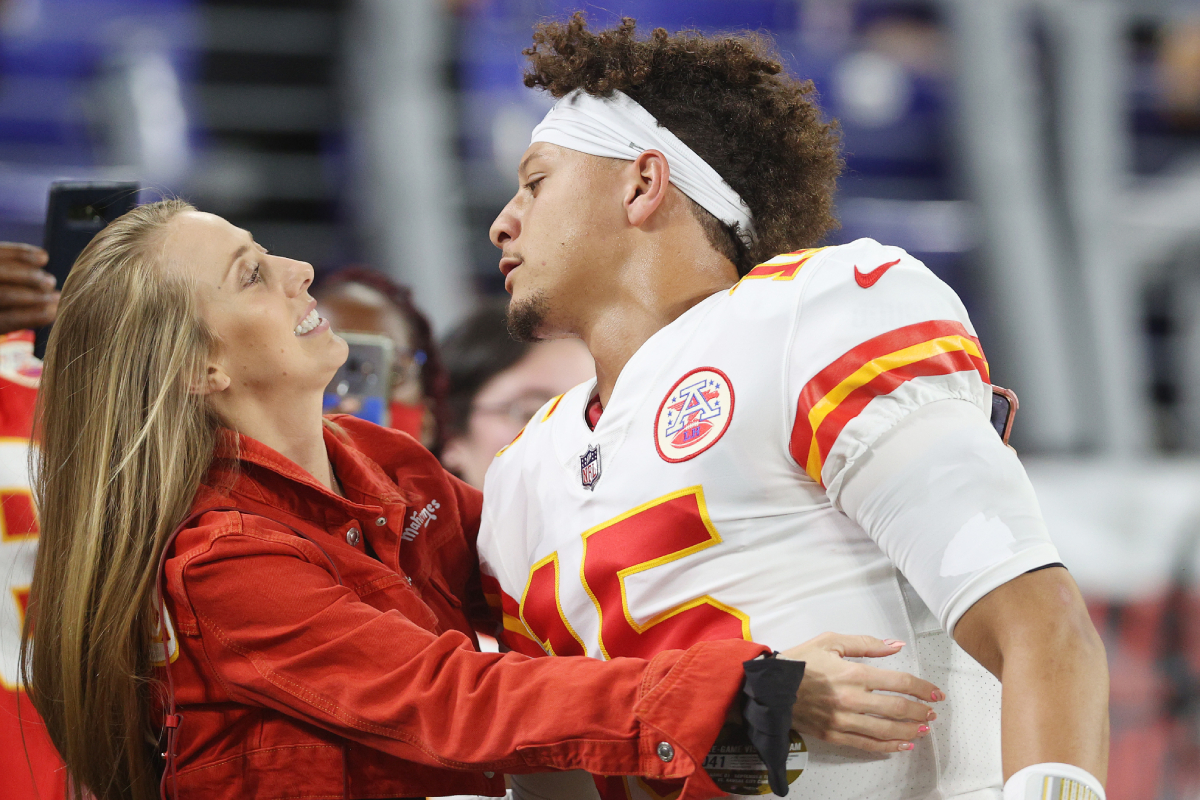 Patrick Mahomes proposed to Brittany Matthews in September 2020
Mahomes and Matthews have been together since their days at Whitehouse High School in Whitehouse, Texas. They stayed together during college, despite him attending Texas Tech in Lubbock and her going to the University of Texas in Tyler.
After college, Mahomes signed with the Kansas City Chiefs and she started Brittany Lynne Fitness. The couple moved to Kansas City, and he quickly became one of the biggest stars in the NFL.
After a Super Bowl victory and signing a $500 million contract, Mahomes proposed to Matthews at Arrowhead Stadium on her 25th birthday — September 1, 2020. Just moments after receiving his Super Bowl ring.
Patrick Mahomes celebrated his bachelor party weekend in Las Vegas
During the last few days of February, Mahomes and a few of his Chiefs teammates headed to Las Vegas for an epic bachelor party weekend.
The quarterback and his entourage — which included Travis Kelce, Jerick McKinnon, and Orlando Brown — started things off with dinner at Carversteak at Resort World. Which included giant tomahawk steaks that had bones engraved with Mahomes' name.
"They were drinking 100-year-old Louis XIII Cognac. His crew enjoyed dinner last night and (also) sipped on Michael Jordan's Cincoro Tequila to celebrate the momentous occasion," an eyewitness told People.
Mahomes' weekend in Sin City included a Saturday night at Drai's Nightclub, the rooftop venue at the Cromwell Las Vegas Hotel and Casino. The stag party also enjoyed a VIP booth at a Big Sean concert.
Brittany Matthews enjoyed her own weekend bachelorette party
While Mahomes was in Vegas, Matthews enjoyed her own celebration known as "Britt's Bach Bash" over a long weekend with her closest girlfriends in Memphis, Tennessee.
The 26-year-old marked the occasion by posting numerous pics on her Instagram Story throughout the weekend. The group was seen doing goat yoga, soaking up the sun on a boat, and partying during a night out while wearing coordinated outfits.
"My girlsssss mean everything to me. Can't wait to decompress & enjoy this with my people," Matthews wrote.
Brittany Matthews had a photographer at her bachelorette party
Matthews had such a busy weekend planned that she had a photographer on hand to document the occasion. She shared numerous pics that included all of the group's best looks. Including a Boomerang that featured the future Mrs. Mahomes wearing a white fringe dress and pink wig.
"Meet Blaire," Matthews wrote in the caption.
The former soccer player and current owner of the Kansas City NWSL also took time to hit the gym. The fitness expert and her crew weren't afraid to get sweaty in the event Matthews titled "Britt's Bach Bootcamp."
Patrick Mahomes and Brittany Matthews left their daughter at home
While Mahomes and Matthews were enjoying their final days of singledom, there was one person noticeably missing from all the pics — their 13-month-old daughter Sterling. The couple announced they were expecting just weeks after getting engaged.
Matthews told her Instagram followers that her bachelorette party was the first trip she'd taken without her daughter. She posted a photo of her baby girl on her Instagram Story and wrote in the caption, "I miss my girl so much! This was my first time being away from her and it's hard."
Patrick Mahomes and Brittany Matthews have not announced their wedding date or revealed a location. But fans can be confident that it's happening very soon, and the couple will share plenty of photos of the lavish event.