Paul McCartney Said George Harrison and George Martin Brought Something to 'And I Love Her' to Make It More Musical
Paul McCartney said bandmate George Harrison and The Beatles' producer, George Martin, brought something interesting to his song, "And I Love Her." They made it more "musical."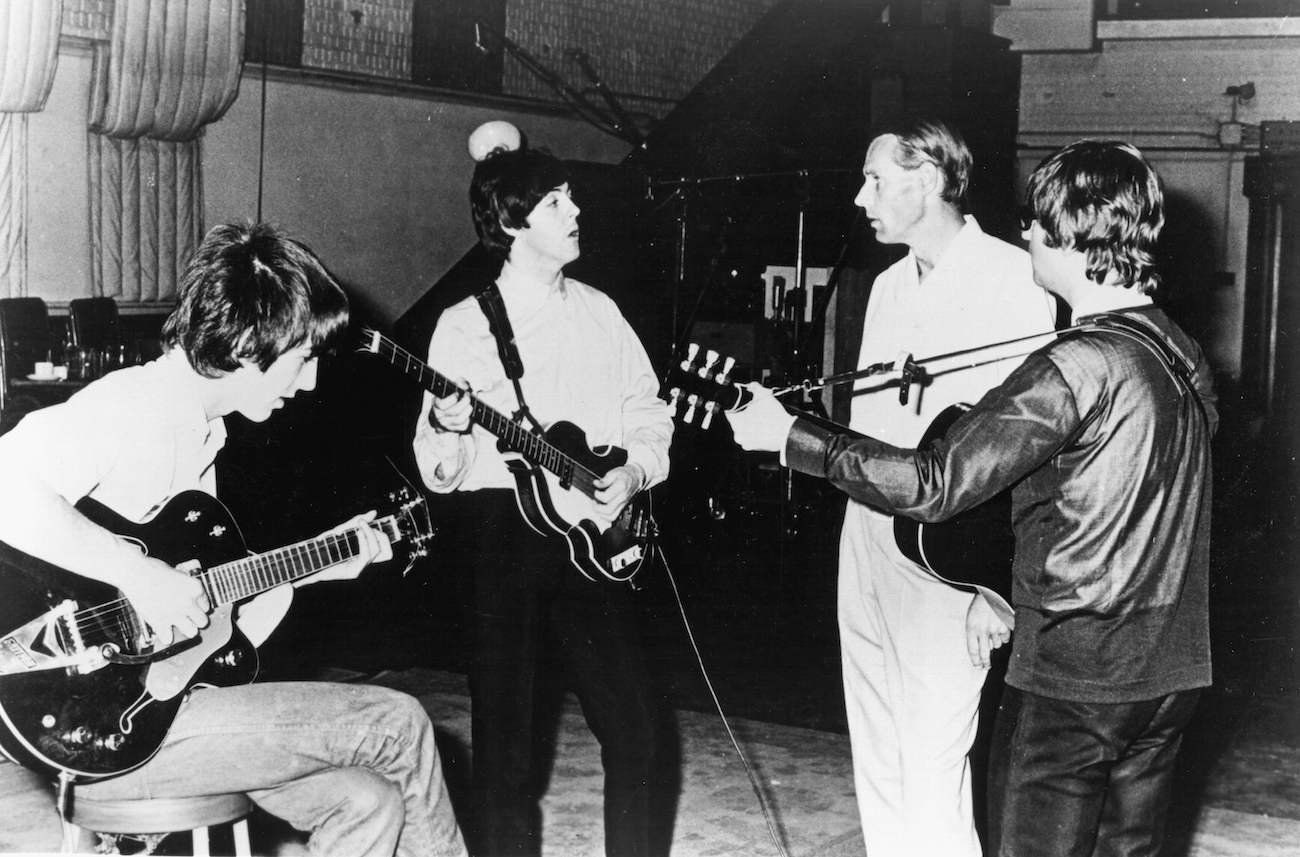 Paul McCartney wrote 'And I Love Her' about his then-girlfriend, Jane Asher
During The Beatles' early career, their manager, Brian Epstein, arranged for them to move to London, where the music business was, and live in an apartment in Mayfair. London was experiencing a massive redevelopment after World War II, and it was an exciting place to be. However, for Paul, that excitement didn't extend to their living arrangements.
In The Lyrics: 1956 to the Present, Paul wrote he moved in with then-girlfriend Jane Asher and her family in their posh Marylebone home because the apartment Epstein picked "had no soul," unlike the home where he grew up.
Paul met Asher in the spring of 1963 when she interviewed The Beatles for the Radio Times at the Royal Albert Hall.
He wrote, "She and I started dating shortly afterwards, and towards the end of the year the Ashers must have heard me grumbling about Mayfair and said, 'Well, do you want to stay here?' This gesture was in the long tradition of giving a garret room to a starving artist. So, I had a little room up at the top, next to Jane's brother Peter's room."
Paul loved living at the Ashers'. He said it was a real eye-opening experience because he'd never been around classy people. The bassist wrote, "The family knew all about art and culture and society, whereas I'd never known anyone who knew about going for auditions, or had an agent.
"It was really nice staying in that house. Lots of books to read, art on the walls, interesting conversations; and Margaret was a music teacher. It was at least a home, and I'd sorely missed that since I'd come down from Liverpool and since my mum had died six or seven years before."
Eventually, Paul and Jane became "an item." They enjoyed literature and theatre. Soon, Paul wanted to tell Asher he loved her, which inspired "And I Love Her." He wrote it in his room at the Ashers'.
Paul McCartney said George Harrison and George Martin made 'And I Love Her' more 'musical'
Decades after writing the love song, Paul wrote that he still thinks "And I Love Her" has a nice melody."
He wrote, "It starts with F-sharp minor, not with the root chord of E major, and you gradually work your way back. When I'd finished it, I felt, almost immediately, proud of it. I thought, 'This is a good 'un.' It really reached me, so I thought it might reach other people too."
Paul brought the tune to The Beatles' producer, George Martin, and just before the group recorded it, Martin suggested they add an introduction. George Harrison jumped right in with a memorable riff.
"And I swear, right there and then, George Harrison went, 'Well how about this?' and he played the opening riff, which is such a hook; the song is nothing without it. We were working very fast and spontaneously coming up with ideas," Paul wrote.
"Another thing worth recalling is that George Martin was inspired to add a chord modulation in the solo of the song, a key change that he knew would be musically very satisfying; we shifted the chord progression to start with G minor instead of F-sharp minor – so, up a semitone. I think George Martin's classical training told him that that would be a really interesting change. And it is.
"And this sort of help is what started to make The Beatles' stuff better than that of other songwriters. In the case of this song, the two Georges – George Harrison with the intro and then George Martin on the key change into the solo – gave it a bit more musical strength. We were saying to people, 'We're a little bit more musical than the average bear.'
"And then, of course, the song – which is now in F major, or arguably D minor – eventually finishes on that bright D major chord, a lovely, pleasing resolution. So, I was very proud of that. It was very satisfying to make that record and to have written that song for Jane."
Paul ran into Asher years later in Marylebone
Unfortunately, Paul and Asher's relationship didn't survive past The Beatles' lifetime. She dumped him on live television, but the end of their romance was ultimately amicable. Years later, Paul walked by the Ashers' home on Wimpole Street. It brought back his fondest memories of living there.
Before entering the building of his doctor down the street, Paul sensed someone behind him. It was Asher. Paul wrote, "I said, 'Oh my God, I was just thinking about you and the house.' That was the last time I saw her, but the memories don't fade."
Memories don't fade, and neither does music. Paul's love for Asher is immortalized in "And I Love Her."