Paul McCartney Once Shared What His Last Moments With George Harrison Were Like Before His Death
Paul McCartney and George Harrison "joked about things" days before Harrison's 2001 death.
George Harrison was many things during his lifetime: An underrated guitarist, crucial to The Beatles' success, and the one who forced the members of the supergroup The Traveling Wilburys to check their egos at the door. Harrison was perpetually in good spirits, even as he battled cancer near the end of his life. His final words to Ringo Starr illustrate it, and so does how Harrison and Paul McCartney interacted when the former was near death.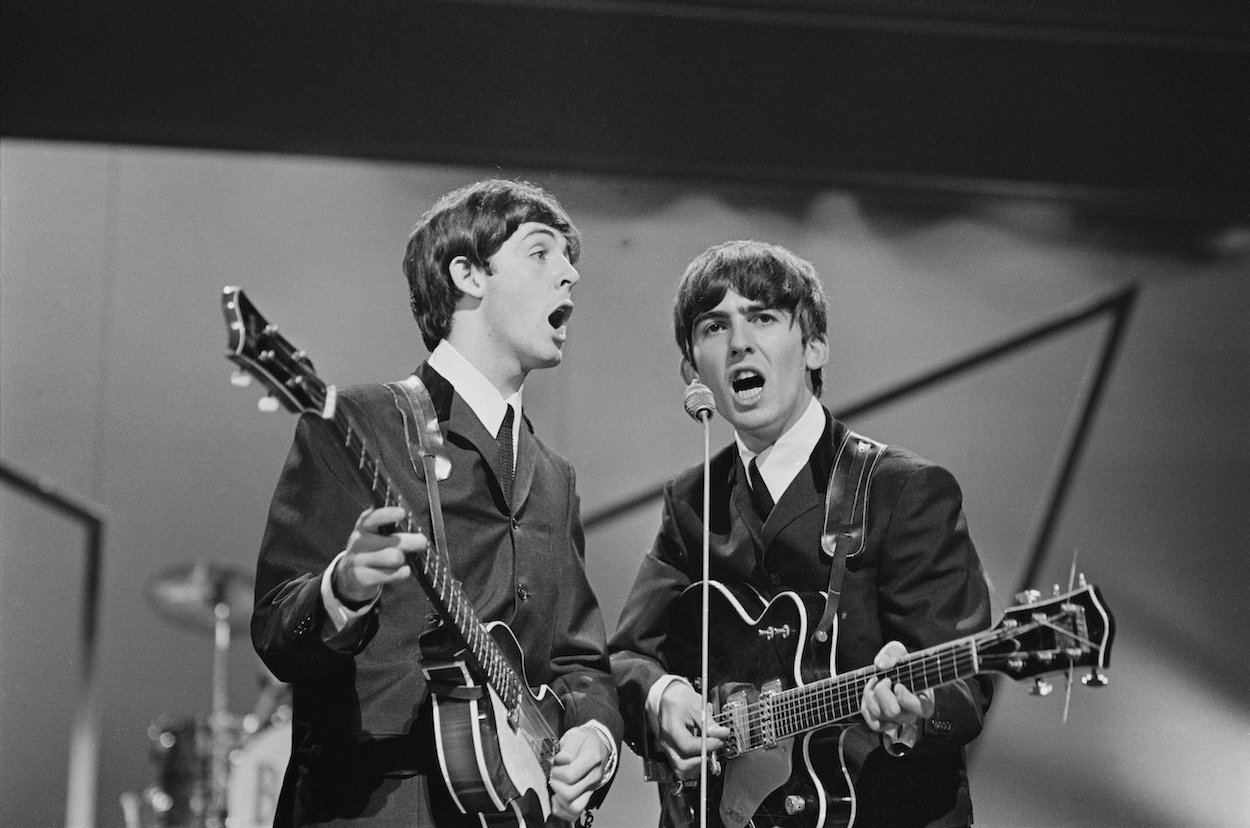 George Harrison's heartbreaking final words to Ringo Starr showed his strong spirit
When The Beatles needed to replace original drummer Pete Best, Harrison talked McCartney and John Lennon into adding Starr. Lennon and McCartney took up a lot of the spotlight, but Starr's steady timekeeping on drums and Harrison's underrated guitar-playing helped the band achieve legendary status. Harrison and Starr spent years working together closely, and Starr made sure to see his former bandmate before his death. 
On his way to Boston to see his daughter, who was fighting a brain tumor, Starr visited Harrison in Switzerland. An ill and bed-ridden Harrison still retained his spirit, though. When Starr told the guitarist he had to depart for Boston, Harrison responded, "Do you want me to come with ya?" Those were Harrison's final words to Starr.
McCartney also spent time with Harrison just before his death. Macca once revealed that though Harrison's body was failing him, his spirit was not.
Paul McCartney and Harrison 'joked about things' days before his death
After Harrison delivered his heartbreaking final words to Starr in Switzerland, he had a chance to meet the other surviving Beatle.
McCartney met Harrison in New York not long before his November 2001 death and revealed they spent time reminiscing, as he told Uncut:
"I sat with him for a few hours when he was in treatment just outside New York. He was about 10 days away from his death, as I recall. We joked about things – just amusing, nutty stuff. It was good. It was like we were dreaming. He was my little baby brother, almost, because I'd known him that long. We held hands. It's funny, even at the height of our friendship – as guys – you would never hold hands. It just wasn't a Liverpool thing. But it was lovely."

Paul McCartney on his final meeting with George Harrison
That was the final time McCartney saw Harrison, but Macca has proven in the years since that his friend was never far from his mind.
McCartney continues honoring Harrison
McCartney and Harrison grew up together. They lived in the same area, rode the same bus to and from the Liverpool Institute, and played in a legendary band together. So it makes sense that Macca continues to think of his friend often.
On the 20th anniversary of Harrison's death in 2021, McCartney took to Instagram to share a black and white photo and a simple message reading, "Hard to believe that we lost George 20 years ago. I miss my friend so much. Love Paul."
Harrison never seems far from McCartney's thoughts, and neither is a physical reminder. The so-called quiet Beatle gifted Macca a fir tree, which Sir Paul planted outside his house. So every time he leaves the house, a special tree helps him remember his friend.
For more on the entertainment world and exclusive interviews, subscribe to Showbiz Cheat Sheet's YouTube channel.