Paula Deen Has Been Quietly Making a Comeback on YouTube
Paula Deen, the Southern chef who rose to fame for her love of butter and all things deep-fried, was persona non-grata up until a few months ago. The celebrity chef was one of the most familiar faces on television in the early 2000s, with several shows running on The Food Network. Still, scandal marred Deen's professional career and in 2013, she came close to losing everything. In the wake of the coronavirus (COVID-19) pandemic, Deen has been making a surprising comeback, on YouTube, of all places.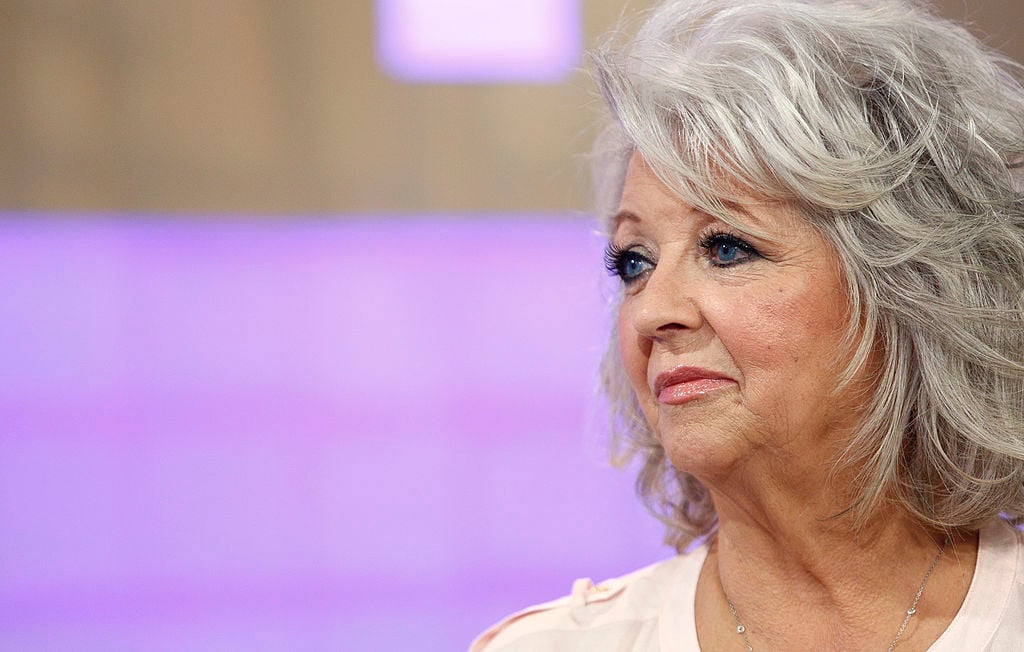 How did Paula Deen become famous?
RELATED: 'Roseanne' and Other TV Shows That Were Canceled Because of a Scandal
Paula Deen was born in Georgia in 1947. She got married when she was quite young, and had two sons, Jamie and Bobby Deen, according to Biography. She found solace in an unhappy situation by cooking, and in 1989, she divorced her husband and moved away with her sons. Deen started her own catering service, The Bag Lady, which focused on delivering lunches in Savannah, Georgia. Her business grew by leaps and bounds, and she eventually opened her own restaurant, The Lady & Sons.
In the early 2000s, Deen began appearing on The Food Network, in shows such as Paula's Home Cooking, Paula's Best Dishes, and Paula's Party. All while her star on television continued to rise, she kept expanding her business empire, releasing lines of ready-to-eat foods and seasonings. Although Deen received a great deal of criticism for her heavy use of butter, salt, and sugar in her dishes, she had a stalwart fan base of supporters who religiously prepared her recipes. 
Paula Deen's infamous scandal
Paula Deen's fortunes began to dramatically shift by early 2013. She became embroiled in a scandal when she admitted that she had used racial slurs in the past — although she emphatically denied using any such language in recent years. In her statement, Deen seemed to place the blame for her past use of racist language on the culture of the south at the time. However, The Food Network, as well as thousands of outraged viewers, didn't buy the explanation.
In the wake of the scandal, all of Deen's shows were dropped, and many of the companies and brands that carried her products severed ties with the disgraced chef. Deen seemed to fade away into obscurity for a while, and several of her restaurants have closed. Still, Deen has been poised for a comeback for a little while, according to HuffPost, and it looks as though the coronavirus pandemic has provided her with the perfect opportunity. 
Paula Deen has been making a comeback on YouTube
In quarantine at her home in Georgia, Paula Deen has been regularly uploading videos to her YouTube channel since the end of March. Her "quarantine cooking" episodes have received thousands of views, as Deen recreates familiar recipes from her catalog of favorites as well as some new recipes. From gooey butter cake to kid-friendly sandwiches, Deen's recipes are as chock-full of unhealthy ingredients as ever before, but her fans don't seem to mind – the comments on all of her "quarantine cooking" videos are overwhelmingly positive.
Many fans in the comments have implored Deen to continue making the videos even after quarantine is lifted, telling the chef how much they have missed seeing her on their screens. Whether Deen takes this to heart and continues uploading videos to YouTube after the guidelines are loosened remains to be seen — but she certainly seems to enjoy connecting with fans again. It seems unlikely that Deen will ever be able to fully make a return to television, but for now, a large portion of the social media space has welcomed her back with open arms.