'Peacemaker': How James Gunn and John Cena's Series Broke Another DC Villain in Comics
DC Comics' Peacemaker has turned into a surprise smash-hit with fans. John Cena's Peacemaker went into a hilariously over-the-top sequel series after starring with Idris Elba's Bloodsport and Joel Kinnaman's Rick Flag in The Suicide Squad. However, the Peacemaker TV series came as a surprise to another DC villain who ended up having a breakdown – and it's not the rumored Kite Man or Gorilla Grodd.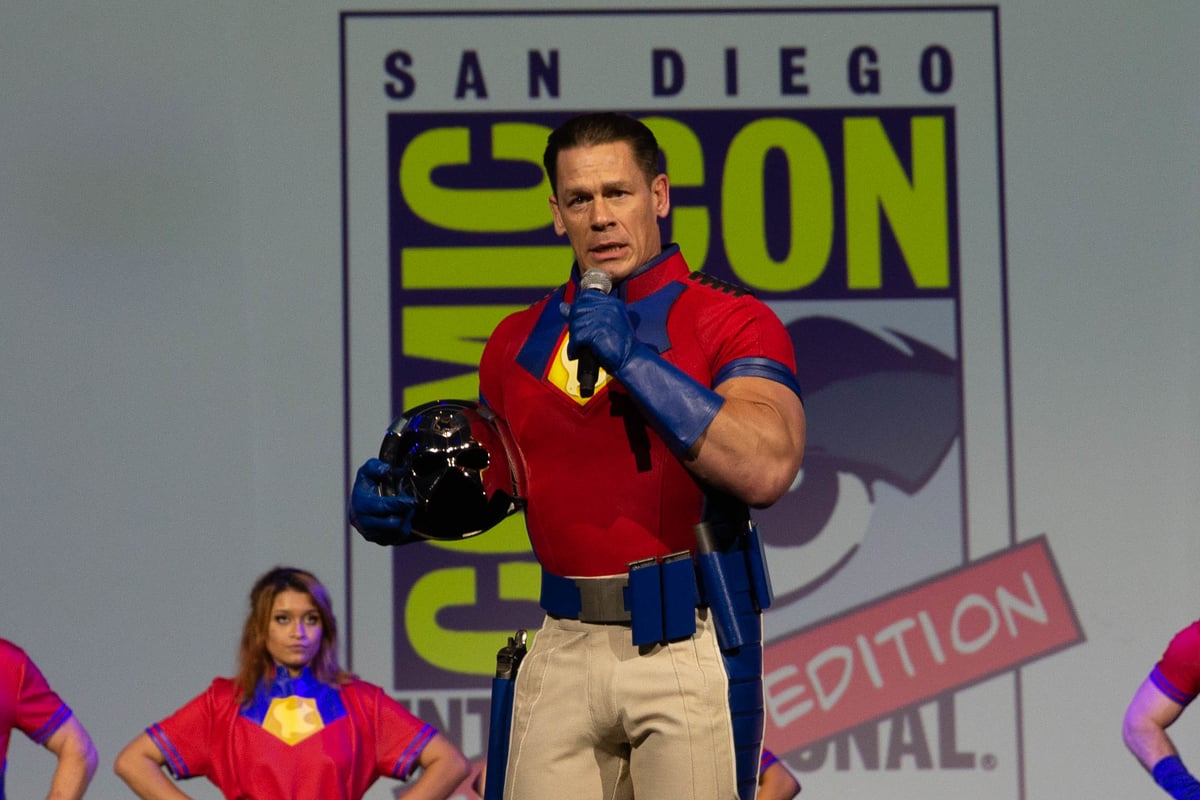 DC orderedtThe 'Peacemaker' series while writers Keith Giffen and Jeff Lemire tried giving the character a sidekick
James Gunn's The Suicide Squad had the unfortunate fate of releasing during the COVID-19 shutdown, and many considered it a financial flop. However, it still received praise from critics.
Gunn decided to use new characters, including Peacemaker, Bloodsport, and Polka Dot Man. Filming for The Suicide Squad started in September 2019.
However, in the same month, writers Keith Giffen and Jeff Lemire published the first issue of their 12-issue Inferior 5 series. It included a side story with Peacemaker, Rick Flag, and Amanda Waller.
They had big plans to use a classic Superman plot. However, DC cut its storyline short due to the pandemic and changes behind the scenes. DC trimmed their series from 12 issues to six. They were unable to develop the Peacemaker plot before the comic was canceled.
And when one DC villain heard Peacemaker was getting his own series, he snapped.
The DC writers planned Brother Power to become Christopher Smith's sidekick before the antihero took off in popularity
Before James Gunn sparked a new interest in the character with The Suicide Squad and the Peacemaker series, Peacemaker was considered somewhat obscure in DC Comics.
For the writers looking to reinvent heroes like the campy 1960s Inferior Five team, Peacemaker and Brother Power seemed perfect.
Neil Gaiman re-introduced the DC character Brother Power in the late 80s. Gaiman gave him the ability to communicate through certain objects, and led to an encounter with Batman. In DC Comics' Inferior 5, Brother Power used his ability to make Chris Smith think the Peacemaker helmet spoke. It definitely made Rick Flag think Peacemaker had gone crazy.
With DC having tons of characters, one of the few ways for smaller characters to gain notoriety is through association with bigger names. This was Brother Power's goal. He assisted Chris Smith however he could.
However, DC cut the series starring Peacemaker from 12 issues to six before the plan could unfold, and Brother Power knew this.
"I mean, Peacemaker is getting his own TV show, for God's sake! But me? Good ol' Brother Power the Geek?! Forget it!" Brother Power shouted in the last issue of the comic. "I could have been his sidekick!"
Could Brother Power appear in James Gunn's 'Peacemaker' series?
James Gunn has proved he does not care how obscure a character is in the comics. If he likes them, he can find a way to use them. He did it for Guardians of the Galaxy, The Suicide Squad, and the Peacemaker series.
Peacemaker even namedropped the odd Batman villain Kite Man, who has appeared as a side character with Poison Ivy and Harley Quinn. However, in the DC Comic, Brother Power even mentioned Gunn by name, saying, "James Gunn won't even answer me on Twitter, man."
It seems unlikely that Brother Power could star alongside John Cena's antihero, Amanda Waller, and the others in the Peacemaker series.
Though if Gunn wanted to shock fans as he did by using Polka Dot Man, Brother Power will be waiting.