Penelope Cruz Once Lost a Bet Against Johnny Depp: 'He Took a Thousand Pictures of Me Which I Hope Never Come to Light'
Though Johnny Depp may be in the headlines due to his court cases and drama with Amber Heard, his fan base continues to support his body of work.
The actor's personal relationships have been under scrutiny and several of his famous co-stars and exes have come to his defense. He remains friends with a number of them, including fellow actor Penélope Cruz, who once shared an anecdote about losing a bet to Depp and the consequences of that loss.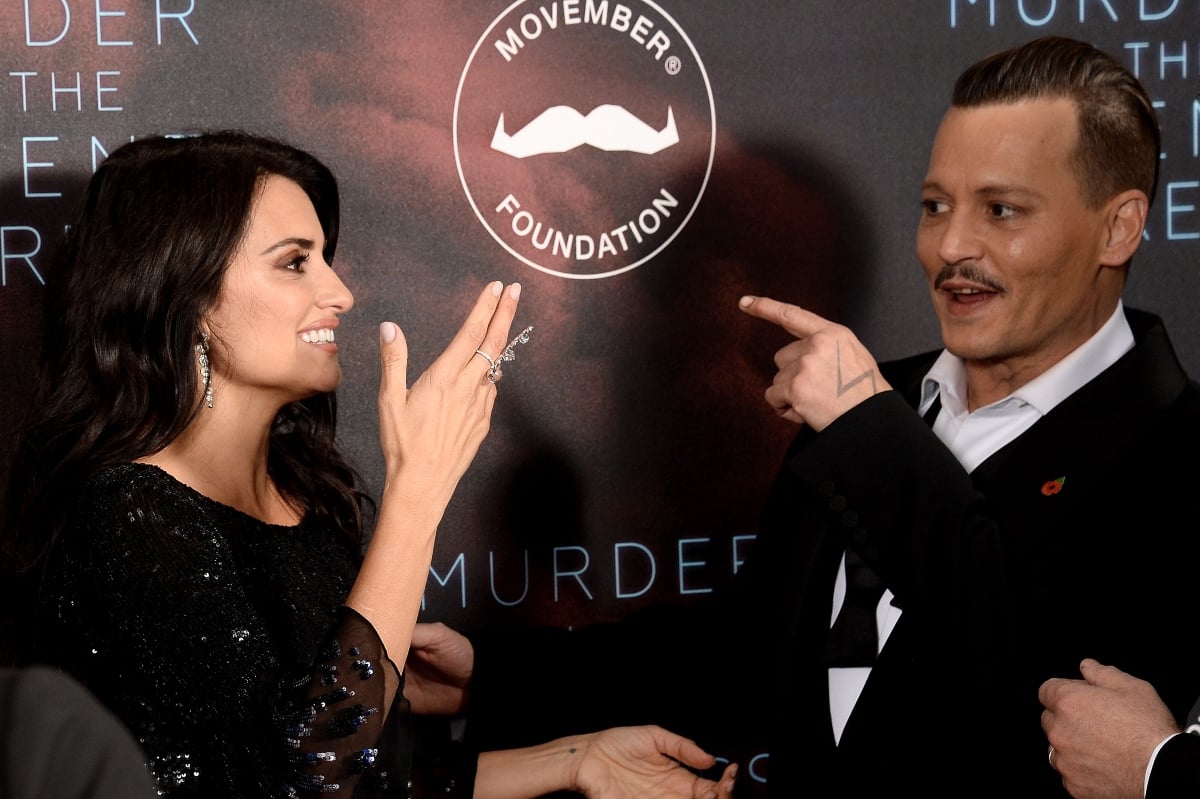 Penélope Cruz and Johnny Depp have been co-stars in three films
The most recent cast lineup that both Cruz and Depp have been part of was for 2017's Murder on the Orient Express. However, prior to that film, they both starred in Blow and Pirates of the Caribbean: On Stranger Tides.
Cruz spent months training for and shooting Pirates of the Caribbean, and she was pregnant for six months throughout the process. During a 2011 interview with Hollywood.com, she described Depp as being a poet and very funny.
"He has the greatest sense of humor," she said. Cruz also admitted the hardest part of working with him on the movie was trying not to laugh. He was quite the jokester.
RELATED: 'Pirates of the Caribbean: On Stranger Tides' Came Up With a Creative Strategy for Hiding Penelope Cruz's Pregnancy
Depp and Cruz wagered a bet on the set of 'Pirates'
When promoting the movie back in 2011, Cruz spoke with UK's Mirror and chatted about her friendship with Depp and his silly antics on the Pirates of the Caribbean set.
She said although she couldn't wait to work with her old friend again on a new project — she signed on without reading the full script — the only problem was his "peculiar sense of humor."
Depp was particularly amused with a fart machine that operated by remote control. Cruz said he would put it in someone's chair and activate it to make rude sounds while rehearsing dramatic scenes.
She said he would crack everyone up. But then he escalated the gags by wagering an on-set bet with Cruz.
She didn't go into about the terms of the bet, but she admitted she lost. "Johnny and I are both fans of South Park and the character Mr. Hankey the Christmas Poo. It's absurd but very funny. Johnny made this outfit for me and we had a bet which I lost. And I had to wear the Poo outfit on the set," Cruz shared.
"He was on the floor laughing and crying and he took a thousand pictures of me which I hope never come to light. But, of course, now that I've said it, I'm sure they will appear somewhere," she recalled. It was all in good fun and she's still very close with Depp.
'South Park' has brought Depp's name up
Who knew Depp was such a fan of the show and a budding poo costume designer? Though he's never made a cameo on South Park with Mr. Hankey, Depp has been part of the series' jokes in past seasons and online.
He was referenced in one season 14 episode that mocked Tim Burton about his movies, and the show's creators sometimes mention him on social media.
It is doubtful fans will ever get to see those photos of Cruz, but now others know not to bet against Depp with such hilarious stakes.