'Perfect Strangers' Made Up a Fake Country So the Show Wouldn't Offend an Entire Culture
Perfect Strangers is one of the most beloved TV shows to have ever aired on television. The show was especially remarkable because it provided entertainment for people who appreciated situation comedy and slapstick humor.
Perfect Strangers was so iconic that it led to another series that even outran it. When the show's creators were coming up with a setting or locations for Perfect Strangers, they needed to ensure they remained neutral, thus creating the iconic country called Mypos so as not to offend an entire nation.
Why 'Perfect Strangers' was so popular
RELATED: 'Family Matters' Wouldn't Exist Without Harriette Winslow Actor Jo Marie Payton
Back in the '80s, ABC was making waves with its sitcom about two cousins. The show was called Perfect Strangers, and it followed Larry Appleton, an average Midwesterner, and his cousin Balki Bartokomous of Eastern Mediterranean descent.
The show starred Bronson Pinchot and Mark Linn Baker, who were at the time relatively unknown. Perfect Strangers delivered an almost accurate representation of crossed cultural lines while offering various hilarious family moments that were anything if not relatable.
Balki and Larry worked at a newspaper factory for the Chicago Tribune and would get into various antics that left audiences laughing. Before appearing on Perfect Strangers, Pinchot had had some supporting roles in films. After having worked with Tom Cruise on Risky Business, Cruise realized that Pinchot was low on funds.
He offered Pinchot a loan and warned him against ever doing TV. Pinchot told Cruise that, unlike Cruise, he wasn't in a position to turn down jobs. A few years later, Pinchot became known as Balki, and he managed to work on the show for several years before it went off the air.
Aside from Larry and Balki, Perfect Strangers featured other side characters. The most prominent recurring character on the show was Harriette, the elevator operator at the newspaper factory where the two cousins worked. Viewers love Harriette and her sassy personality so much that the producers ended up creating a show centering on her life and her family, thus creating ABC another successful show.
'Family Matters' outdid the show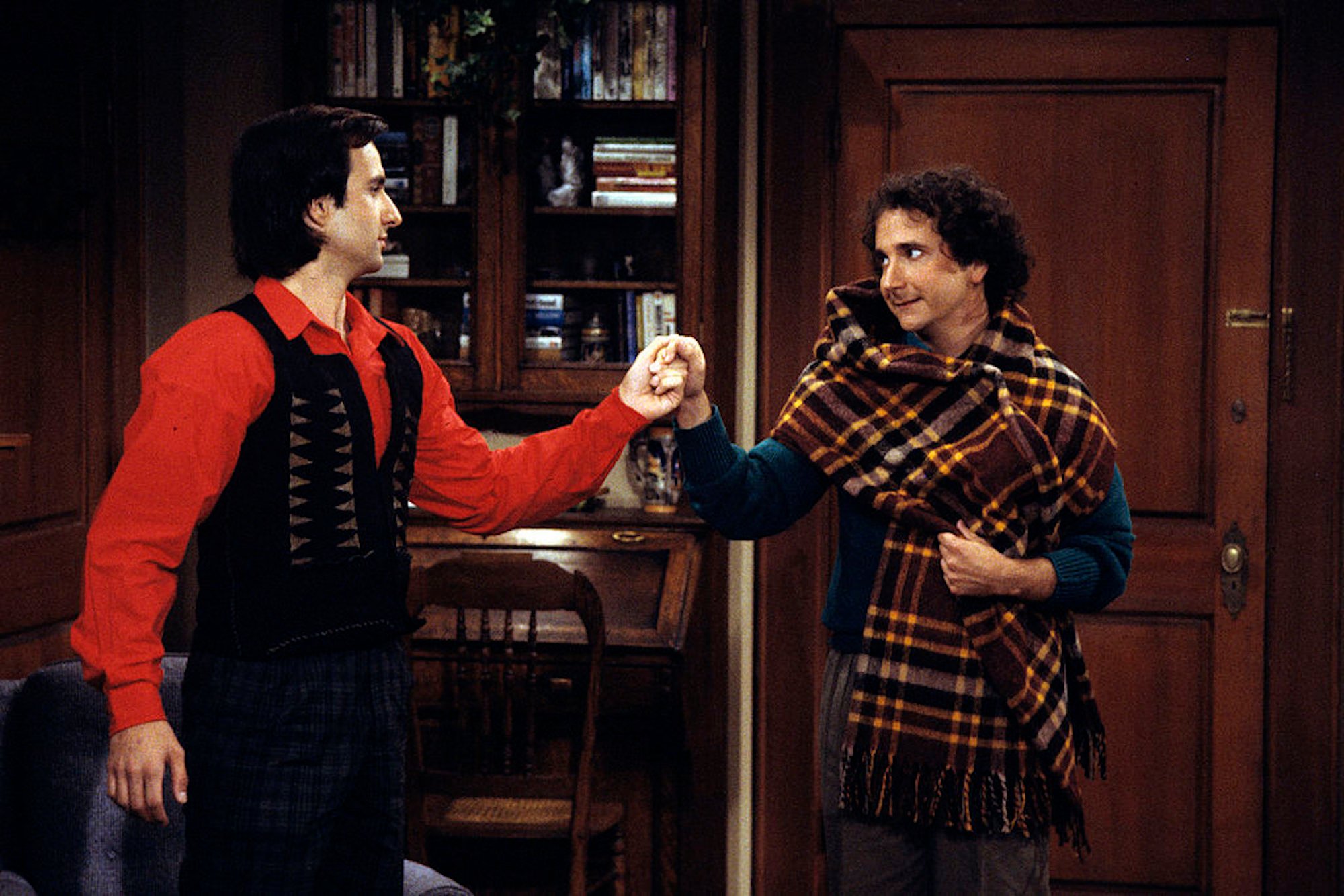 RELATED: 'Family Matters' Star Jo Marie Payton Also Played a Mom on Another Hit '90s Sitcom
Family Matters premiered in 1989, featuring an all-African American cast. The show centered on Harriette Winslow and her cop husband Carl, their three children, and various regulars. When the show debuted, it became an instant hit with viewers.
Although Family Matters had decent ratings in its first season, it became an icon when producers introduced Steve Urkel. Jaleel White joined the show midway through the first season as the Winslows' nerdy annoying neighbor. Urkel was meant to be a one-note throw-away character but hit it off with the audience.
He then got upgraded to a series regular and eventually became the main protagonist on the show. Soon the Urkel mania grew out of the series, and merchandisers took advantage of the character's image to profit with lunch boxes and even cereals.
The show aired for ten seasons, won various awards and praise from fans and critics alike. It also became ABC's second-longest-running sitcom.
'Perfect Strangers' showrunners created a new country to avoid offending people
RELATED: This Mysterious 'Family Matters' Firing Was Like 'Losing a Family Member'
Perfect Strangers was iconic for various reasons, but one stood out. The character of Balki was depicted as Eastern Mediterranean and had a predominant Greek accent. According to Mental Floss, producers of the show decided that it would be better if Balki hailed from a fictional country called Mypos.
This is because the show mentioned some bizarre customs that might have proven to be too offensive for anyone coming from the actual territory. Interestingly, the country initially had another name. Bronson once said in an interview that the island which his character hailed from was called Inokinos but later changed to Mypos. Mypos is, in fact, a Greek word that means possibility or maybe.