Pete Davidson Reveals He Accidentally Helped Alec Baldwin Lose 100 Pounds
Whether it's his love life or even where he lives, Pete Davidson is easily the Saturday Night Live cast member the media loves to discuss the most. Though he's a divisive figure among some SNL fans, Davidson seems to leave a story everywhere he goes. And he recently revealed a hilarious tidbit about how he helped frequent SNL guest Alec Baldwin shed weight.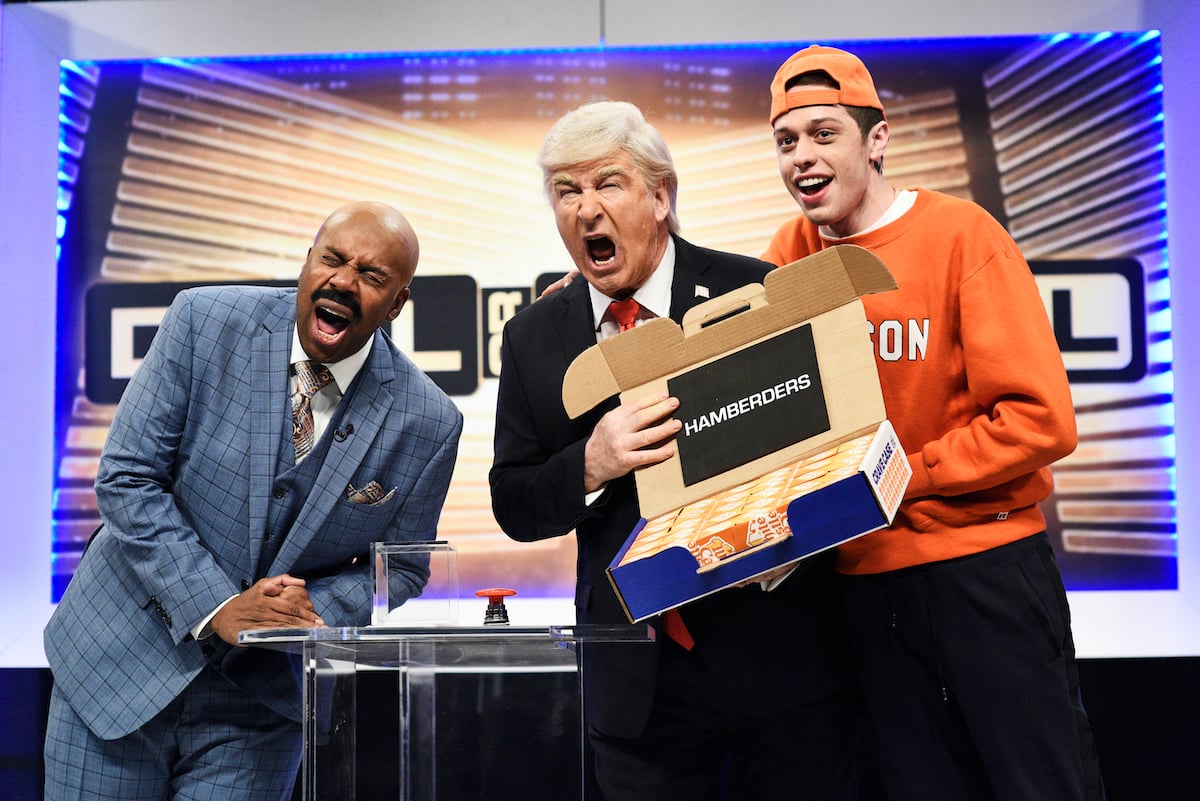 Alec Baldwin won an Emmy for playing Donald Trump on 'SNL'
With 17 hosting gigs, Baldwin holds the record for the star who has hosted SNL the most times. And while he's never been an official cast member, he has made it a habit to show up on a regular basis. In the past few years, Baldwin has become best known for playing Donald Trump. From 2016 to 2020, the Oscar-nominated actor played the former president to great success.
Baldwin even won an Emmy Award for his performance as Trump on the show. Joe Biden's victory in the 2020 presidential election brought Baldwin's time as SNL's Trump to an end. But the actor doesn't seem to mind. In fact, soon after the election results, Baldwin tweeted that he was "overjoyed" to lose the job. But his SNL role isn't the only thing he lost while on the show.
Pete Davidson's joke about his own body inspired Alec Baldwin
In a recent appearance on The Tonight Show Starring Jimmy Fallon, Davidson shared a hilarious story in which he accidentally helped Baldwin lost nearly a 100 pounds. Prompted by Fallon to confirm how it happened, Davidson laughed as he revealed the surprising truth.
"So, I was on set and Alec [Baldwin] was hosting. And it was a sketch where I had to be shirtless, and I guess I'm a little bit cut or whatever. … So he came up to me, and he was like, 'What do you do?' And I didn't want to be rude and say, 'I just still have metabolism. I'm not in my mid-50s.'

So to make him feel better, I said, 'Oh, man. I do 100 push-ups and 100 sit-ups every day.' And he was like, 'Got it.' And then he got the Trump gig. So I would see him every week, and every time we would run into each other in the hallway, he would be like, '100 a day.' And he started to do it, and he lost like 100 pounds. And he says it's all because of me."
Davidson's advice was made in jest. But clearly, he made a positive impression on Baldwin. Believing Davidson's approach yielded results inspired Baldwin to commit. And however it happened, the results speak for itself. Who would have thought Davidson would be such a good life coach?
Pete Davidson's 'The King of Staten Island' kicked off his movie career
If Davidson ever leaves SNL, he might be able to start a new career as the world's most surprising personal trainer. But more than likely, the comedian will follow countless SNL alumni — including his friend Adam Sandler — to the big screen. 
In fact, Davidson has already started making that transition. In the past couple of years, he has led movies such as Big Time Adolescence and The King of Staten Island. Next up, Davidson will be part of the ensemble cast in the much-anticipated comic book movie The Suicide Squad.