Pete Davidson Admitted Kaia Gerber Was Too Young For Him to Date
Pete Davidson and ex-girlfriend Kaia Gerber had an 8-year age gap. And Davidson may have just said she was too young for him.
Celebrity relationships are tough, especially when you're just 18 years old. Kaia Gerber is in the spotlight already for being Cindy Crawford's supermodel daughter. And when she started a romantic relationship with SNL superstar Pete Davidson, many grew worried. Davidson has quite a reputation for dating around Hollywood, and his most notable relationship was with Ariana Grande. But he's also been romantically linked to Cazzie David and Kate Beckinsale.
Now, Davidson is single once again. And during a reflection of his relationship with Gerber, he seemed to admit she was way too young for him to be dating. Here's what he said.
Pete Davidson and Kaia Gerber dated for a few months in 2019
Everyone was shocked when Davidson and Gerber were first spotted together. As for how the two met, it seems the runway was where they crossed paths. Back in June 2019, both Davidson and Gerber walked for Alexander Wang. While the runway is like a second home to Gerber, this was Davidson's debut. And the two were then spotted getting cozy together in October 2019.
Davidson and Gerber seemed to move quickly, as Gerber started making appearances at SNL parties and even brought her new boyfriends tons of goodies for his birthday. While the two were often spotted in New York City, Davidson also went down to Malibu to see Gerber. But Gerber's Instagram followers warned her to be wary of the relationship.
"Girl not Pete," one follower commented on an Instagram post the supermodel added back in November 2019.
Davidson's health scare may have been too much for Gerber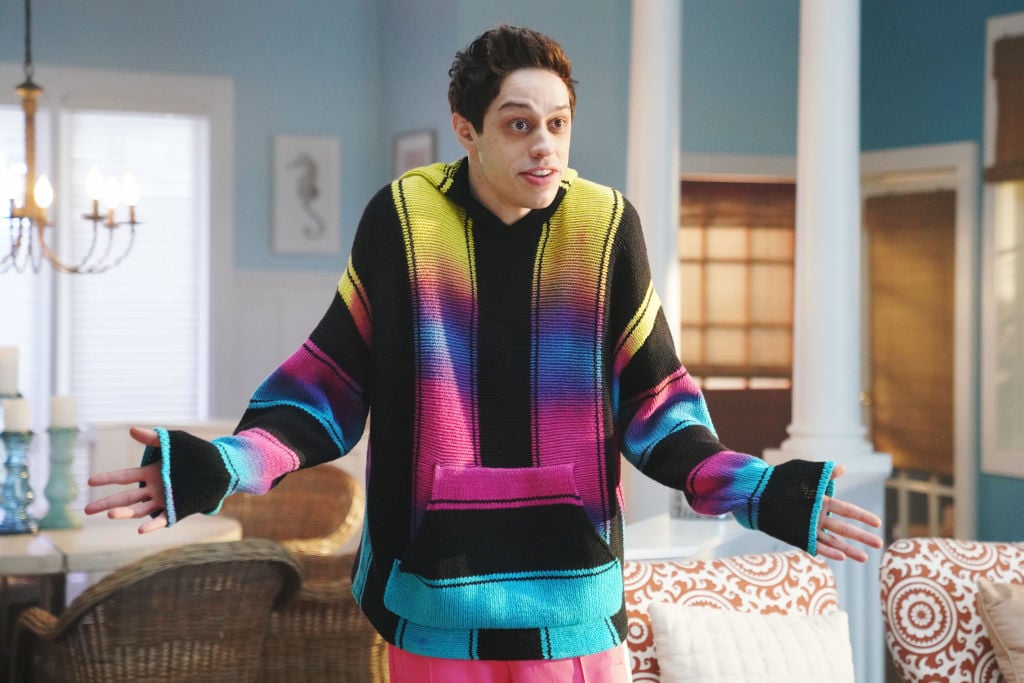 Despite some online backlash, Gerber and Davidson maintained their relationship for months. And some reports claimed sources close to the couple were getting concerned that Gerber was too head-over-heels in love with her new partner.
"Kaia's talking about Pete being 'The One' and quietly telling friends she can see herself growing old with this guy and having his babies," a source told Radar Online. "They're all over each other right now and it wouldn't surprise anyone if [a pregnancy] happens sooner than later."
It looks like those close to Gerber don't have anything to worry about now. Back in December 2019, Davidson joked that he was returning to rehab for his mental health. And a source told E! News, "It became very clear that he had to go and do this and couldn't wait any longer. This is his second time seeking treatment, his first being in 2016."
A source also told E! News that Gerber "wasn't comfortable with what she saw and doesn't know if she can handle it," as what she witnessed was "very concerning and scary for her … she cares about Pete and wants him to get better."
Davidson admitted Gerber is too young to handle him as a boyfriend
Davidson and Gerber haven't said much about their relationship. But now, it seems Davidson is ready to talk about some aspects of their romance. And their 8-year age gap is something many gossiped about.
Yahoo reports Davidson sat down with Charlamagne Tha God, and they covered a variety of topics, especially surrounding love. Davidson stated he hopes to possibly adopt a child one day, as he thinks a kid would "keep" him "around." And his relationship with Gerber also came up.
"We were dating for a few months. She's very young, and I'm f*cking going through a lot and it was before I went to rehab. It's just like, she should be having fun," Davidson stated. "She shouldn't have to worry about some dude that just has issues and sh*t. She should be enjoying her work. It just wasn't the right place or the right time at all."
Not only did Davidson mention Gerber, but he also mentioned her famous parents. And he noted they were "really helpful and stuff, so they're all cool."
Will Davidson and Gerber ever rekindle their flame in the future? It looks like they're both happy to go their separate ways, and we wish them the best with all their future endeavors.
Check out Showbiz Cheat Sheet on Facebook!