Peter Dinklage 'Felt Bad' After Making a Confession to George R. R. Martin About His Books: 'He Looked a Little Hurt'
HBO's fantasy epic Game of Thrones ran for eight seasons with few survivors and even fewer heroes. Fan-favorite Tyrion Lannister, played by Emmy-winning actor Peter Dinklage, managed to survive all eight seasons though not without some major setbacks. Fortunately for Dinklage, the scars he bore after the Battle of the Blackwater were less severe than those of the book's character.
How did Dinklage come to be cast in the iconic role? Did he read the books published so far in George R. R. Martin's A Song of Ice and Fire series? What made Tyrion such a relatable character?
'Game of Thrones' casts Peter Dinklage as Tyrion Lannister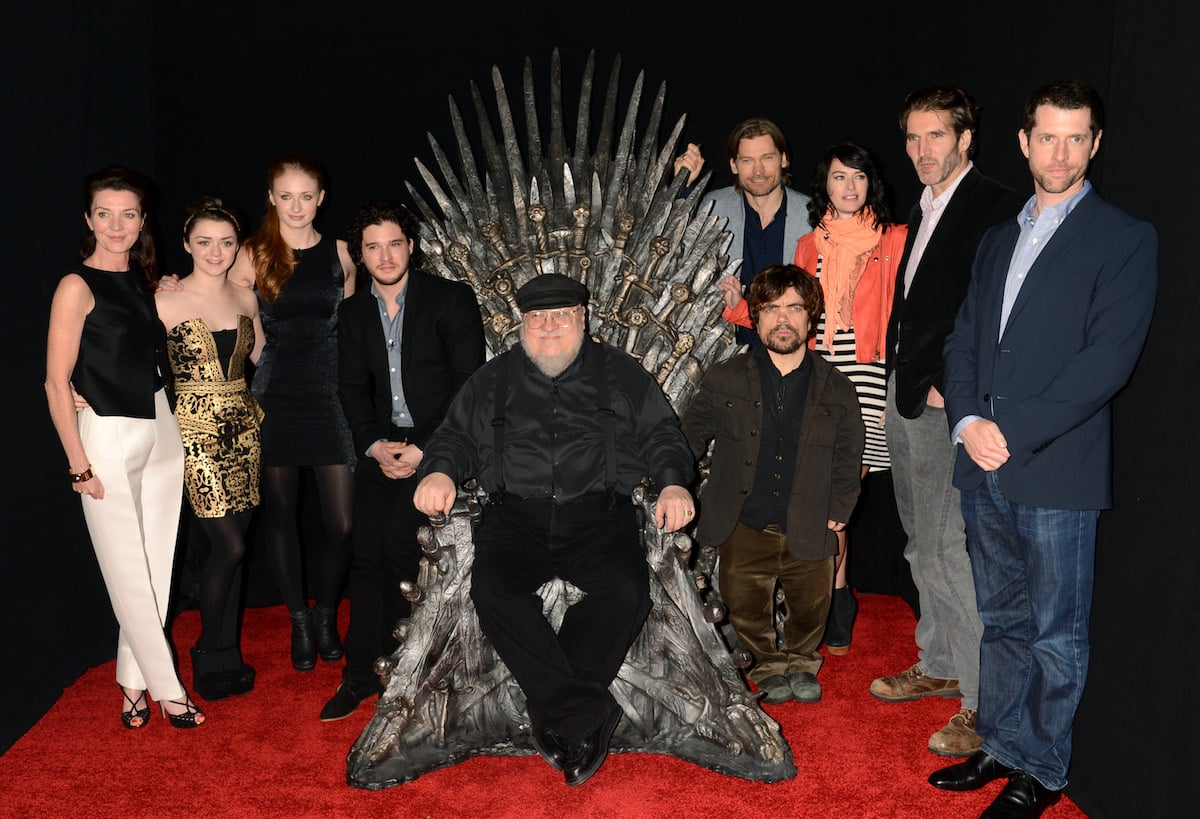 Dinklage's acting career was hit or miss before being cast as Tyrion on Game of Thrones but not for a lack of talent. Many people had seen him in films like The Chronicles of Narnia: Prince Caspian, Penelope, and A Little Bit of Heaven. The New Jersey native was choosy about the roles he accepted until the one that made him a household name. 
As he told the New York Times, Dinklage found stage work in New York City along with occasional roles in low-budget films when he was younger. When it came to commercial jobs, he wasn't interested in lucrative roles for little people, like elves or leprechauns. Dinklage spent seven months in Eastern Europe and New Zealand, sweating under a long red beard as Trumpkin for Prince Caspian. While he enjoyed the role, Dinklage wasn't in the mood for something similar at the time.
In his first Game of Thrones meeting, showrunners David Benioff and D.B. Weiss explained the story and Tyrion's character to him. Benioff explained that Dinklage was "incredibly funny, incredibly smart and had that caustic wit." The same could be said of the character they wanted him to play. Dinklage was their first choice for the part from the beginning.
The now-52-year-old had one simple request: no beard and no pointy shoes. The actor explained that genres featuring dwarves often gave them the same look.
Benioff and Weiss explained Tyrion was an entirely different type of little person. He was a real, romantic character in an epic fantasy tale. They also explained just how important Tyrion was to fans of the books.
Peter Dinklage's experience with George R. R. Martin
Back in 2012, Dinklage told author George R. R. Martin that he'd only read the first book, Game of Thrones, in the A Song of Ice and Fire series (ASOIAF). According to the actor, Martin looked hurt by the admission. Dinklage explained to the NY Times that he meant no offense. He hadn't read all of Tolstoy either.
The actor enjoyed not knowing the twists and turns of the books and being surprised when the scripts arrived. Dinklage said he needed to know who Tyrion was in order to know his backstory.
HBO's Game of Thrones proved early on that no character was safe. Fans of the books knew that man of honor Eddard "Ned" Stark would die before the end of the first season. Viewers who hadn't read the books were shocked. Still, Dinklage was contracted for six seasons of the show. Few of his fellow actors could say the same.
The first book in the ASOIAF series was published in 1991. But the book series is still not complete. Many fans blame the deterioration of the show's dialogue and writing, starting with the back half of season 6, on the fact that it finally ran out of source material. In the books, we left off at the slaying of Jon Snow by his fellow men of the Night's Watch.
Martin has promised loyal fans the sixth book in the series, The Winds of Winter, for more than a decade now.
Peter Dinklage survived the disastrous end of a franchise
Tyrion was the black sheep of one of the most powerful families in Westeros. He was the youngest child, a dwarf, of the formidable Tywin Lannister and a mother we never meet because she died giving birth to him. It's a fact that neither his bitter father nor manipulative sister Cersei will let him forget.
Add in the fact that Cersei's twin brother, Jamie, is perfect in every way aside from an incestuous relationship with his sister. Jamie is also the only member of Tyrion's family who truly loves him.
In the first season, Tyrion told Jon Snow that his weapon was his mind. As he navigated dangerous situations he found himself in either because he was a dwarf or a Lannister, his quick wit was often the reason he survived. Between some of the show's best dialogue and Dinklage's skillful, nuanced performance, Tyrion was more loved by fans than ever.
While Tyrion was arguably the smartest player on the board, his compassion for others enables him to survive the beloved TV series' disastrous final season. In the last season, Tyrion explained the world will always need a home for bastards and broken men. He'll always be adored by fans because, in so many dark places in ASOIAF, he was that home.
RELATED: Was Peter Dinklage the Only American in 'Game of Thrones'?