Pierce Brosnan Saved Halle Berry's Life on Bond Film 'Die Another Day'
Halle Berry is one of Hollywood's most beautiful actresses, a celebrated star of both television and film. Berry rose to fame in the mid-nineties and is still a popular star today. By far one of Berry's most high-profile roles was that of Jinx in the 2002 James Bond film, Die Another Day.
Berry made waves for her seductive performance and today, the film is still a fan-favorite. Apparently, there was just as much action going on behind the scenes of filming Die Another Day as there was in front of the camera. Berry recently opened up about her experience making the movie and the surprising way that Pierce Brosnan, James Bond himself, saved her life.
Pierce Brosnan is best known as James Bond
By the early 2000s, the character of James Bond had become one of the most iconic movie characters of all time. Based on the novels by Ian Fleming, producers have been crafting Bond films since the late fifties, with a different actor assuming the role of Bond every decade or so.
In 1995, Irish actor Pierce Brosnan became the fifth actor to assume the mantle of the British super-spy. Brosnan appeared in a total of four James Bond films, including GoldenEye, Tomorrow Never Dies, The World is Not Enough, and finally, in 2002, Die Another Day.
It was widely speculated that Brosnan would go on to appear in several more Bond films. But, as it turned out, Die Another Day was his final outing as the fictional spy.
While all of Brosnan's Bond films had something special, Die Another Day was unique for its use of advanced digital effects and a strong supporting cast. Front and center, standing next to Bond for many of his more action-packed scenes, was the film's leading lady, Berry.
Halle Berry was a groundbreaking Bond girl
By the time 2002 rolled around, Berry had already made a huge impact on the Hollywood scene. The actress first started gaining popularity for her role in the HBO film Introducing Dorothy Dandridge, where she played the iconic African-American actress and dancer. The 2001 film Monster's Ball catapulted her to even greater fame, although the movie garnered considerable controversy for a graphic scene involving Berry and her co-star, Billy Bob Thornton.
Berry's role in Die Another Day was important to her career for several reasons. After the film's release, many audience members accepted Berry as an action star, and she more than proved that she could hold her own in complicated battle sequences.
Furthermore, it showed her versatility and solidified her status as a Hollywood sex symbol — especially after the scene where she slowly emerges from the ocean, clad in a now-iconic orange bikini.
How did Pierce Brosnan save Halle Berry's life?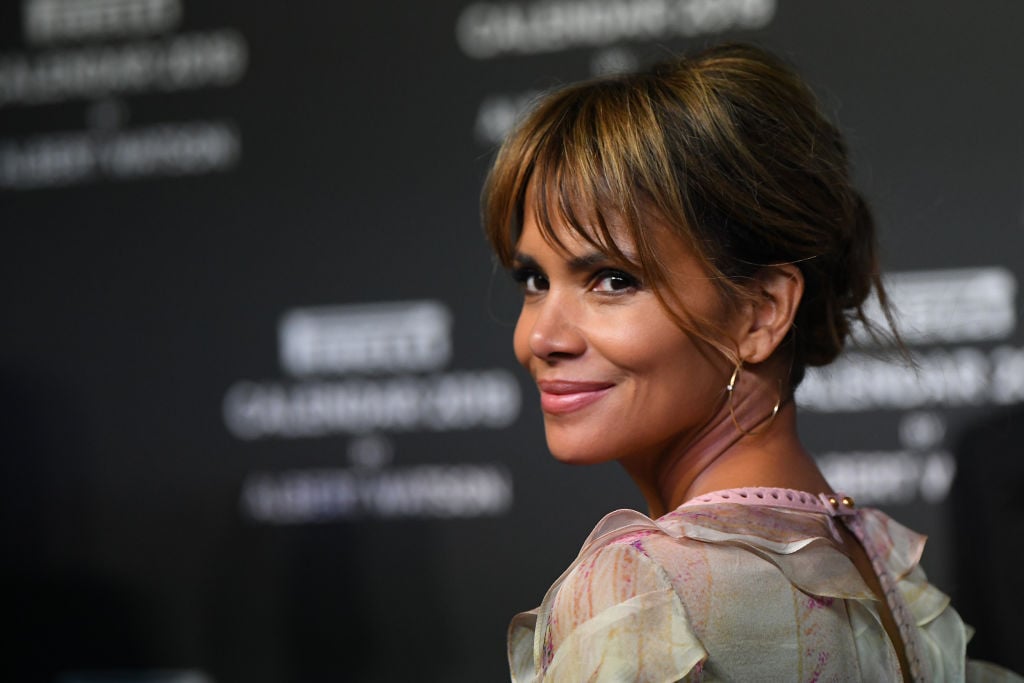 It seems safe to say that filming Die Another Day must have been a blast for both Brosnan, an industry vet, and Berry, Hollywood's hottest newcomer. Still, the actress had one close call, and it didn't involve any martial arts tricks or difficult stunts involving large-scale weaponry. As Berry told Jimmy Fallon an episode of The Tonight Show, reports PageSix, she had a brush with death that required the assistance of James Bond himself.
"I was supposed to be all sexy, trying to seduce him (James Bond) with a fig," Berry revealed. "I end up choking on it, and he had to get up and do the Heimlich. James Bond knows how to Heimlich! He was there for me, he will always be one of my favorite people in the whole world." While it is not clear if Brosnan and Berry have spent time together in recent years, it is evident that there will always be affection between them.