Pitbull Said This Just Hours Before Jennifer Lopez and Shakira's Super Bowl Halftime Show
After a tremendous amount of buzz and Twitter predictions that superstar Pitbull would be a top-of-the-list guest at last Sunday night's Super Bowl Halftime Show. . . the Miami-born rapper wasn't.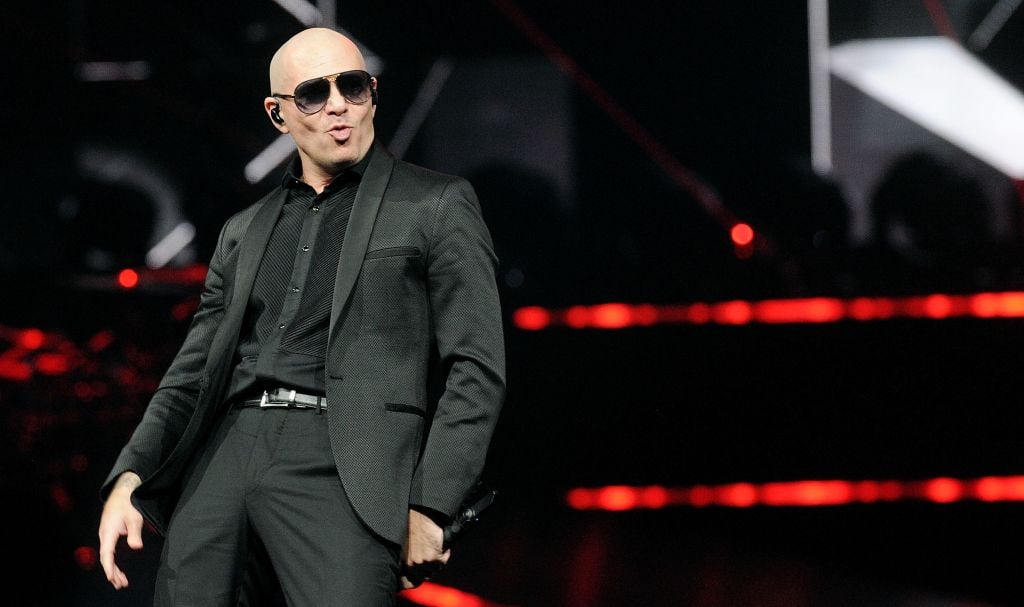 The 39-year-old musician did have a few things to say just hours before the halftime show.
Pitbull would have been great in the halftime show
Having the Cuban rapper in the halftime show with two of the biggest Latina stars would have been just as incredible of a show as the artists that did show up, Colombian reggaeton singer J Balvin and Puerto Rican rapper Bad Bunny.
Pitbull, whose real name is Armando Christian Pérez, and who also goes by the nicknames "Mr. 305" (Miami's area code) and "Mr. Worldwide" (because he's an international star, what else?), puts on a powerhouse show and would have been a complement to the Latin-flavored concert.
Weeks before the show, Lopez and Shakira praised being given the opportunity, by concert producer Jay-Z, to be part of a gathering showing the best of Latin culture.
"To celebrate [the Latin] culture, to showcase it in a country where Latinos have also struggled a lot," she told Billboard. "I feel really humbled and with a great responsibility in my hands to represent the Latino community."
Lopez praised the event saying after the Super Bowl at a luxury yacht party, "I was happy to stand up there with Shakira – two Latin women, two women, two working moms – who did one of the best Super Bowls of all time."
Fans badly wanted him at the halftime show
Pitbull's fans weren't shy about voicing their desire to see him perform on stage at one of the biggest concerts on earth. An impressive Change.org petition was initiated by the singer's fans to get him added to the billing for the show.
Plus, it had been rumored that the rapper himself was pushing to be part of the halftime show.
When asked about the halftime show, MSN reported the artist's response was, "Am I in the halftime show? I'm involved in a lot of things that have to do with the Super Bowl. I'll leave it at that. I plead the fifth that this question might incriminate me."
What Pitbull had to say
After the Super Bowl, fans had their say on Twitter.
Tweets included, "You mean to tell me the super bowl was in Miami, and Jlo and Shakira performed, and neither of them brought out Mr. 305 Pitbull" and "This is THE BIGGEST SUPER BOWL HALFTIME SHOW SNUB IN HISTORY. HOW CAN YOU NOT HAVE PITBULL AS A GUEST IN MIAMI ?!?!"
Pitbull, for his part, brought up the halftime show the day before the event, telling Sirius XM hosts DJ Laz and Crisco Kidd, "I can tell you this, I'm gonna be doing a whole lot of things at the Super Bowl."
"That's all I can tell you. I'm at the Tailgate party, you got some commercials, one of the commercials happens to be, you know, before whatever show that is. . . I'm definitely excited to see Jennifer and Shakira.'"
For whatever reason, no one connected with Pitbull's absence from the halftime show – not JLo, not Shakira, and definitely not Pitbull himself – want to simply say why he either was not invited or chose not to perform.
We'll have to see if he opens up about it at some point, or gets his own halftime show for Super Bowl LV.
Read more: Here's Who Fans Don't Want For Super Bowl Halftime Show Next Year