Pixar's 'Lightyear' Required a Whole New Technology to Bring it to the Big Screen
It's almost time to blast off with Pixar's latest sure-to-be blockbuster. Lightyear hits theaters on June 17, 2022, and it sees Chris Evans move from Disney's Marvel Cinematic Universe to the Pixar world. Reviving an iconic character in something other than a Toy Story movie required some creative thinking on the part of creative stakeholders. Lightyear also required Pixar to invent new technology to present it in style on the big screen.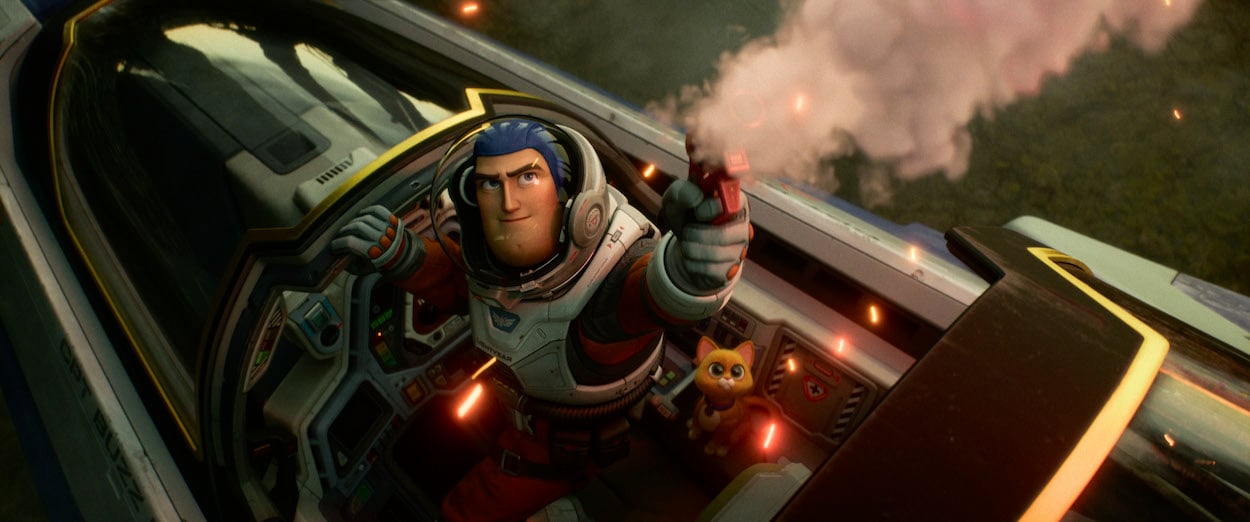 What is Pixar's 'Lightyear' movie about?
We last saw Buzz Lightyear palling around with his friends in 2019's Toy Story 4. However, this film has nothing to do with the Toy Story franchise except for the name of the character.
As Evans explained in a tweet when Lightyear clips started circulating in 2020, "And just to be clear, this isn't Buzz Lightyear the toy. This is the origin story of the human Buzz Lightyear that the toy is based on." Lightyear follows the "real" Buzz as he time travels 60 years in the future, meets a colleague's granddaughter, and confronts Emperor Zurg (voiced by James Brolin).
Evans isn't replacing Tim Allen as Buzz Lightyear, per se. Yet the finality of Toy Story 4 and the origin story behind Lightyear indicates the Captain America actor could be the voice behind the character if Pixar continues with this storyline.
Pixar invented new technology to put 'Lightyear' on IMAX screens
Lightyear will be Pixar's first theater-only release since the coronavirus (COVID-19) pandemic; other Pixar movies simultaneously debuted on streaming. Director Angus MacClane wanted it to be a special experience.
MacClane hoped to support theater owners by releasing a version suitable for IMAX presentation. But IMAX's typical aspect ratio of 1.43:1 is markedly different from the standard 2.35:1 to 2.40:1 ratio. So how could they do both?
Lightyear visual effects supervisor Jane Yen invented a way, according to SlashFilm.
"Some other technical challenges for Lightyear that I'll mention quickly include building Pixar's first IMAX pipeline for film production. We created a virtual IMAX camera with a 1.43 aspect ratio and developed a pipeline to allow us to simultaneously shoot the film for IMAX and then crop down for our standard 2.39 format."

Jane Yen on the new technology Pixar invented for Lightyear
McClane hoped to support theater owners by giving movie fans a reason to flock to cinemas, and Yen and Pixar delivered.
What else we know about 'Lightyear': Cast, Rating, Disney+ streaming date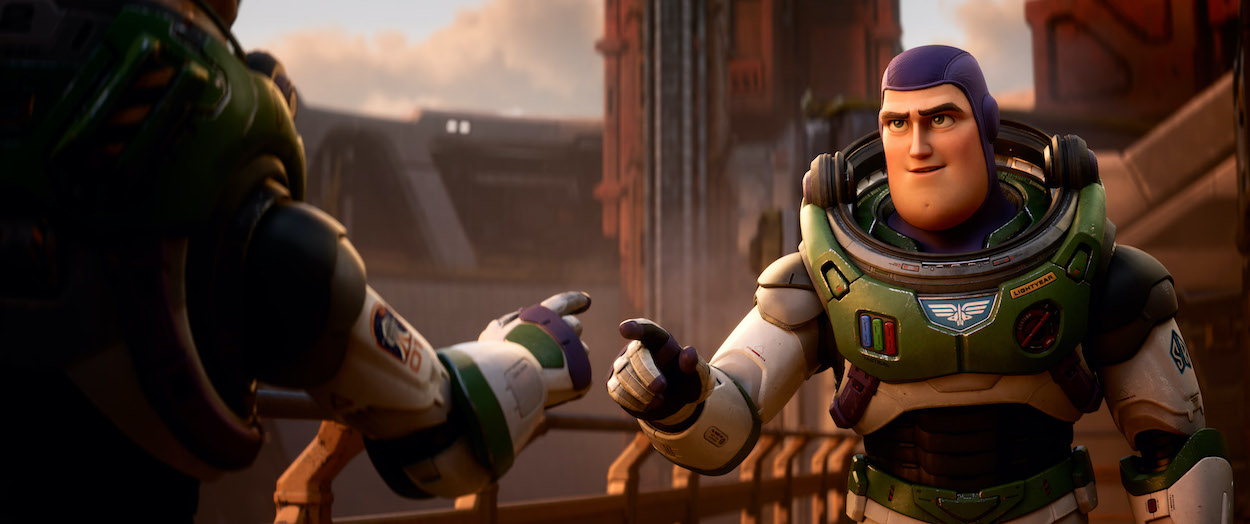 In addition to Evans in the title role and Brolin as Zurg, the Lightyear cast also includes:
Keke Palmer as Izzy Hawthorne
Taika Waititi as Mo Morrison
Dale Soules (Orange Is the New Black) as Darby Steel
Uzo Aduba as Alisha Hawthorne
Efren Ramirez (Napoleon Dynamite) as Diaz
Peter Sohn (Emile in Ratatouille) as Sox
Lightyear breaks from its source material with its MPAA rating. Where the four Toy Story movies earned G ratings, Lightyear blasts into theaters with a PG rating, similar to other recent Pixar movies (Turning Red, Luca).
We know Lightyear opens exclusively in theaters, but when will it come to Disney+? Disney's Encanto was exclusive to theaters for 30 days before it streamed, as Variety reported. If the Mouse House takes a similar approach this time around, Lightyear could hit Disney+ by mid-July.
For more on the entertainment world and exclusive interviews, subscribe to Showbiz Cheat Sheet's YouTube channel.
RELATED: Buzz Lightyear: What Tim Allen Said About Reprising His 'Toy Story' Character