'Plane' Star Mike Colter Threw a Real Sledgehammer at Co-Star Gerard Butler
It's still early in 2023, and yet the year has already brought a few undeniable hit movies to the forefront. Plane – starring Gerard Butler and Mike Colter (Evil) – has become a crowd-pleaser for its thrilling action. But little do audiences know that Colter actually threw a real sledgehammer at his co-star during the production of their latest movie.
'Plane' stars Gerard Butler and Mike Colter did a lot of their stunts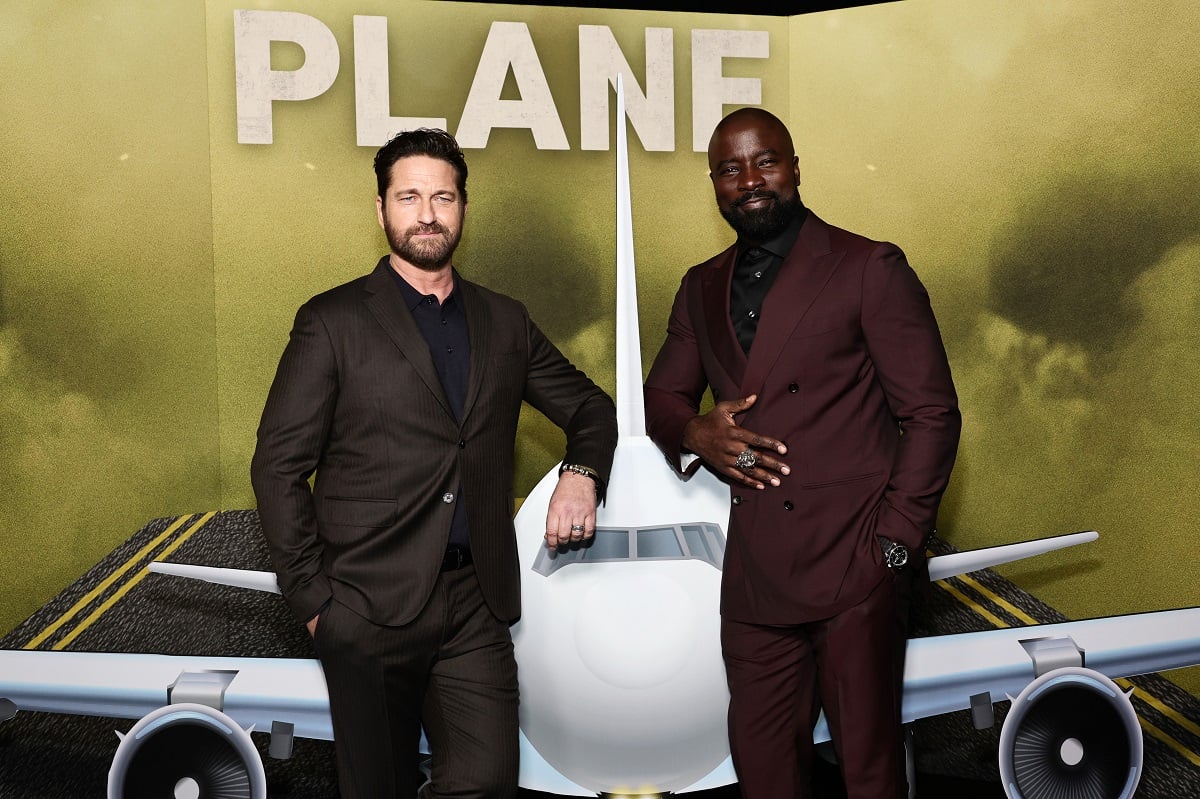 In Plane, Butler plays a pilot who is forced to make an emergency landing. And upon finding himself and his passengers on an island occupied by armed anti-government militias, he reluctantly teams up with a prisoner (Colter) to help everyone survive. Naturally, all kinds of mayhem ensue in director Jean-François Richet's hit action thriller.
For their roles, Butler and Colter performed much of their own stunt work. Of course, both actors have plenty of experience in physically demanding roles. Butler has starred in countless action films, including 300, Law Abiding Citizen, Olympus Has Fallen, and Den of Thieves. Meanwhile, Colter is best known for playing the titular Marvel hero in the Netflix series Luke Cage.
A wild incident between the 2 actors happened on the 'Plane' set
At one point during the filming, Colter and Butler wound up in a potentially dangerous situation on the set. Throughout the film, Colter's character, Louis Gaspare, wields a sledgehammer. And the actor told Entertainment Tonight, he tried to sell the scene with a fake sledgehammer. But since he was struggling, he requested to work with a real one, a decision that could have led to an injury.
"There's a moment where I'm bashing someone's head with a sledgehammer," Colter told ET. "Sledgehammers are heavy. I'm trying to make it look cool." He continued, "I'm not trying to hit the guy in the head for real. I'm trying to swing it just inches from his head. … There's a real one and a fake one. The fake one, it's hard to make that look real, to sell it. So I tried it a few times. And I said, 'Let me just try the real one.'"
What do critics think of 'Plane'?
Normally, Plane would be the kind of movie audiences would love and critics would despise. However, in this case, the film has received a warm reception on both fronts. Plane has scored a 75 percent Fresh critics' rating on Rotten Tomatoes, with a 94 percent audience score too.
"Plane charts a standard action-adventure course with its cruising altitude just a few miles above Direct-to-Video – but with Gerard Butler in the cockpit, thriller enthusiasts will still find this a fun flight," the movie's critics consensus reads. The movie is a box office hit too, according to Box Office Mojo, with a $12 million opening weekend against a reported budget of just $25 million.
Plane is now playing in theaters.