'Power Book II: Ghost': Effie Actor Knows Who She Wants to Play Her Mom
Effie Morales is one of the most interesting and enigmatic characters in Power Book II: Ghost because her intentions and motivations are never clear. She keeps a low profile and makes sure not to divulge too much about herself outside of her work with Tariq St. Patrick and Brayden Weston. While Effie's backstory has been hinted at on the TV show, viewers are still waiting to get a full picture of her home life. If it does, here's who Alix Lapri (Effie Morales) would want to play Effie's mom.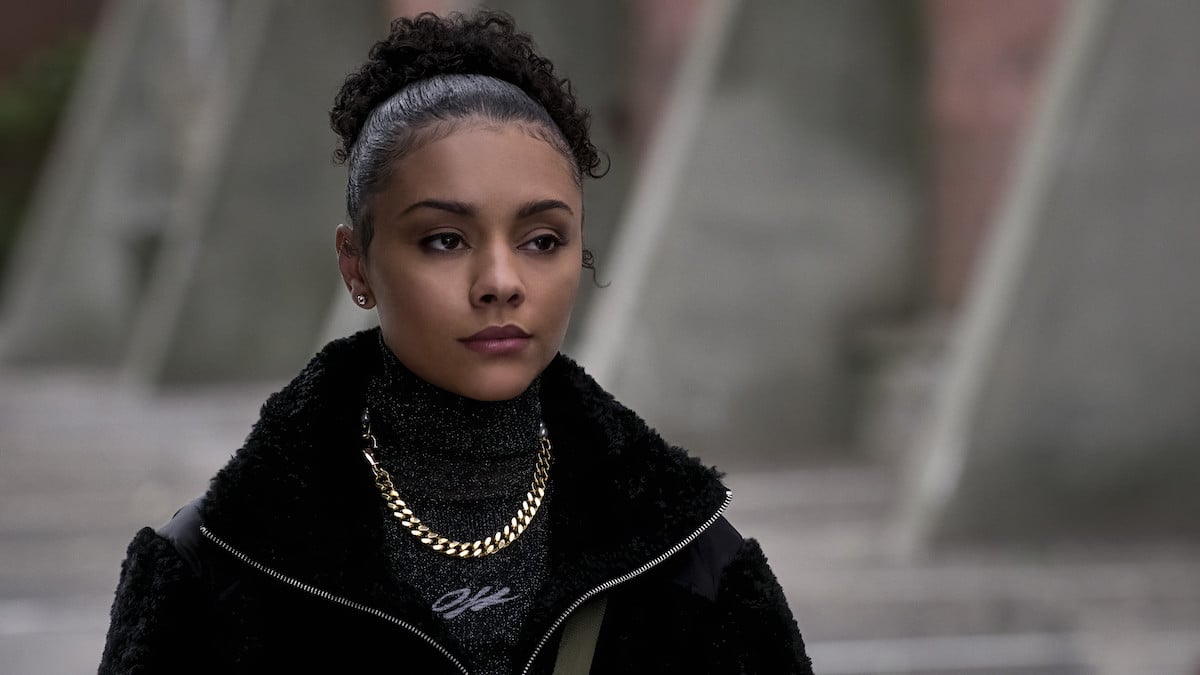 Alix Lapri shared who she'd want to play Effie's mom on 'Power Book II: Ghost'
Lapri spoke about her character on The Crew Has It podcast, hosted by her Power Book II: Ghost co-stars Michael Rainey Jr. (Tariq St. Patrick) and Gianni Paolo (Brayden Weston). As they discussed Effie's background, Paolo questioned if her family had ever appeared on the show and then asked who Lapri would want to play Effie's mom.
"Maybe like Sanaa Lathan. … She could be really dope…," she answered, "or maybe Zoe Saldana."
"Oh, that'd be dope," Paolo replied. "That's be fire. I love that."
Effie's mom is said to be 'a mess'
It's clear from watching the show that Effie had a tough time growing up, but Power creator and showrunner Courtney Kemp hinted that her upbringing was much more difficult than some realize.
"Effie's mom is a mess. But I'll tell you about that later," she said in a 2020 Instagram Live. "And if you guys remember, close readers of the series, Effie's brother is dead. He was murdered, so keep that in mind."
Landon Buford reports that Kemp was also asked if Effie's backstory would be explored more on the show.
"Yes, you will, but that's season three, that's not going to come this season," Kemp replied.
"I know I'm not supposed to tell people that, but I kind of like for you guys to know what to expect. And if you are exactly expecting to see a lot of Effie backstory this season, it is not coming. It is coming for next year," she added.
'Power Book II: Ghost' Season 3 could also expose a secret about Effie
In addition to her family, fans can look forward to finding out more about what Effie and Brayden did to Lauren Baldwin. Whatever it is, Kemp said it will have a '"seismic effect" on their relationship with Tariq.
"What I would say is, Effie and Brayden have a huge secret that they have to keep from Tariq," she teased to Entertainment Weekly. "Cane is also part of that secret, but it's really about Effie and Brayden and what their relationship will be with Tariq, given whatever happened onscreen with Lauren. What has happened to Lauren, as you discover going forward, will have a seismic effect on the relationships of our three musketeers."
Starz has not yet revealed the release date for Power Book II: Ghost Season 3, but it is believed the show will return in 2022.
RELATED: 'Power Book II: Ghost': Brandy Wants to Join Show: 'I Played a Whole Gangster' Before