Why 'Power Book II: Ghost' Fans Now Think Lauren Is Alive
Maybe Lauren Baldwin isn't dead after all. The character, played by Paige Hurd, appeared to die in Power Book II: Ghost Season 2 after being set up by Cane Tejada (Woody McClain), Brayden Weston (Gianni Paolo), and Effie Morales (Alix Lapri). But speculation about her fate is growing after a cryptic comment from show creator Courtney Kemp.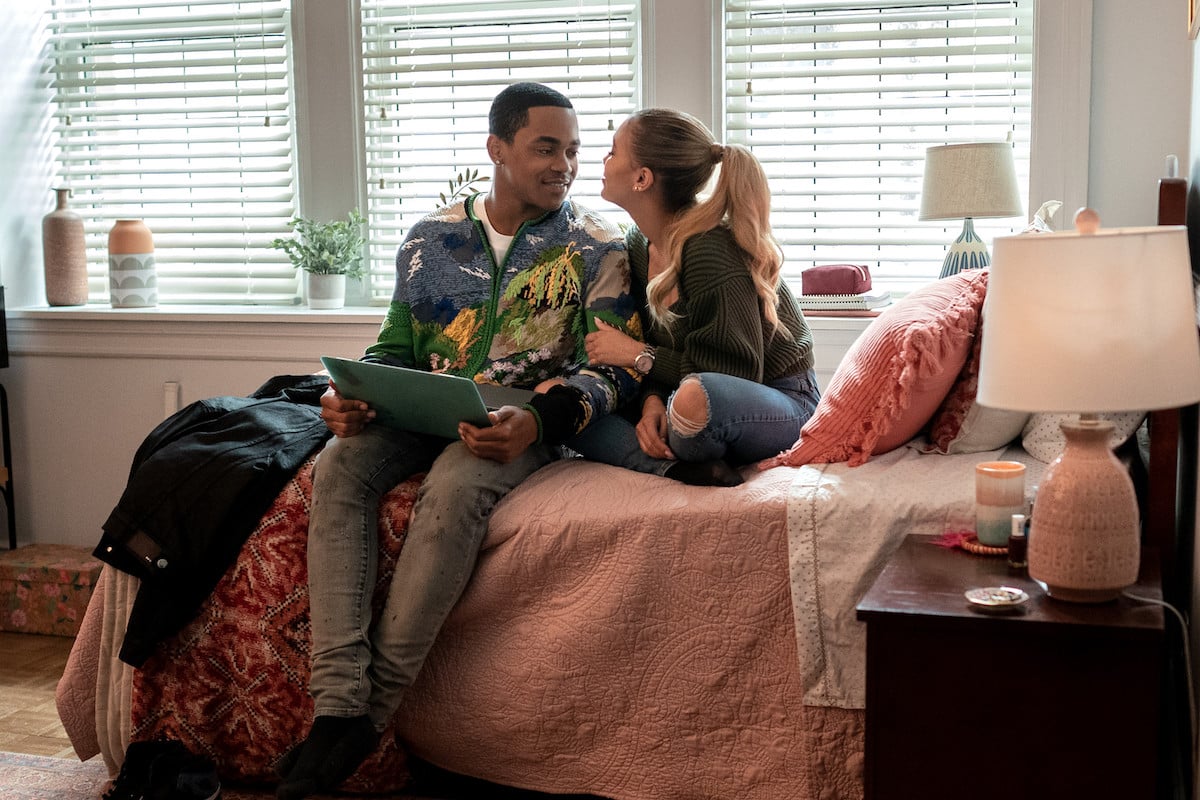 What happened to Lauren in 'Power Book II: Ghost'
Lauren had been a fan favorite on the show since she was first introduced. Smart, focused, and friendly, she was a good girl with her head on straight. But getting involved with Tariq St. Patrick (Michael Rainey Jr.) would prove dangerous.
After Tariq learned she'd secretly recorded Cane and Brayden as part of an investigation into the drug ring at Stansfield University, he urged Lauren to leave town immediately. He made the mistake of telling Effie about the situation, who went behind his back to inform Cane.
Brayden was ordered to kill Lauren, but Effie, perhaps sensing he'd back down, showed up to handle it. Later, word got back to Tariq that Lauren was found dead as a result of a car accident.
RELATED: 'Power Book II: Ghost': Paige Hurd Reacts to Lauren's Fate
Is Lauren dead in 'Power Book II: Ghost'?
Because her body was not shown, many viewers wondered whether Lauren had really died. That speculation only grew after Kemp went on Instagram Live and discussed the characters who died in Power Book II: Ghost Season 2.
While Kemp confirmed the deaths of characters like Carrie Milgram (Melanie Liburd), Dante "Mecca" Spears (Daniel Sunjata), and Zeke Cross (Daniel Bellomy), she failed to mention Lauren's name. Many viewers took that as confirmation that Lauren is secretly still alive.
"So Lauren is not dead 😲," read one comment.
"this was the icing on the cake….LAUREN BALDWIN IS STILL ALIVE YALL!!" said another.
A third fan agreed, "This confirms that Lauren is NOT dead…& somehow her storyline will continue."
That Kemp refused to answer the question of whether Lauren was alive in an interview with Entertainment Weekly only adds to the speculation. But not everyone was convinced she survived. "I don't think [Lauren] had to be on here as proof of her death. Folks still swear Ghost is alive," one fan wrote.
It's true. We all watched when Ghost was shot and killed in the final season of Power. Yet, over two years later, theories about his potential survival continue. Of course, Lauren's case is different, but there are still plenty of signs to suggest she's dead too, including a tweet from Lapri seemingly confirming Lauren's fate.
What to expect when the show returns
Whatever happens, Kemp said the situation with Lauren will have a big impact on Tariq's relationship with Brayden and Effie in Power Book II: Ghost Season 3.
"What I would say is, Effie and Brayden have a huge secret that they have to keep from Tariq," she told EW when asked for a teaser. "Cane is also part of that secret, but it's really about Effie and Brayden and what their relationship will be with Tariq, given whatever happened onscreen with Lauren. What has happened to Lauren, as you discover going forward, will have a seismic effect on the relationships of our three musketeers."
While the release date for Power Book II: Ghost Season 3 is still unknown, the show is now filming. This suggests it could return as early as late 2022. But nothing has been confirmed so far. Check out Ghost now on Starz in the meantime.
RELATED: 'Power Book II: Ghost' Boss on Blanca's Return: 'The Audience Is Going to Have Strong Opinions About What Blanca Decides to Do in Season 3'